It's been a long journey from tinware factory to multiple design award winner - and Kaldewei is still the only bathroom manufacturer to produce enamel in its own furnace. This autumn the company showcases its iconic designs at London's Olympia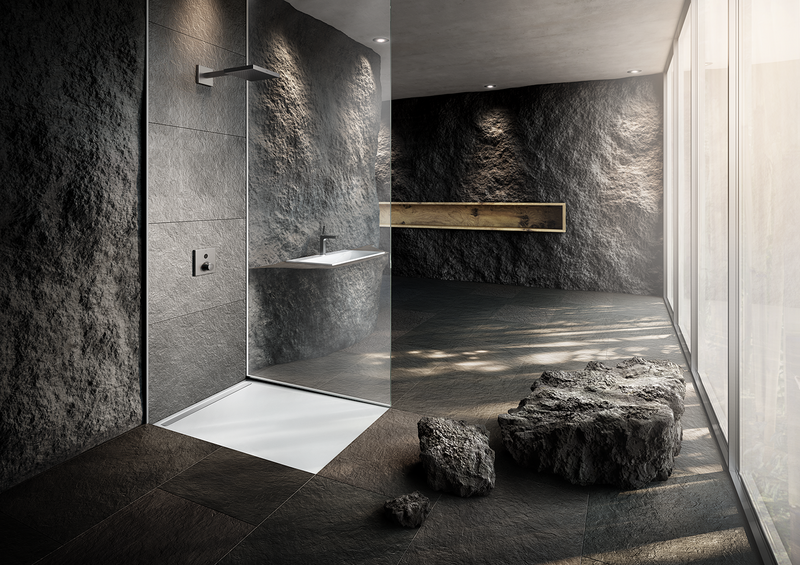 Kaldewei's NexSys shower surface features a narrow stainless steel waste channel.
Bathroom manufacturer Kaldewei celebrates its 100th anniversary this year and will be exhibiting a selection of its steel enamel bathroom solutions at the hotel design event Sleep + Eat 2018 at London's Olympia.
The company is known for its style-defining innovation and elegance and has a portfolio of over 600 shower surfaces, washbasins and baths in a wide range of styles, sizes and colours. Long-term partnerships with designers such as Studio Aisslinger, Anke Salomon and Arik Levy have helped Kaldewei win more than 150 awards, including the prestigious Red Dot design award 13 times (most recently for its Miena washbasin bowls).
Kaldewei's bathroom solutions have always been 100% recyclable. In 2017 Kaldewei steel enamel was recognised with a Green Good Design Award - one of the most prestigious sustainability accolades in the world - and in 2018 Kaldewei launched a long-term partnership with WWF, the conservation organisation, to support the WWF marine programme devoted to reducing plastic waste in our oceans.
Kaldewei fuses robust steel and exquisite glass together to create superior Kaldewei steel enamel. The company controls the entire production process of its shower surfaces, washbasins and baths - from selecting the raw materials, manufacturing the enamel and forming the steel to finishing with superior Kaldewei enamel. Today, Kaldewei is still the only bathroom manufacturer to produce enamel in its own furnace. The formula was developed at Kaldewei's laboratory and has been consistently refined over the decades.
Raw materials from six continents are used and the result is a compound that, after years of use, looks as good as when it was first made - with the added assurance of a 30-year guarantee.
The Sleep + Eat event brings together the designers, hoteliers and restaurateurs behind Europe's top hospitality projects. On display this year will be a selection of Kaldewei's steel enamel bathroom solutions, including floor-level shower surface NexSys, coloured Miena washbasin bowls, round Classic undercounter washbasins and a Perfect Match trinity of bathroom solutions in one harmonious colour from Kaldewei's Coordinated Colours Collection. New for 2018 is the Material Experience corner, where a series of experiments puts Kaldewei's steel enamel to the test.
Kaldewei, Stand B40, Sleep + Eat 2018, Olympia London, 20 - 21 November 2018. For tickets and further details, visit: sleepandeatevent.com
For more information and technical support, visit: kaldewei.co.uk
Contact:
01480 498053
---