It's simple, says kitchen specialist Roundhouse: Use the latest innovative products and technology to get the storage right and the architecture will speak for itself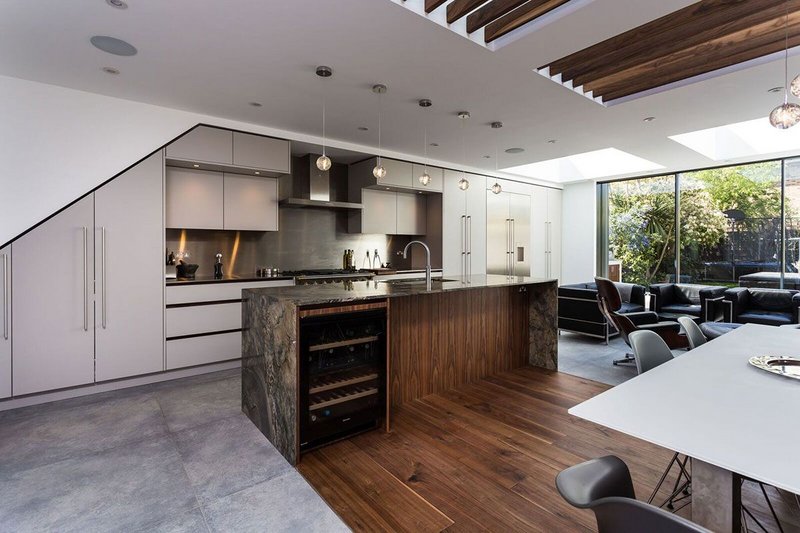 Roundhouse Urbo matt lacquer and bookmatched walnut veneer kitchen and living room furniture with bookmatched black walnut vertical veneer, Tremendal granite and stainless steel.

Credit: Tony Timmington
A perfectly organised and planned bespoke kitchen should be a thing of beauty, concealing hardworking, clever storage solutions. In turn, this will deliver beautiful clutter-free spaces that let the architecture shine.
Getting the most out of a custom-made kitchen, however, requires an expert kitchen designer with the knowledge and craft to devise the best possible design solution. British kitchen designer and manufacturer Roundhouse places great emphasis on ensuring its design process is collaborative. Its expert designers establish clients' priorities and work closely with them to achieve their goals.
Kitchen technology is advancing and new products are emerging all the time so a good designer is crucial when planning storage. Roundhouse kitchen designers keep up to date with all the latest developments in materials and finishes, appliances and components. They also have access to a wide range of kitchen storage solutions. By working in conjunction with architects and interior designers early on in the process, spaces can be designed to meet requirements without clients having to make compromises later.
Making the most of the latest technology is key to successful kitchen design, says Roundhouse designer Sam Hart. 'It pays to think smart at the outset. For the things we use most, soft-close drawers are easier to use than cupboards. Drawers have visibility from above while cupboards don't. Advances in drawer-runner technology and high load-bearing capacity mean you can now have deeper, longer drawers that will hold even the weightiest crockery. Position them next to the dishwasher and you can unload straight into the drawer.'
Roundhouse's Fulham Pantry is the ultimate upright storage solution. A roomy interior allows everything to be on view, with drawers deep enough for the largest cereal packets and spice or bottle racks built into the doors. It's a modern version of the traditional larder and all Roundhouse's showrooms have examples on display.
Roundhouse is a multi-award winning, British design and manufacturing company of bespoke kitchens and other furniture, was founded by architects and is design-led. Its signature, understated aesthetic is influenced by contemporary architecture. Roundhouse is renowned for its craftsmanship and innovative use of materials and has its own research and development team that manufactures to order, making furniture to any size and virtually any finish, colour and veneer.
Roundhouse furniture is made at the company's factory in Malvern, Worcestershire, an area with a long heritage of furniture making. Roundhouse cabinetmakers combine centuries' old traditions of workmanship with the latest technical innovations, combining unique joinery skills with state-of-the-art manufacturing techniques.
All Roundhouse kitchens are designed with clever storage built into an array of cupboards, drawers and pantries. Visit any of the company's six showrooms in Wigmore Street (flagship store), Clapham, Fulham, Richmond, Guildford and Cheltenham to view bespoke storage solutions.
For more information and technical support, visit roundhousedesign.com
Contact:
020 7297 6220
---