The Norwegian-based practice will use the material, made from mineral waste, on a pilot construction project planned for next year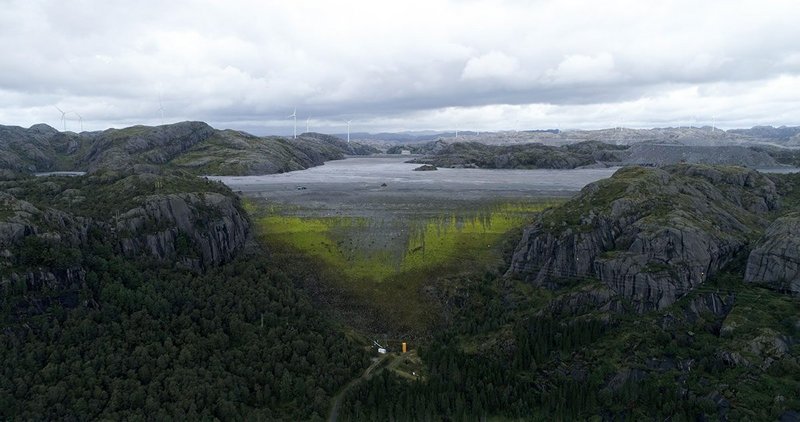 Saferock's geopolymer concrete cuts CO2 emissions in manufacturing by at least 70 per cent
Internationally acclaimed architect Snøhetta is pioneering the development of a low-carbon concrete made from mineral waste with a pilot construction project planned for next year.
The geopolymer concrete is being developed in collaboration with Norwegian startup Saferock, a spin-off of the University of Stavanger. It uses residues from industrial processes, including mining, as a replacement for Portland cement and currently delivers a 70 per cent reduction in CO2 emissions.
The patented technology exploits on-site production to eliminate emissions from transport. Further piloting and scaling up over the next four years are expected to produce a fully carbon-neutral product.
Snøhetta is helping set up a pilot factory, which will manufacture the first large batches of the concrete by the first quarter of 2022. The material will also be used on a Snøhetta-designed project at a 'spectacular' location, details of which are yet to be revealed.
Snøhetta architect Stian Alessandro Ekkernes Rossi told RIBAJ: 'Our tests showed the amount of material waste available at this site alone is enough to supply all of Norway's concrete demand for the next 50 to 100 years. That's just one site and there are many other suitable sites throughout Norway and the rest of the world. If Saferock gains classification, we would be able to build in concrete using only local residues. To me, this idea is mind-blowing.'
Geopolymers are a type of inorganic polymer made from rock sources that can be used as a substitute for Portland cement. Saferock's process is suitable for minerals stemming from waste streams from mining and power plants.
The oil drilling sector in Norway provided the initial inspiration for the technology. The industry wanted to develop a new and sustainable cementitious material to plug oil and gas wells. Saferock was established in 2019 and since then R&D efforts have also targeted sustainable concrete for buildings and construction.
According to Alessandro Ekkernes Rossi, all the solid ingredients in the concrete are waste materials, including those used to make adhesive and binder. No chemicals involved.
The majority of CO2 emissions in the global concrete industry (which is responsible for 8 per cent of man-made emissions) come from the kilning process, whereby limestone and clay are heated to 1,500°C to produce clinker, which is crushed to create Portland cement.
Saferock's process doesn't require a kiln, resulting in an immediate 70 per cent reduction in emissions.
Different mineral compositions at different sites change the concrete's colour composition, making it possible to create buildings with a unique appearance linked directly to the local geology.
'Tests in the Stavanger area produced dark grey/black concrete, whereas tests in the north of Norway are producing yellow concrete,' says Alessandro Ekkernes Rossi. 'Normally you think of concrete as this bland grey material with no sense of where it's coming from, but this gives it an aesthetic quality so you can recognise architecture that's made from local resources. To me, that's one of the most beautiful and positive aspects of this project.'