How do you design out acoustic flanking – sound that doesn't travel directly through separating elements – in residential developments? Knauf's Charles Johnston explains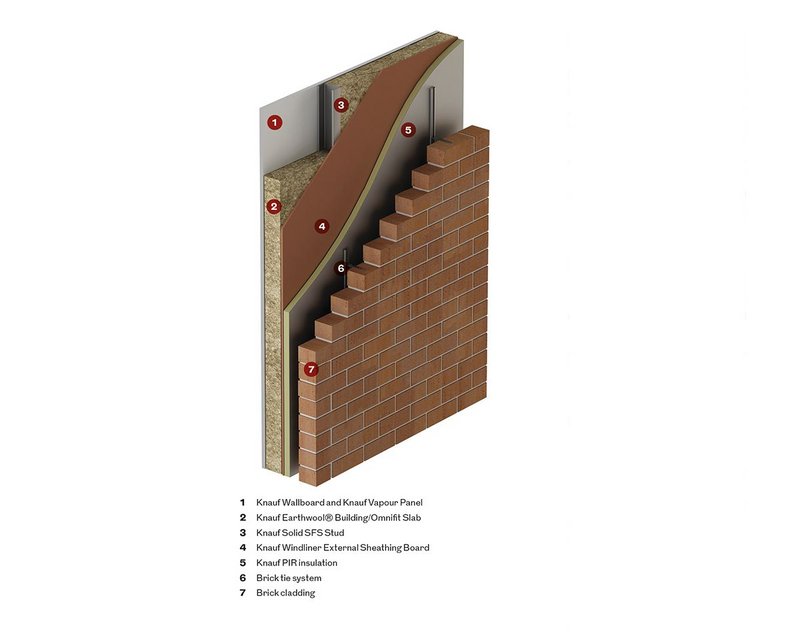 Around half the UK population says noise affects their quality of life and in a recent survey by Neighbours From Hell in Britain, 22% of people cited noise as the most common cause of problems with neighbours. Reducing sound transmission through separating walls requires serious consideration by architects and developers.
When it comes to specifying the components for separating walls, designers must take several aspects into account to stop the passing of not only direct sound but also flanking sound. Acoustic flanking is a sound which travels in any direction other than directly through the separating elements.
Minimum acoustic performance
For newbuild residential developments, Approved Document E (England & Wales) of the Building Regulations states that walls and floors which have a separating element must achieve a minimum acoustic performance of 45 dB DnT,w + Ctr and 43 dB DnT,w + Ctr in conversion projects. The NHBC regularly conducts site inspections to check for acoustic flanking-related concerns and assist developers in reducing potential problems. It says the most common causes for failure to reach the minimum acoustic performance are poor workmanship, incorrect material supply and incorrect design detailing in the specification process.
In residential developments, acoustic flanking failure is most common at the joint between the interior partitions and the external envelope where several components must be perfectly allied in order for the installation to reach the performance standards required by Part E. This is difficult to resolve as the internal partitioning may be sourced from different manufacturers and installed by different contractors to those providing the external envelope.
But now engineers at Knauf have produced a complete facade solution that incorporates both the exterior infill panel system and interior partitioning. It is the first in the construction industry to be designed and supplied by a single manufacturer in an effort to simplify the specification and installation process.
The ThroughWall Solution by Knauf, one of the world's leading manufacturers of lightweight building materials, is a new system incorporating quality Knauf products in one simple specification. Designed for both steel frame and concrete frame systems, it offers architects a single point of contact to provide the complete external and internal specification.
Having a single specification for both internal and external elements means that should problems arise in the specification or installation process, remedies can be supplied by Knauf rather than blame being shifted from one manufacturer to another. The ThroughWall Solution allows for accurate design drawings so that contractors know exactly what to expect in construction and it has the added benefit of being supported by a range of insurance-backed Knauf warranties.
The infill panel system can be finished in a number of external facade materials including a range of Knauf renders. Knauf's full system comprises Internal Plasterboard, Mineral Wool Insulation, Solid Steel Frame System (SFS), Windliner and PIR Insulation.
The durable, high quality engineered components of the ThroughWall Solution give not only optimal acoustic performance but also excellent fire, thermal and airtightness performance, as well as providing protection against the elements with Knauf Windliner.
Wide range of applications
Ideal for use in residential developments, the system can also be specified for commercial, healthcare, education and office buildings for both newbuilds and refurbishments.
It is the recent testing and certification that makes the ThroughWall Solution perfect for use in buildings taller than 18m. Knauf PIR Insulation has met the requirements set out in Annex B of BRE and has successfully passed the test as per British Standard 8414-2. The benefit of using PIR insulation above 18m is that, because of its thinner profile, the external envelope has a reduced thickness, providing more internal floor space.
Simplifying the design and specification process for architects has been a major goal for the Knauf research and development team. With the ThroughWall Solution the firm believes it has produced something that will not only facilitate this process but also provide quality assurances to housebuilders.
By combining the design elements for the external and internal features, Knauf aims to take the hassle out of the specification process and significantly reduce the number of problems arising from noise transmission and particularly acoustic flanking.
---