Mobile panels that allow light and ventilation through could quieten wards and help patient recovery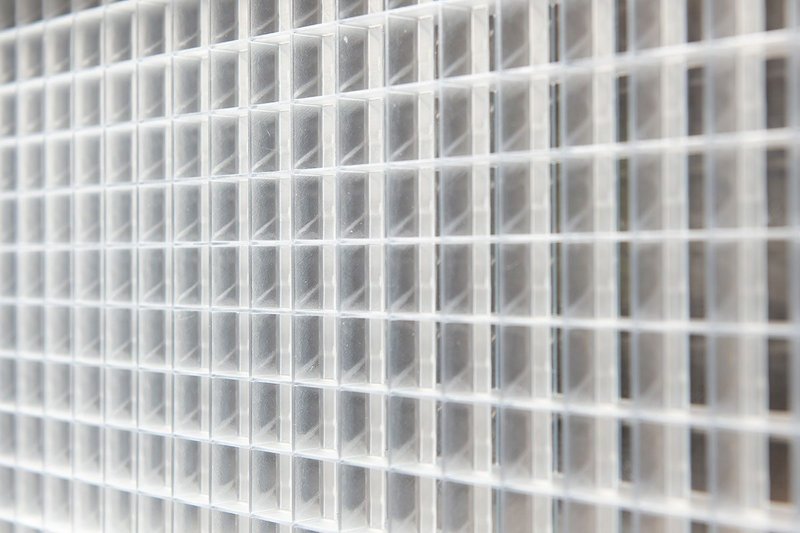 Sonoblind technology transforms plastic into a metamaterial that manipulates sound

Credit: Sussex University
A lightweight, plastic acoustic panel that outperforms conventional noise abatement solutions is about to begin trials in UK hospitals, with potential applications in offices and post-Covid home working also planned.
Sonoblind panels, developed by Metasonixx, a spin-off company from the Universities of Sussex and Bristol, are based on a new metamaterial capable of bending, shaping and focusing acoustic waves.
Plastic 'bricks' that are 3D printed with surface patterns are assembled together to create noise-cancelling panels attuned to a specific environment. Tests have shown they have the same noise reduction effect as two inches of plywood but weigh up to six times less.
Panels are semi-transparent and perforated, to allow light and air to pass through, potentially making noise abatement less physically intrusive.
Trials of movable Sonoblind partitions are about to begin in UK hospitals to reduce noise on busy wards. A recent study at St George's hospital in London attributed unwanted noise mostly to medical equipment, such as ventilators, and their alarms.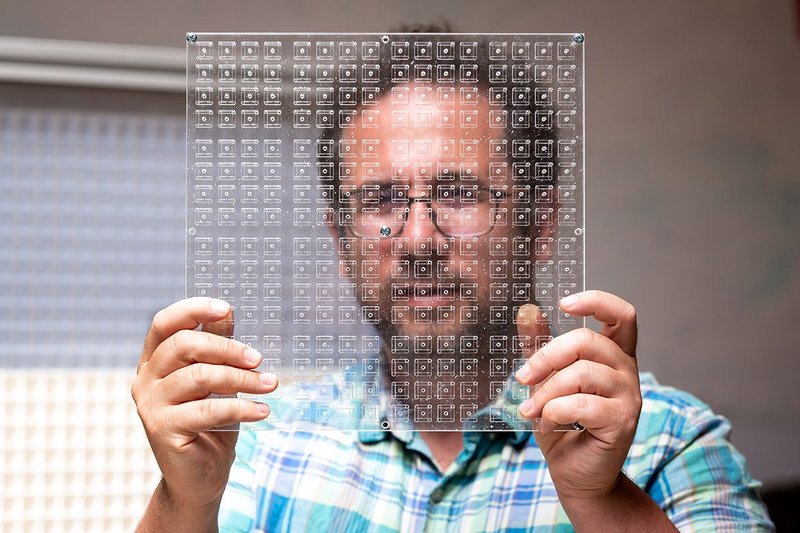 Sonoblind technology transforms plastic into a metamaterial that manipulates sound

Credit: Sussex University
"All this machinery keeps the patients alive, but studies have shown that when they start to recover, noise can prolong the time they spend in the hospital," said Metasonixx co-founder Dr Gianluca Memoli, from the School of Engineering and Informatics at the University of Sussex. "Large amounts of materials go on ceilings or walls but they don't solve the issue – they control reverberation but are not focused on the patients' experience."
Partitions in the trial will be mounted on wheels, so they can be easily moved with one hand and positioned close to beds to separate patients from noisy areas. Light and air will be able to pass through to help maintain a comfortable environment.
If the trial is successful, Memoli says a similar solution will be made available for offices or any other environment that has to balance ventilation and noise, such as a school near a busy road that needs to keep the windows open to prevent the spread of Covid.
The company is also eyeing potential solutions for home working, with workers and their families needing respite from noise in the home or from outside.
"People need something that can be simply put up and then taken down when not required," said Memoli. "Blinds or concertina blinds could create a bubble of silence between, for example, someone talking on the phone and their spouse working on the other side of the house, or in the same room so people can continue to share spaces then return them to normal in the evening."
Metamaterials have long been used to manipulate light to alter the amplitude and phase of beams, but Metasonixx is thought to be the first to apply it to sound.
In a recent study, published in the journal Nature Communications, researchers created a layer of metamaterials using 16 types of 3D printed bricks that each manipulate sound in a different way. Depending on the configuration, incoming sound waves could be transformed into an acoustic field of any shape.
"The idea is the same as that of noise-cancelling headphones, which use a microphone to record the incoming sound and emit an inverted version in real time to cancel it out," said Memoli. "But we do it passively over a large area using only the material and no electronics or energy."