We've had the virtual walk-through; now Max Fordham's Soundlab lets you hear your scheme before it exists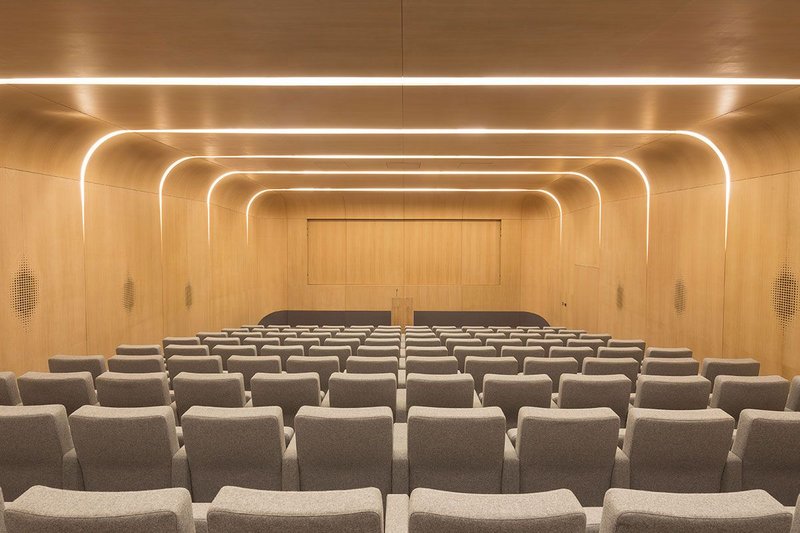 Home surround sound systems haven't got a thing on an innovative 360 degree speaker set up at the office of environmental engineer Max Fordham in Camden, designed to give clients a vivid 'auralization' of projects.
SoundSpace is an acoustically isolated studio that places the listener at the centre of a sphere of 14 loudspeakers that play sound files to accurately replicate the acoustics of an existing or prospective space.
The system is essentially a '3D' version of a 2D horizontal rig of loudspeakers used by Max Fordham since 2001, based on the Ambisonics audio encoding and decoding format developed in the UK in the 1970s.
The audio can be experienced in combination with a virtual reality headset, projections of the space onto a screen, or the use of headphones instead of speakers.
Unlike existing 3D auralization systems offered by the likes of Arup and Cundall, the emphasis is on the type of applications the system is used for and multi-modality, says Pedro Novo, an acoustics engineer at Max Fordham: 'The applications range from apartments and cafés to museums and major concert halls. In keeping with our ethos of integrated multi-disciplinary design, the VR system is used to demonstrate acoustics and lighting design simultaneously.'
However, the main innovation is the set-up, says Novo. Demonstrations happen in a meeting room that's transformed into a high-performance studio in less than 30 minutes.
The room is a box-in-box construction with a floating floor, independent ceiling, stud walls and double glazing and an acoustic door, designed to ensure low background noise and very low reverberation.
For an existing building, engineers use a three-dimensional microphone to capture sound locations. This data is encoded into four components corresponding to the X, Y and Z axis and an omnidirectional component labelled W.
When SoundSpace is used to demonstrate acoustic impacts on a building yet to be constructed, sounds are produced based on a computational model of the prospective space, factoring in the dimensions, different materials and reverberation and echoes.
The impact of sound on the building occupants' comfort and wellbeing is not often properly considered by architects, says Novo: 'Sound completely surrounds the listener at all times whereas vision provides, at any point in time, only a limited field of view. Sound is never off – there is no equivalent to eyelids for the ears! The omnipresence of sound, in space and in time, makes it a central element in a building and therefore attention dedicated to its design should reflect this,' he concludes.