Spanish floor tiles are a safe and aesthetically pleasing choice for high-traffic areas, offering a sleek and contemporary look that suits expansive spaces. High performance products are available for the most challenging projects and reassuringly meet tough criteria for slip-resistance, sustainability and other specifications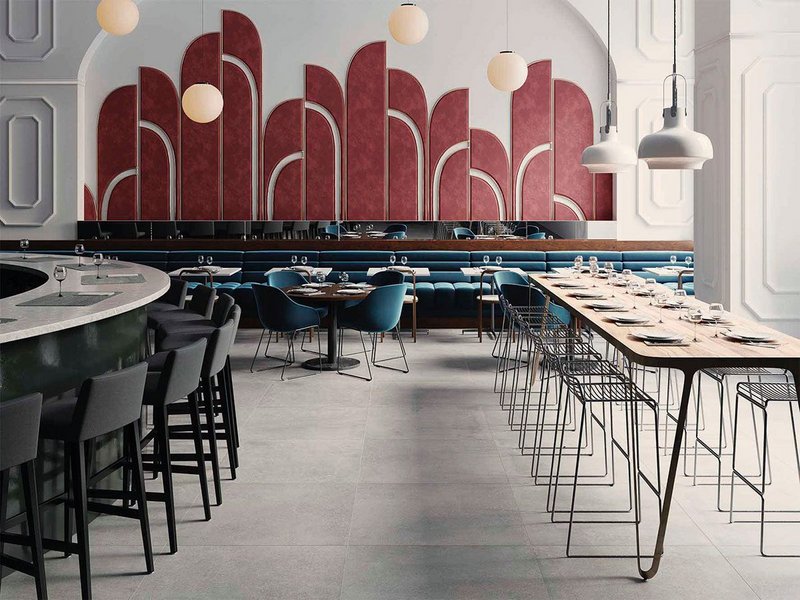 Solid by Casainfinita is a cement-effect floor tile in four formats.
Natural appeal
Advances in digital technology mean that the Spanish tile industry has been able to push the boundaries and create ever more realistic replicas of raw materials, whether from the mine, quarry or forest. Production processes are so innovative that tiles can faithfully reproduce the warmth of wood or the rustiness of weathered steel, yet win every time on practicality as ceramic surfaces offer so many benefits and are ideal for a broad spectrum of projects.
New inks for porcelain that don't lose their vibrancy when heated are allowing manufacturers to experiment with colour and design while the use of digital printing has transformed traditional production techniques beyond recognition.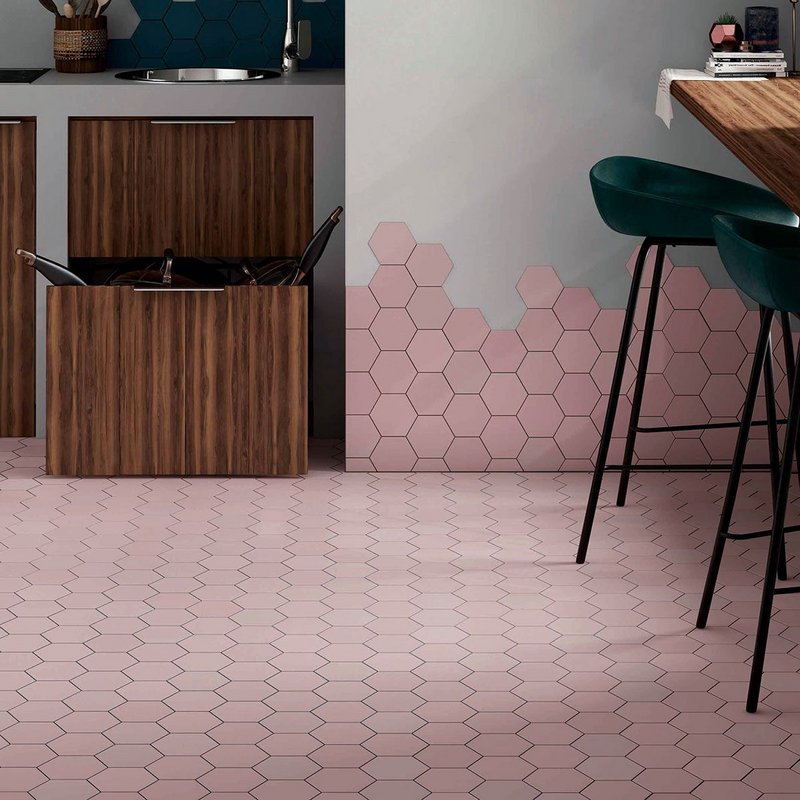 Kromatika by Equipe Ceramics has a matt finish that gives a contemporary look to a porcelain tile.
Sustainable solution
Ceramics are a safe choice for the environment. Made by combining fire, clay and water, tiles are a natural material and do not give off harmful emissions. They are durable and resistant to sudden temperature changes, damp and chemical and biological agents, offering a highly sustainable and lengthy lifecycle. And, with their hardness and scratch resistance, porcelain tiles are an ideal choice for public spaces with high-traffic areas, looking pristine for many years to come.
All these positive attributes are well known by industry professionals, but what is not always realised is that tiles can contain significant recycled content. As environmental concerns move up the agenda, Spanish manufacturers continue to look closely at their production processes and many are working towards a circular economy.
Creative force
Manufacturers will often work with architects and designers to create special pieces and, as the cost of small production runs has come down, it's much more feasible to offer this flexibility. With formats ranging from large slabs and 3D pieces to subway-style bricks or mosaics in a variety of shapes, sizes, finishes, colours and textures, there are distinctive looks available for each and every project. The Spanish tile sector is particularly adept at interpreting the latest trends and some brands employ teams of designers to create intriguing concepts. Oxidised metal slabs and terrazzo-effect tiles with giant flecks are recent creative ideas that work particularly well in porcelain.
About Tile of Spain
Tile of Spain is the voice of the Spanish tile industry, encompassing more than 125 tile manufacturers. Renowned worldwide for an inspiring blend of aesthetic and technical innovation, Spanish tiles draw on a rich heritage of skill and creativity while remaining at the cutting edge of design. Manufactured in Spain and widely available in the UK, these products embody the spirit of an industry that prides itself on proposing beautiful, meaningful and high-performance solutions to flooring, wall coverings, furnishing and external paving and cladding.
For more information and technical support, visit tileofspain.com
Contact:
020 7776 7785
---