Flora and fauna are the client for a Dutch housing scheme's Speaker for Life in a bid to bring nature back to the city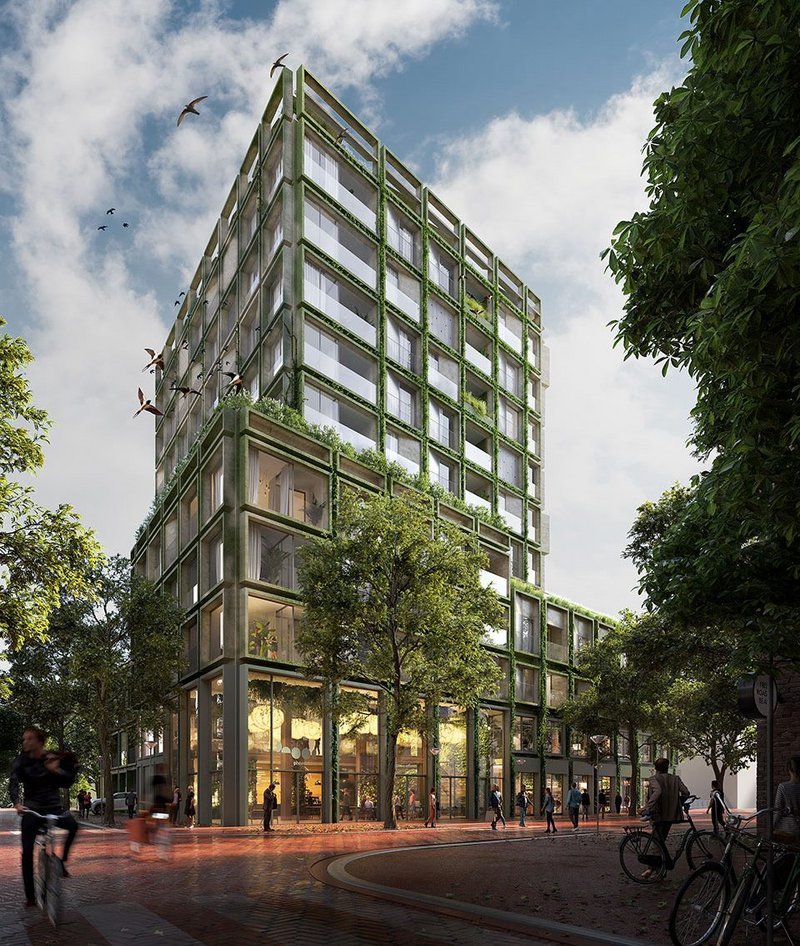 The ZOË Amsterdam project's layered, porous facade was conceived to optimise connection between people and nature, containing nesting boxes and insect hotels and dedicated spaces for small creatures, birds and plants.

Credit: Team AM-VenhoevenCS DSL
Appointing an independent 'Speaker for Life' to the design team for a nature-inclusive apartment complex helped to create a new global benchmark for sustainable 'future-proof densification within urban areas,' says the lead architect on the project.
The ZOË Amsterdam neighbourhood in the Sluisbuurt area of Amsterdam was designed by a consortium led by Dutch practice VenhoevenCS architecture + urbanism working alongside DS Landschapsarchitecten.
The brief, from the Municipality of Amsterdam, was to create a sustainable, green neighbourhood that balances the needs of nature and people in the city – contributing to local biodiversity, being climate-adaptive and improving the quality of life of residents.
With a mix of 82 homes for families, couples and singles, the scheme features a multi-level design with spaces where flora and fauna can co-exist. Landscaping will differ in height and surface to create variation in vegetation to cater to the various animals that feed, reproduce and shelter there. Native planting is designed to attract species that have been disappearing from the city, including insects, pollinators, bats, birds and aquatic life.
Creating the Speaker for Life position was intended to ensure that the interests of non-human life were heard during all the stages of decision-making – to 'push the boundaries of nature-inclusive design' and 'actively promote' biodiversity, not simply protect it.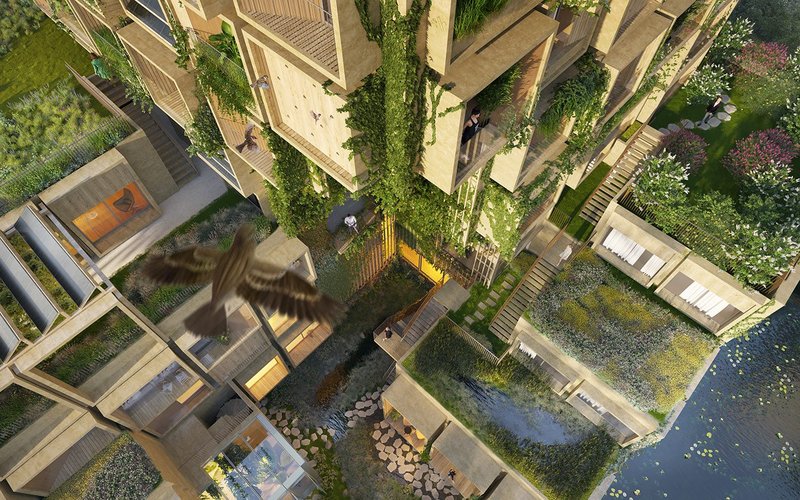 The Speaker for Life vetoed the use of large window panes, mirrored surfaces and glass, mainly to prevent bird collisions on the ZOË Amsterdam scheme.

Credit: Team AM-VenhoevenCS DSL
Landscape architect Maike van Stiphout, who fills the role, is the first person trained by Holland's Het Nieuwe Institute in the Zoöp model, an innovative governance model that aims to ensure the interests of non-human life are part of organisational decision making.
Van Stiphout chose specific 'clients' to represent on the project, including plants, animals, insects and pollinators that live around the site. 'We know what those species need to thrive, so their needs are highlighted, and they are given the same level of priority as the humans who will occupy the site,' she says. Very rare species were excluded because it is an urban ecosystem.
Integrating these concerns in the design hasn't been contentious, she adds, because all parties agreed in advance to prioritise the needs of non-human life in decision-making.
As a key focus was on increasing the life carrying capacity of the building, the facades feature a layered, porous shell conceived to optimise connection between people and nature. This contains nesting boxes and insect hotels, with dedicated spaces for small creatures, birds and plants.
'We made sure that features responsible for wildlife deaths, particularly birds, were eliminated, we vetoed the use of large window panes, mirrored surfaces and glass,' says van Stiphout.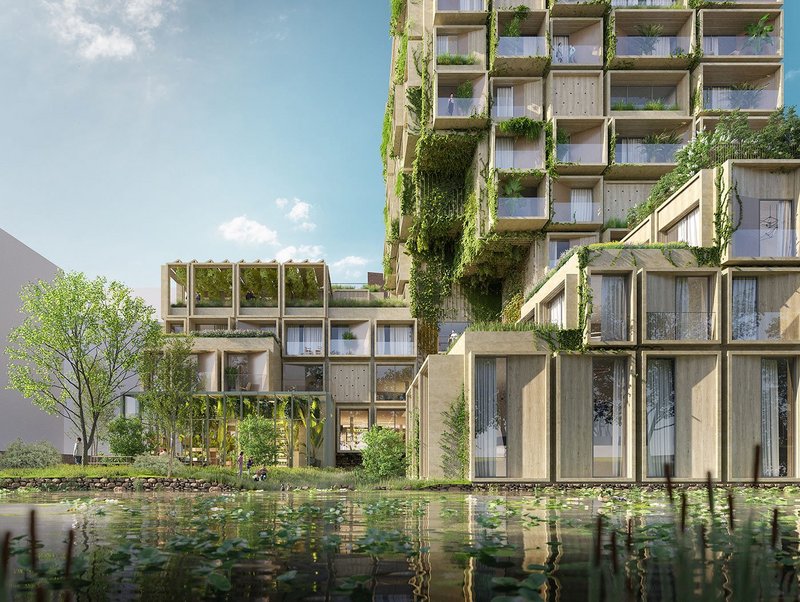 Collective areas, such as a 'flex greenhouse' and a garden room are available for community use.

Credit: Team AM-VenhoevenCS DSL
The facade also features collective areas, such as a 'flex greenhouse' and a garden room for community use.
Previously, van Stiphout worked with VenhoevenCS. The practice had 'internalised' a biodiversity-based perspective, making it possible to push the boundaries on nature inclusivity, she explains.
It remains a challenge for the industry at large to accommodate non-human life in the design process, even for landscape architects, says van Stiphout: 'I'm often the only one advocating for non-human life on projects. Too often other disciplines only consider human beings as their clients. While that is understandable given that they can't speak for their own needs, as designers we have the ability to meet those needs,' she concludes.