There are lots of ways to make your buildings pretty and progressive packages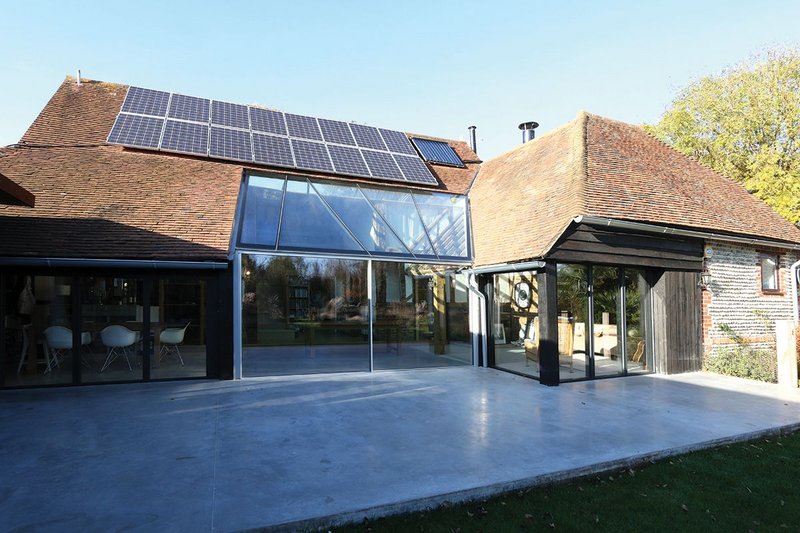 Glass barn conversion
IQ Glass
Were you born in a barn? Can you operate a sliding barn door? Were you born outside a barn in a glass courtyard? Were you born in a barn but looking out to the fields through full-height glazing? Would you like to give birth in a barn looking up as you push to the azure sky through a glass roof? Would you like your grandchildren to be born in a barn blessed with a lifetime's worth of solar PV? Are you seduced by IQ' glass' high-end barn intervention or irked by the born in a barn blarney? Would you like me to be buried beneath a barn?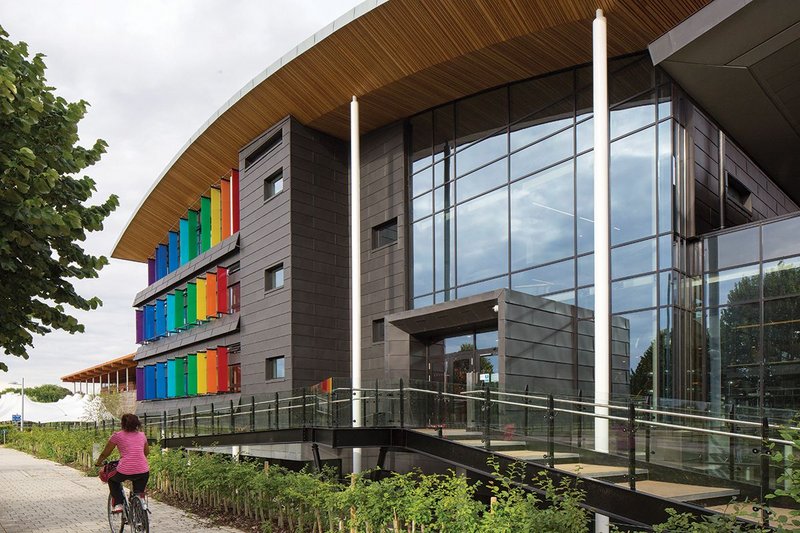 Azengar and Anthra-Zinc facade
VM Zinc
When Facebook trolling, grim reposting, and guilt for not engaging in real-world political action bring you down, think of the rainbow. The symbol of peace and reconciliation from God to Noah, with a dove and olive branch for good measure. The rainbow is above politics. Everyone likes a rainbow – unless it's a gay rainbow and you're a social conservative, or you're in rainbow coalition, ditto. Anyway, this rainbow of louvres on the Maxwell Centre in Cambridge is on a science building; it's evidence-based, fact-driven, and so blameless and above politics. Unless you're President Trump.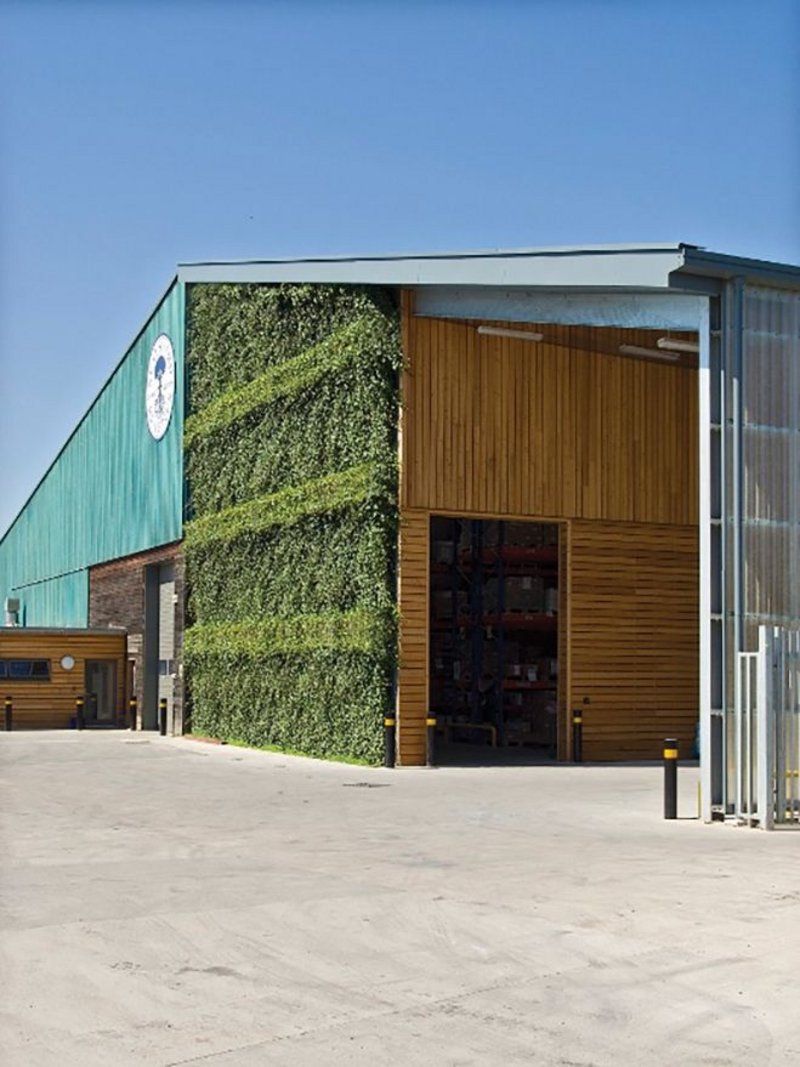 Living Wall
Mobilane
Well known herbal smellies producer, Neal's Yard, is having a hell of a time working out how to gather ingredients from its new Mobilane vertical plantings on its Doest eco-factory. It turns out almost nothing could be harvested by reaching through an open window and a bungy-jumping test session merely resulted in boysenberries and fennel being scattered hither and yon. Company scientists are said to be working on an innovative remotely operable mega-scythe but in the mean-time local window cleaners are being issued with secateurs and trugs.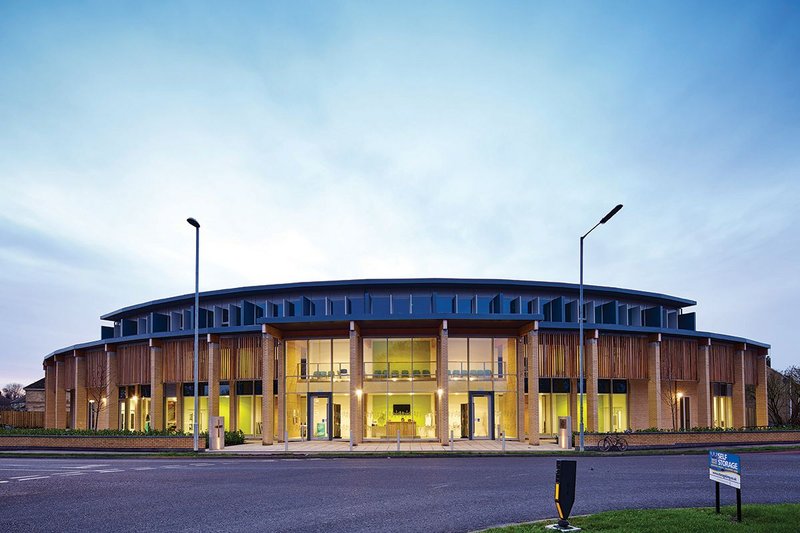 Cladding system
Kawneer
If God is all-seeing, then this stadium-shaped circular Cambridge Community Evangelical Church with Kawneer glazing from top to bottom will be quite useful as he'd be able to see all the way around. He will have a good view of Timpsons key cutters opposite Wycliffe Road, as well as the petrol pumps at Sainsbury's (great for getting to and opening the pearly gates). He can peek into the Council's Horizon Resources Centre over the roundabout and even wave to himself in the Cambridge City Church of Christ up Coldhams Lane.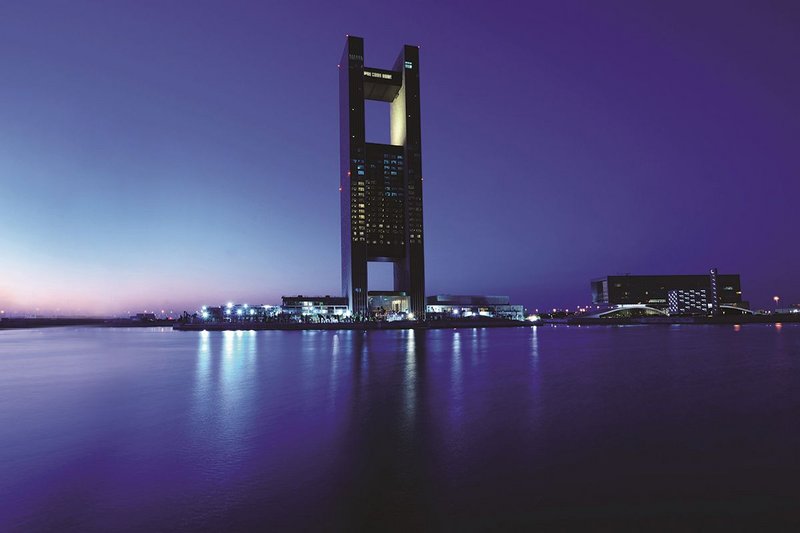 Online project bank
Reynaers
In the topsy-turvy world of 2017, where a reality TV star can become president and the judiciary can be against the people, it's best to expect the unexpected. However, we didn't see an aluminium window and specialist cladding company going into architectural publishing. Reynaers' website now includes a series of projects from around the world which incorporate its products. It makes us wonder if we are maximising our own potential. Should we explore basket-weaving or lion-taming perhaps? Food for thought…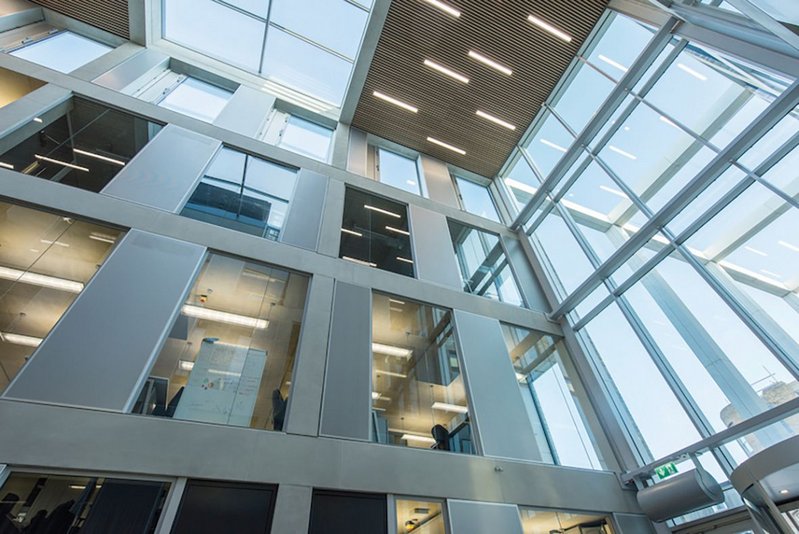 Thermally-efficient cladding
Technal
As a certified vertigo sufferer, I had to have my mother describe Technal's BREEAM Outstanding University of Lancaster new engineering building to me. She writes: 'Oh, it's very shiny. There are lots of lights at the top. It looks quite nice out and I imagine there's lovely views. How do they clean everything? Don't know what it's like to work here though. Might be warm but doesn't seem very cosy… all that glass. And it doesn't look quite finished out front. Seems to be someone working on the right, it's hard to say. Your great aunt Lucretia is back in hospital. Are you coming to visit?'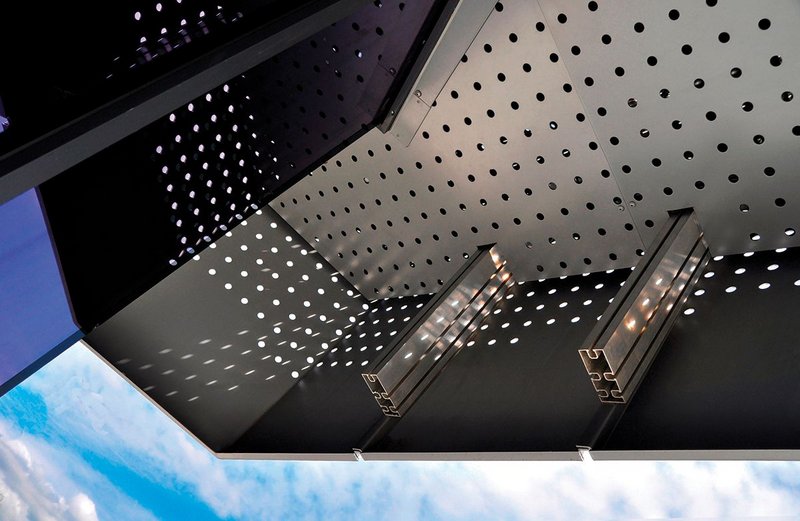 Building facade
Proteus
'You can't go out like that, with all them piercings! What would the National Archive say?'
'You never let me do what I want! Why can't I choose what I have on my own skin?'
'As long as you are under my roof, you'll follow my facade-detailing.'
'Arr, Dad, you are just so behind the times'!
'Well, I am the West Yorkshire History Centre. '
'Yeah, but, but, the Dance School Aurélie Dupont in Paris features panels of perforated metal.'
'None of those fancy foreign ways here, lad. This is Wakefield!'
'I hate you!'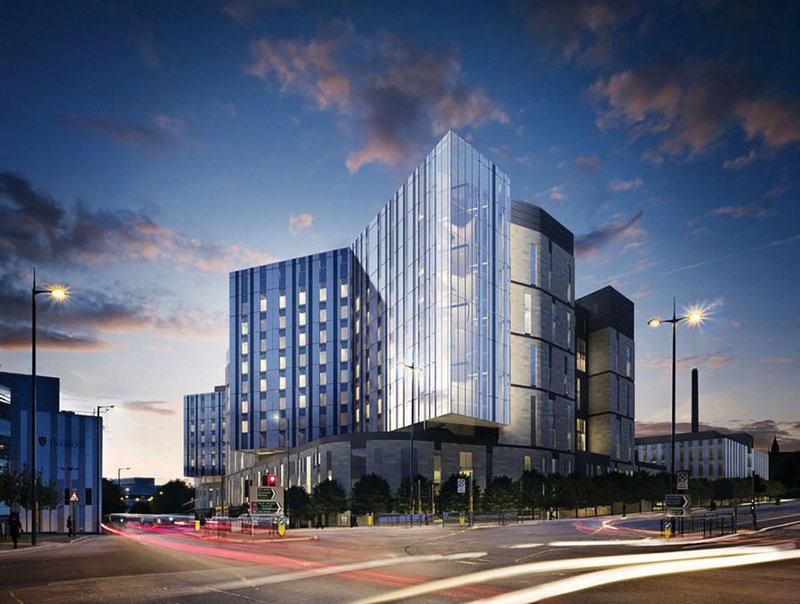 SureClad ceramic panels
Shackerley
Little prepared the people of Liverpool for the battle of Neptune and the Triton. They stormed in at sundown, below the Liver Bird, carrying their seething resentments to the site of the near-complete Royal Liverpool Hospital, unwisely built on the battleground. Citizens sought any nook to hide in, some jamming themselves behind Shackerley's robust SureClad ceramic cladding in the half-built hospital at the sound of trident striking trident, the portentous clarion-call of the conch and high-pitched hissing and gurgling drowning out the nearby traffic.