Flooring ideas that won't get you carpeted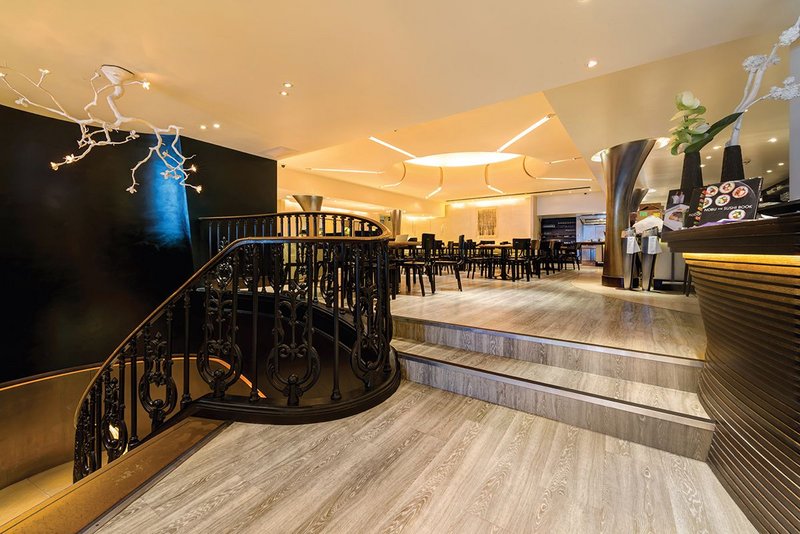 Wood effect flooring
Amtico
Here are some floors that would have made a real difference at celebrity guzzle-shack, Nobu Berkeley Street in London: a floor that sucks the carbs from your body through special plates in the red soles of your Louboutins; a floor that makes you highly visible to the right kind of paps if your career is on the way up; another that makes you invisible to the wrong kind of paps when your career is on the way down. However, management opted for Amtico's Limed Grey Wood flooring as its star-crossed stand-in for the previous Pergo laminate.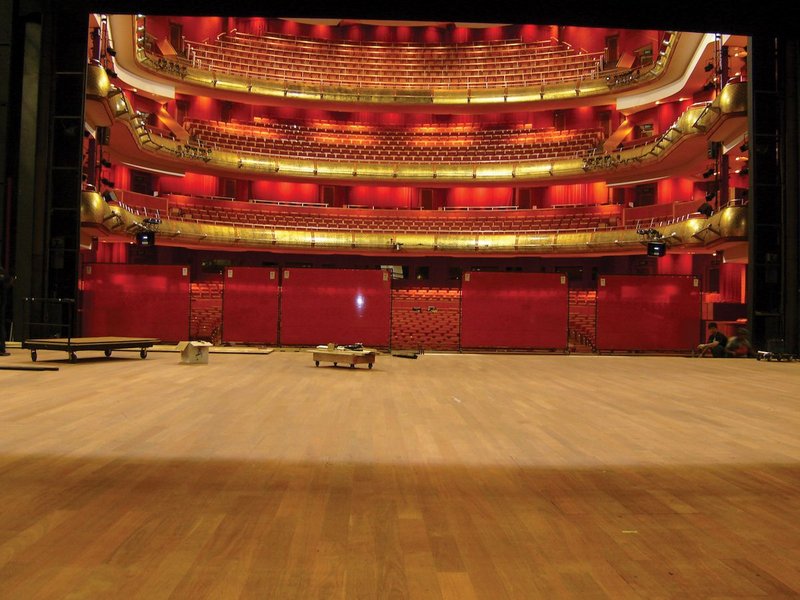 Stage floors
Harlequin
The Rite of Spring again, already? It seems only last month they were prancing around 'ere like demented peasants on a stag night. The only diva-like walkout likely to be seen during this rendition of Stravinsky's ballet is going to be for a wee or more ice cream, that's for sure, ducky. It almost makes you wish that Jack and the Beanstalk was still on. Even a fully 'Twanky'd up' Christopher Biggins could move with a bit more grace now that Amsterdam's Het Musiek Theatre's newly installed Harlequin stage floor is so well sprung. I said 'sprung'! Ooo, you are awful…!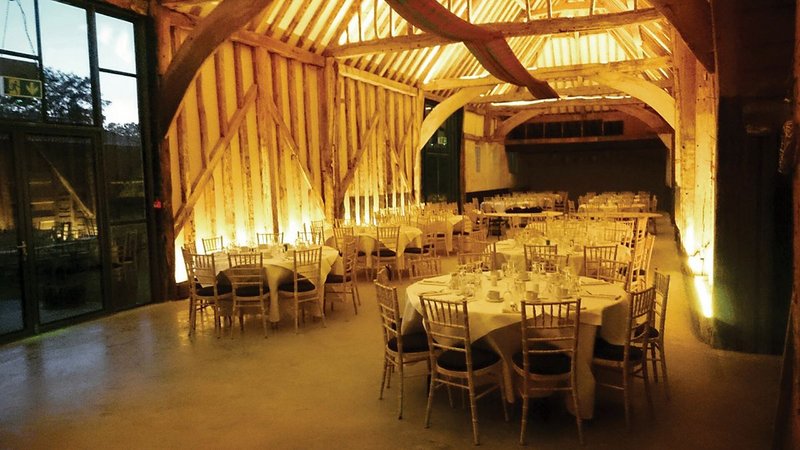 Underfloor heating system
Gaia
The Rous family may have owned Henham Park in Suffolk since the 16th century, but that doesn't mean they are behind the times when it comes to building technology. Owner and developer, Hektor Rous, who returned from sheep farming down under to run the family estate in 2004, chose a Gaia wet underfloor heating system to warm up the power-floated concrete floor in the estate's 18th century barn. The choice obviates the need for radiators in the grade II-listed structure, now used for weddings and other celebrations, and stops the punters bleating on about the cold.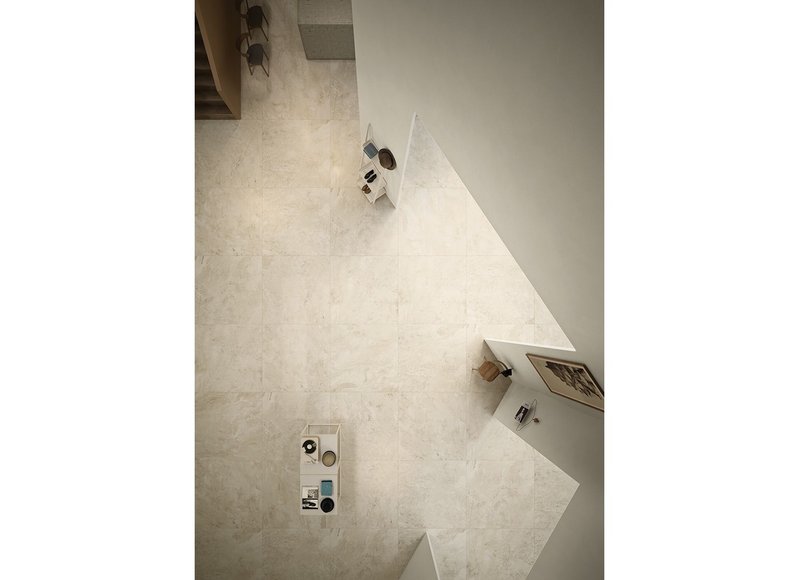 Magnum XL floor tiles
Domus
'Darling, have you seen the sofa?'
'Yes, sweetie, I put it in the loft along with the armchairs.'
'Oh, is it "spring clean" time again?'
'Yes, the living room was looking far too cluttered.'
'So, the TV is up there as well, is it?'
'Yes, it's next to the dog's basket…'
'And the dog?'
'In the cupboard under the stairs.'
'I suppose it was shedding a lot of hair. At least we can see our enormous Magnum XL Lightweight Porcelain Slab tiles.'
'We could have anyway – at 3.2 x 1.6m they're bigger than the maid's room. And only 6mm thick.'
'Oh.'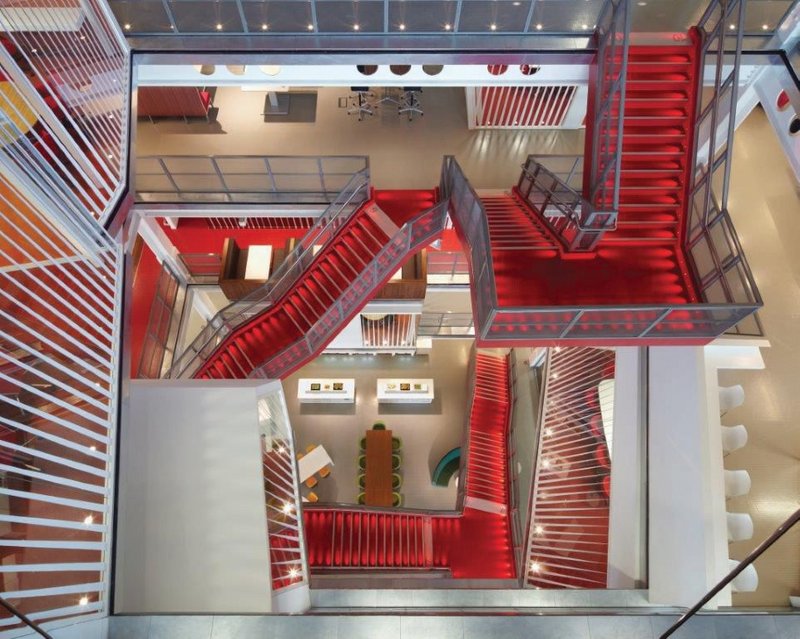 Rubber floorcovering system
Nora
Who is the lady in red ascending the scarlet ladder? Why, it's Nora with her rubber flooring surface, rising up the russet runway at Ropemaker Place in the City. The shiny stair treads are preshaped in one piece to prevent dirt absorption and make this climbing crimson corridor easy to clean without the need for any extra sealant coatings. The floor coverings from the Norament range are also said to be quick to install, slip-resistant and comfortable to walk on. They come in other colours too – although as far as Nora is concerned it's red or dead.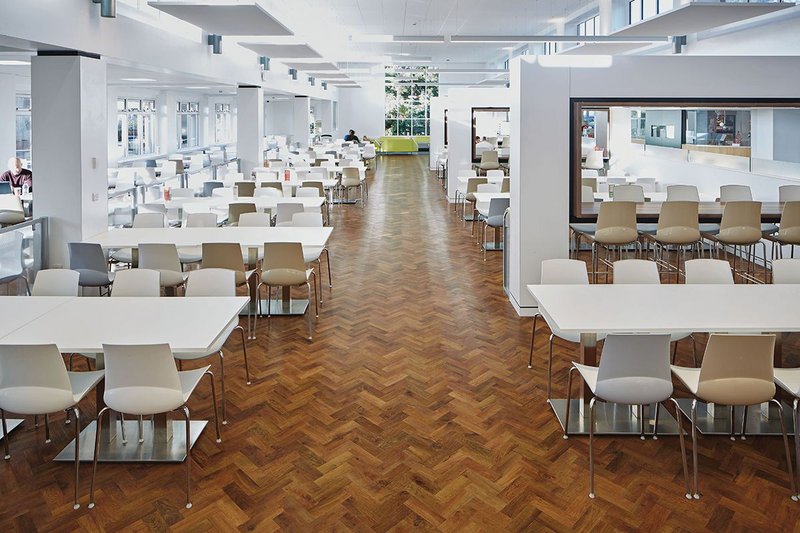 Parquet effect flooring
Karndean
Students at the University of Worcester may have noticed that free education has been replaced by tuition fees and grants by hefty student loans, while professional degrees guarantee them no more than years of debt and a career dealing with self-checkout snarl-ups at Asda. What they may not clock is that the 50-year-old parquet floor in their cafeteria has been replaced by Karndean's vinyl simulacrum, Auburn Oak Parquet. Whether that's a tribute to the product or the impact of large amounts of ever cheaper vodka on the student brain is hard to tell.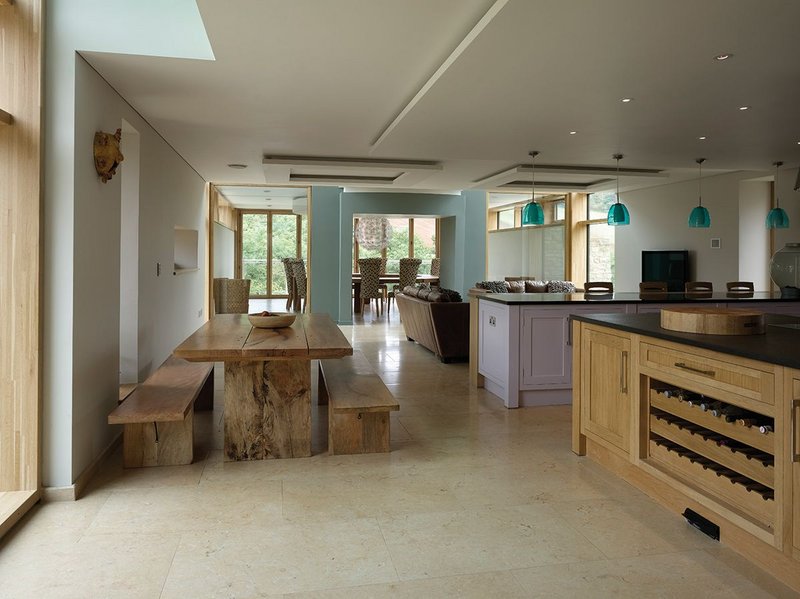 Underfloor heating system
Schlüter Systems
This is a rare kitchen for the UK. Who in this country would store 30 bottles of wine in one unless for a party, and even then you'd probably dump them on the island under the halogens. No, it usually takes a cultured, continental European to build up a 'cellar' where vintages can mature despite their proximity to a corkscrew. But on-tap here too is Bekotec-Therm's fast delivery water-fed underfloor heating by UK's Schlüter Systems – claiming it's 30% more energy efficient than standard radiators. Cheers to that!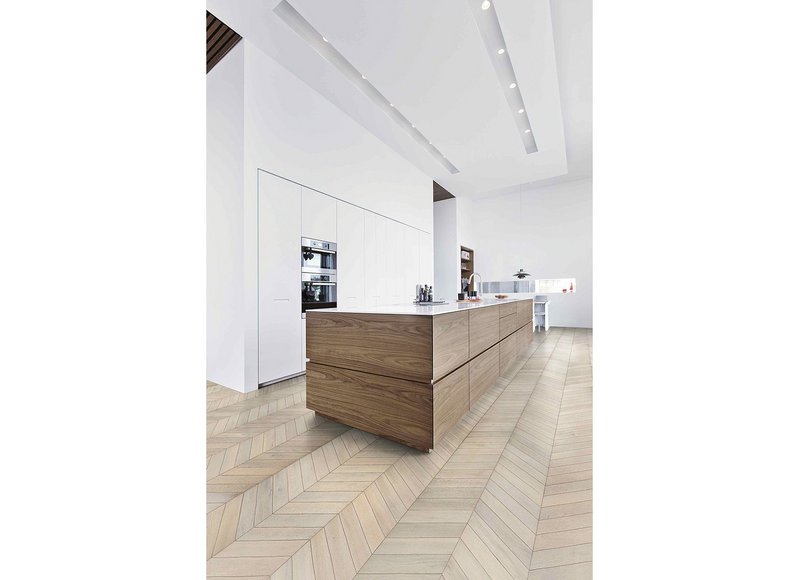 Patterned wood floors
Kährs
Looking at this picture, you might think the near right corner of the worktop is 50% larger than the nearside left and more than twice as big as the far right corner. But that would mean you'd somehow missed the revolution in perspective kicked off by Brunelleschi in 15th century Renaissance Florence, allowing flat images to replicate effects of binocular disparity. And, as you have also no doubt gleaned over the perspective of time reading this, the Kährs Chevron parquet-look planks are all the same size, just getting further away.
---