Eight of the best surfaces to feel beneath your feet
1. Walnut Montreal, Kährs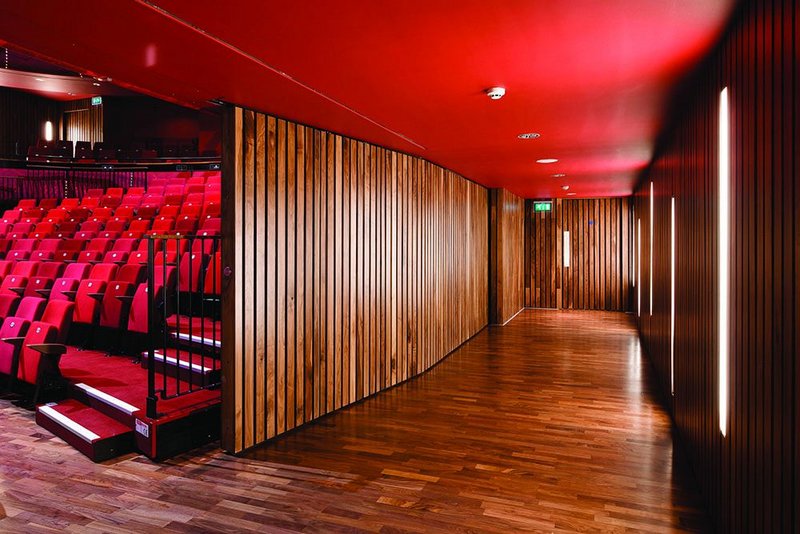 Don't be fooled by the sensual, no, passionate, crimson and wood interior of the Corby Cube, the venue at the heart of the former steel town's regeneration. The space is about to be filled by 'Fifty Shades of Beige', which could well take that shine off Kährs' sumptuous Walnut Montreal wood floor. Oh, hang on, now I've put my specs on I see from the Cube's website that it's Jenny Eclair's comedy about Grumpy Old Women, which scarily includes a brief Zumba demo. Once they're groovin' on that eco-friendly floor though, won't the urge to polish it overtake them?
2. Aged oak boards, Bausen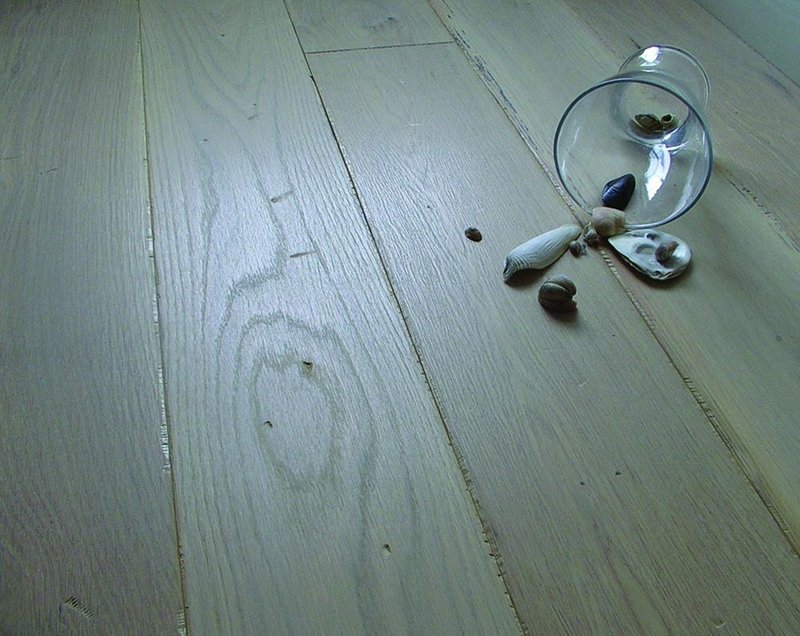 In this age of personal grooming, when image and youthful looks dominate public aspirations, less obvious attributes like kindness or interesting conversation seem overshadowed. The opposite is true of Bausen's new 'aged' oak engineered boards, which remain solid and functional while their distressed and broken finish adds 'instant charm and character to any project'. It's a sort of no make-up selfie for floors. Now, if the company could only do a human version they'd really hit the jackpot – bringing a human angle to shabby chic, and the older the better. Yay!!
3. Non-slip flooring, Altro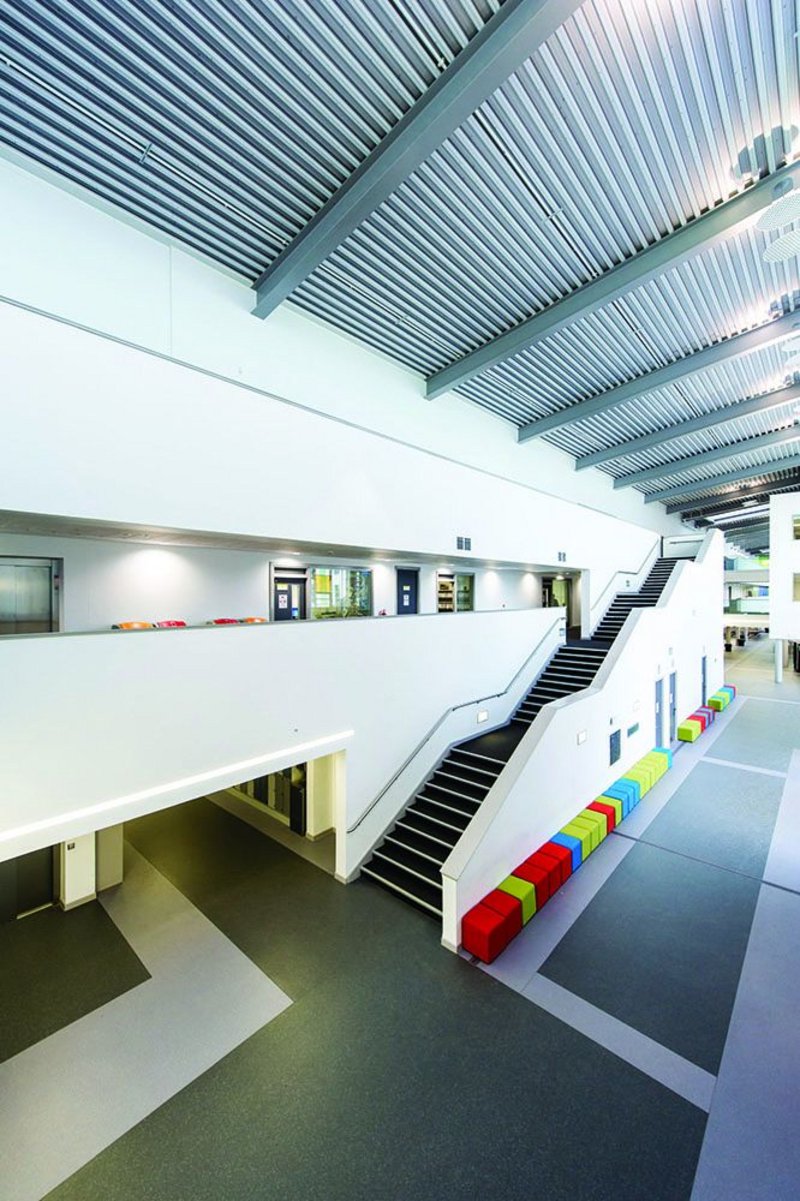 Here we are again on PIP's regular curriculum slot, the maths lesson. This month we're in Dunfermline, where the geometry class must have designed the newly built high school (founded 1468, one of several venerable institutions on this page). With no curve in sight, the shapes on the internal street floor depict a timeline of all six Dunfermline High Schools, laid in Altro Suprema II which is durable, non-slip and easy to clean while promising value for money. So that's maths, history and home economics covered; the art department is clearly of the minimalist school.
4. Marmoleum, Forbo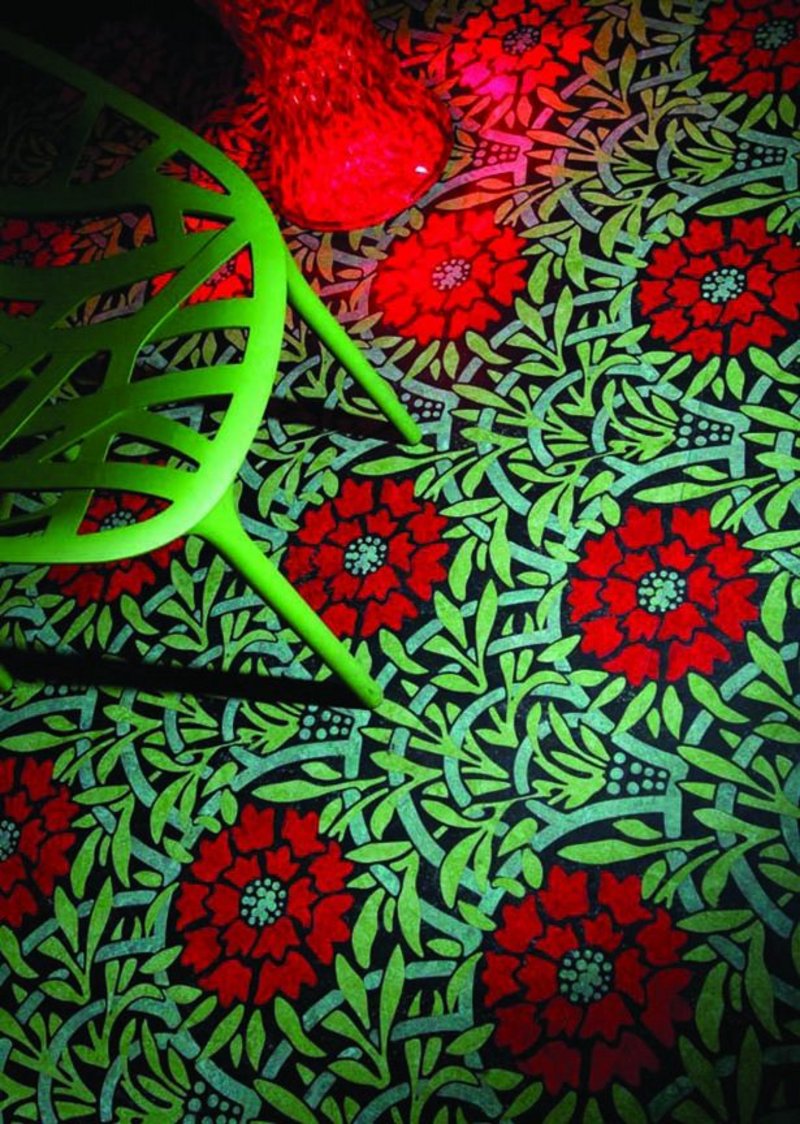 William Morris, socialist, designer and temperamental cuckold, initially planned to be an Anglican clergyman. Luckily, he soon decided (with Edward Burne-Jones) to pursue the creative arts, and upset his family by joining the office of architect GE Street. We all know the story from there – his prolific and varied output – but he slipped up in the lino department, so to speak, producing only one design. This has been reinterpreted for a floor in the William Morris Museum, and laid in Forbo Flooring's resilient Marmoleum – everlasting flowers indeed.
5. Sentica rubber tiles, Nora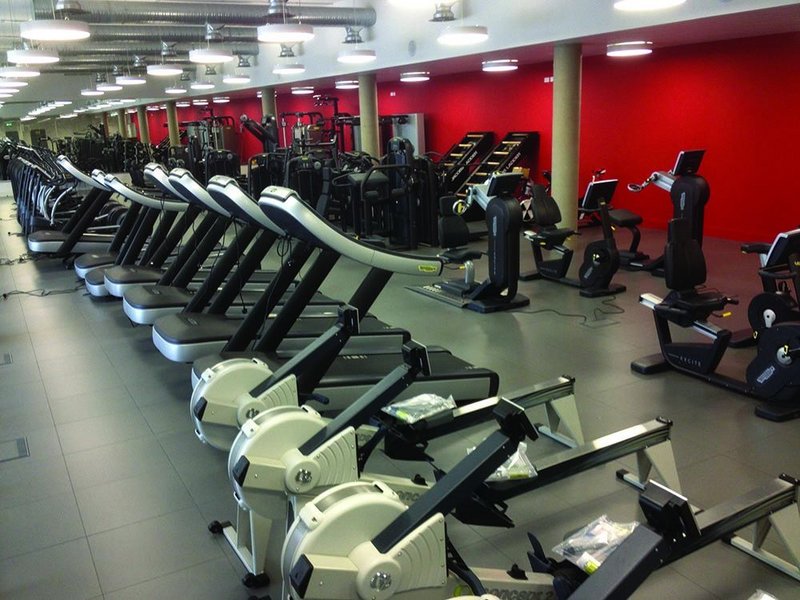 When in 1209 the University of Cambridge was established, Europe was awash with crusades and massacres – an unlikely context for the higher aspirations of the founding intellectuals fleeing persecution in Oxford. But if life was brutal then, it was as nothing compared to the torture chamber you see before you: the university's new Sports Centre. Luckily for the poor souls on the treadmills, nora's Sentica rubber flooring offers warmth, good acoustics to muffle the groans, and a soft landing when inmates crumple. Is that a couple of racks leaning against the wall?
6. Porcelain paving, Refin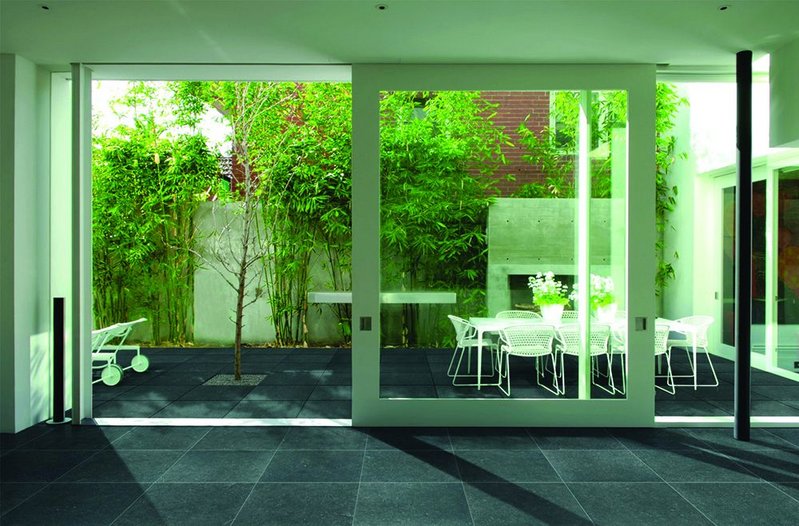 Giving the headline writers yet another opportunity to adapt the 'Fifty shades of grey' moniker, Greensquares has added two new grey squares to its Refin porcelain paving range. As is the fashion nowadays, both lines can be used inside or out which, given the propensity for white painted walls and industrially-styled furniture either side of near-invisible glass doors, further blurs inside and out. Imagine being colour blind too: that helpful bamboo planting would turn grey, banishing all sense of the outside. You'd only know where you were if it started raining.
7. Silkmatt coating, Bona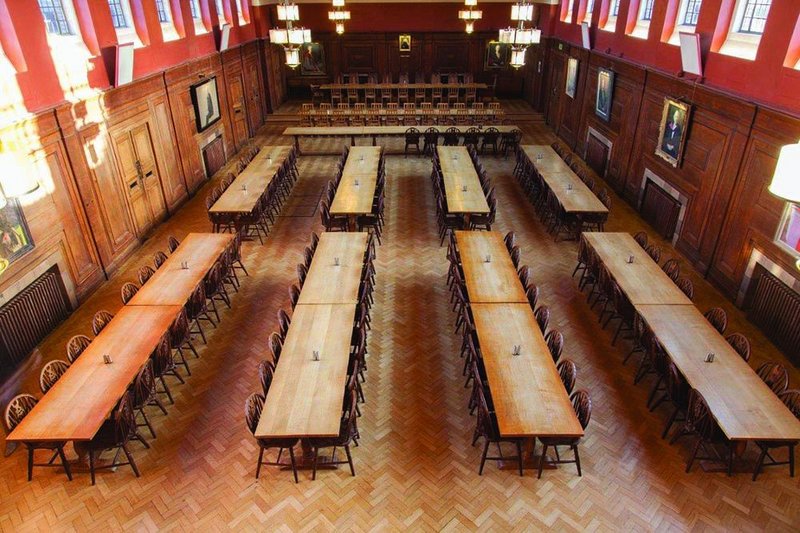 Meanwhile in the alma mater of the Cambridge founders, Oxford, the interrogation – oops, dining – room looks a lot calmer. The University's first female college, Lady Margaret Hall, has had its original oak floor (a youthful 136 years old) refurbished using Bona Mega Silkmatt, a high performance coating made sustainable partly with vegetable oils. Perhaps they've moved so far from the bloodthirsty days of yore that bread-knitting, grow your own furniture, and vegetarianism drove the choice. Either that or they've scraped out the redundant vats of boiling oil...
8. Taraflex sports floors, Gerflor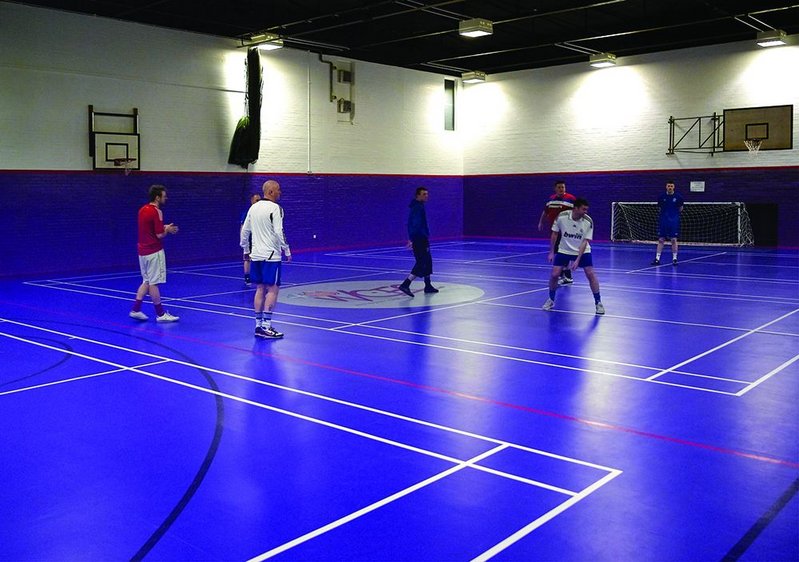 This year, the 700th anniversary of Bannockburn, Scotland's independence referendum could not be better timed. What would Robert the Bruce have made of today's war of words? Presumably the arachnophile would advocate perseverance and determination. Sadly such advice doesn't seem to be working at the Witburn Centre near Edinburgh, where five-a-siders are getting extra bounce and a softer landing from Gerflor's Taraflex covering, quickly laid straight on the wood floor. Judging by their laconic style of play, the words of encouragement fell on stony ground!