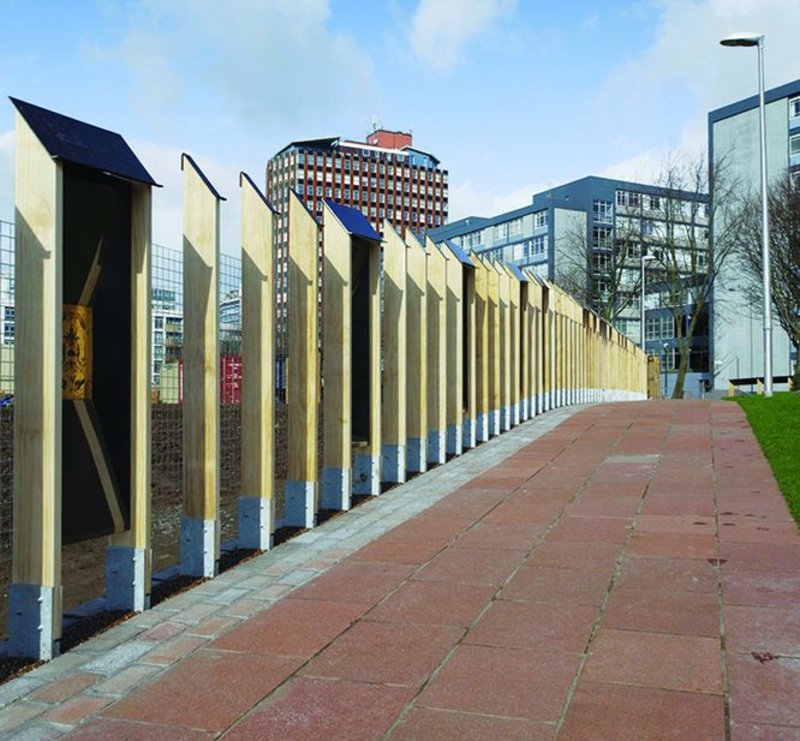 Glasgow has instituted the maxim 'every fencepost tells a story' with a fence that celebrates the city's medieval history. The city council has used high performance modified wood product Accoya for the fence, which links the city's medieval Nicholas Street to the historic High Street, and contains panels that impart historical nuggets about the city to passers-by. Accoya boards hold steel plates and shields conveying the city's history back to 1210, when Nicholas Street was first established.
w: accoya.com
---
2. Street furniture, Bailey Artform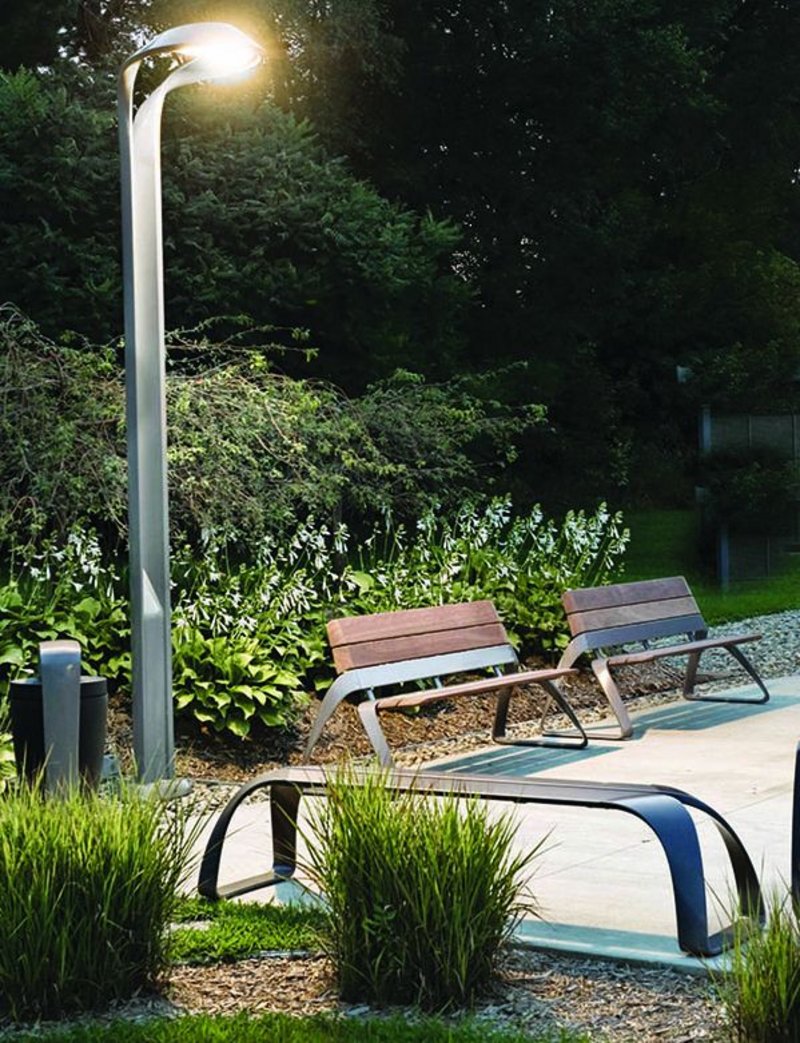 Style is the order of the day in this range of street furniture from US firm Landscape Forms, launched in the UK by Cheshire-based Bailey Artform. The manufacturer says the design-led seating, chairs, benches, shelters, bollards, waste bins and LED lighting are intended to help architects and specifiers 'bring their visions to life', and their combination of elegance and resilience will surely mean that even the local disaffected youth, armed with tinnies and fags in the absence of anything better to do on a Saturday night, will leave them still looking sleek.
---
3. Public seating, Centriforce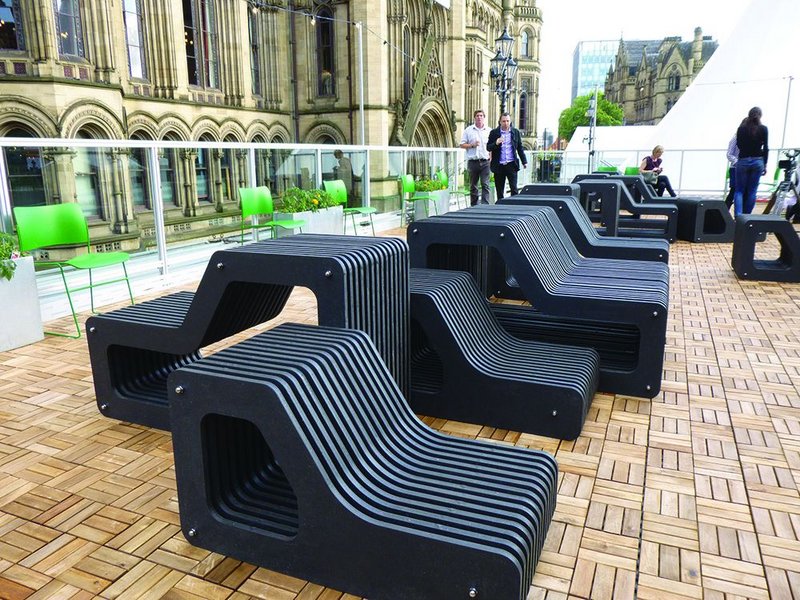 Students from Manchester School of Art put their furniture designs through a Dragon's Den-style panel for the Manchester International Festival, and came up with this brooding seating. Made with Centriforce's Stokbord recycled plastic sheet and board, the pieces are intended to create an industrial look, and while they have clearly achieved that, comfort doesn't seem to have been part of the brief. After they've finished half lying, half sitting on these unusually proportioned recliners, students can walk away with a nicely ridged pattern printed into their flesh.
---
4. Rooftop planting, Boningale Nurseries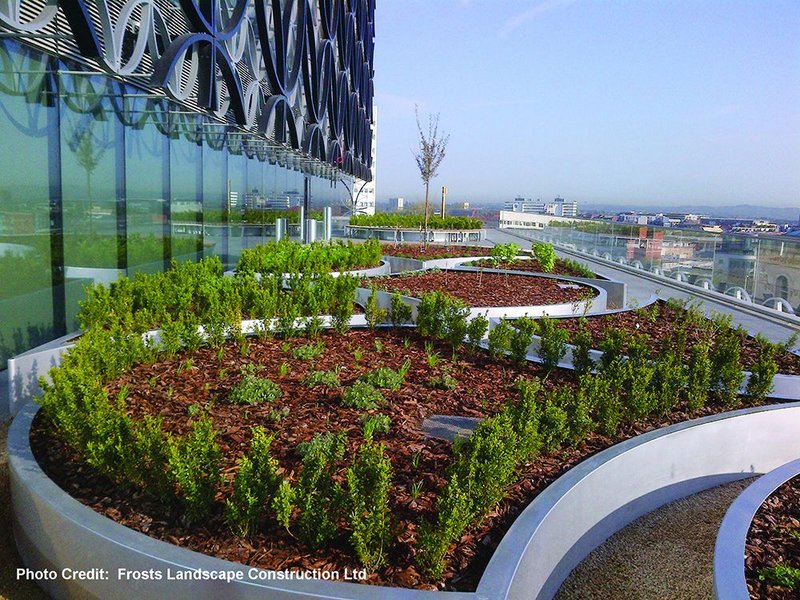 The twin mantra of growth and green design has been realised in Birmingham, where Boningale Nurseries has supplied 10,000 contract-grown plants for two rooftop terraces at the new city library in Centenary Square. The indigenous, shade-tolerant plants were chosen to contribute to the building's BREEAM Excellent rating. And alongside the Brummies, the bees of Birmingham will also be celebrating the planting of 'a carpet of contrasting foliage, interesting movement and long flowering periods' in the city, says Boningale.
---
5. Urban paving, Hanson Formpave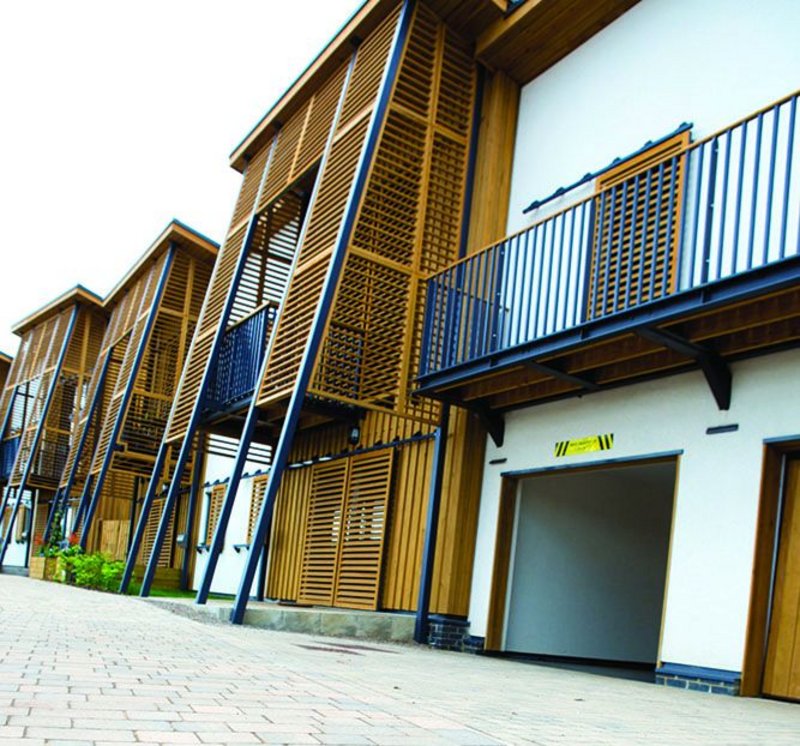 This isn't just paving – it's also part of a rainwater harvesting scheme. Hanson Formpave has supplied over 2,000m2 of the paving for Barratt Homes' Hanham Hall development of homes, shops and offices near Bristol, slated to be one of the first zero carbon communities in England. The company's sustainable urban drainage scheme (SUDS) paving will not only provide enough water per house to flush one loo but will supply sufficient for the washing machine too. It's a case of from SUDS to suds...
---
6. Raised flooring, Buzon UK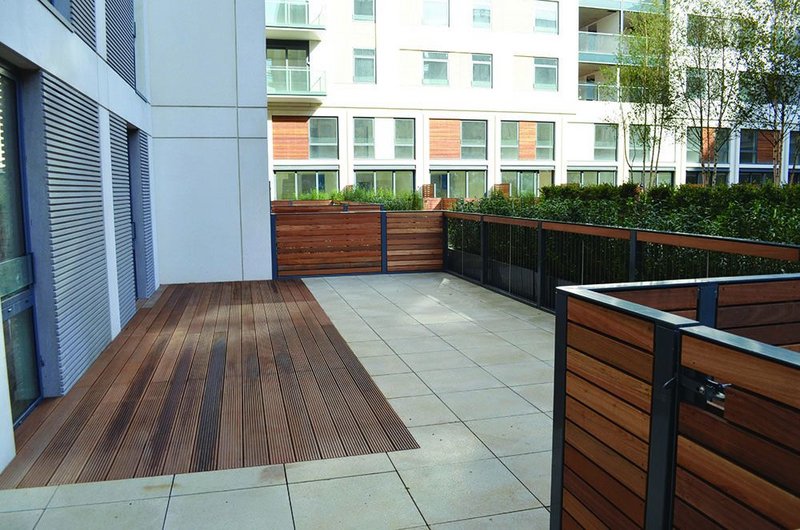 Adjustable screw-jack pedestals from Buzon UK will support raised floors carrying loads of 1,000kg and more, and made of 100% recyclable materials their life seems potentially unlimited. Boasting adjectives like durable, stable, strong and flexible, they can be used on anything from small rooftop terraces to large temporary installations. So while users can walk tall on a newly laid section, they won't need to worry about uneven surfaces or piped in services, which will all have been brushed under the carpet... or rather decking/paving/stone terrace etc.
---
7. Cycle hub doors, Dorma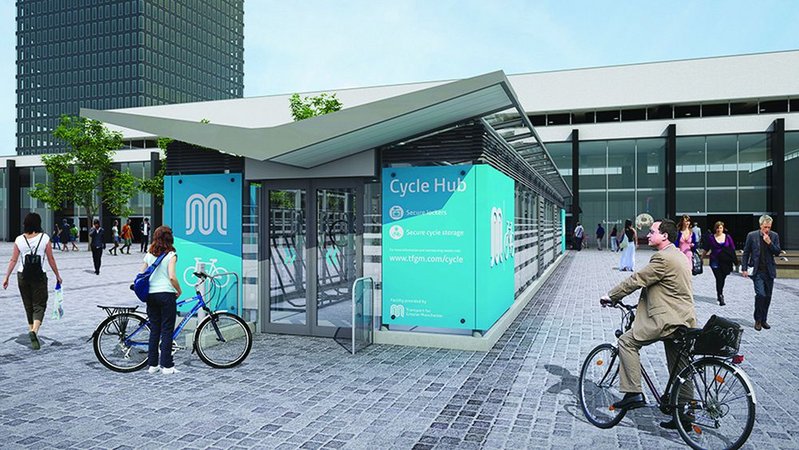 Cyclists in Manchester now have a new cycle hub in the bottom of the City Tower in Piccadilly Gardens. Part of the Commuter Cycle Project, the hub is fitted with Dorma RST automatic space-saver doors. These swivel quickly and quietly in a tight space to maximise the passage width, giving commuters fast and easy access when parking their bikes and racing for the tram or bus. The city has seen a 90% increase in bicycle use in the last decade, a sustainable theme continued by Dorma's low energy swing door operators used elsewhere on the hub.
---
8. Walls and floors, Burlington Stone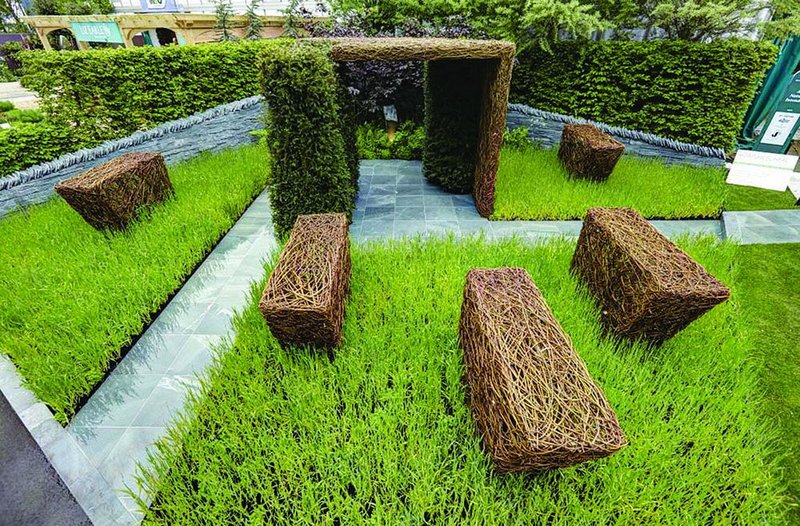 Jamie Dunstan brought a bit of Yorkshire to this year's Chelsea Flower Show with Burlington Stone's Broughton Moor and Westmorland Green products. Dunstan's 'As Nature Intended' garden won the Silver Gilt award with its unfussy and naturalistic style – appropriately enough from a son of the home of plain speaking. And the waterjet finish on the paving is suitably evocative of the rain lashed moors – without causing any discomfort to the garden's users.