A comprehensive collection of roofing products
1. Flat roofing system, Langley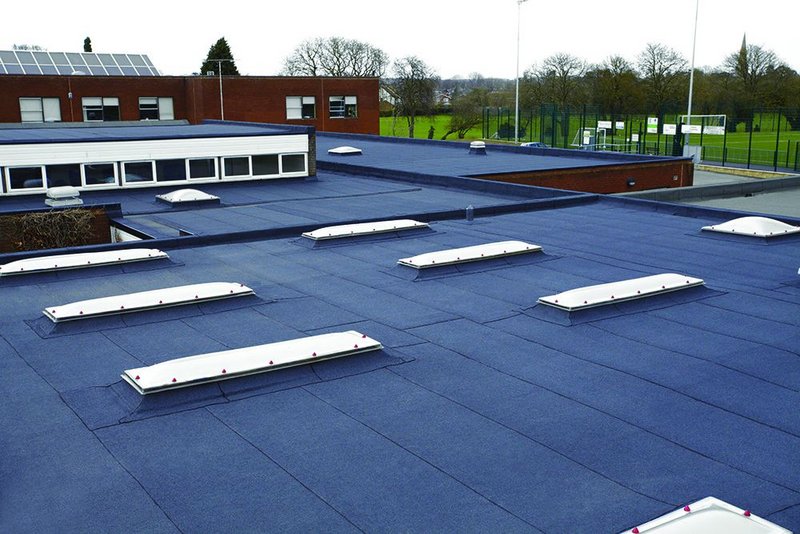 We all know our school days are the best time of our lives because grown-ups keep telling us, but we never believe it until we're the nostalgic adults ourselves. So imagine going back after 30 years, wandering the corridors and classrooms and instead of finding an alien culture that has erased our golden time there, it all looks the same. Same teachers, assemblies, labs, playing fields, dinners... roof. Pupils from Cedars Upper School in Bedfordshire can live part of that dream as Langley Waterproofing Systems has put on a new roofing system that should still be there in 2043. Old!!
2. SOLfixx solar panels, Bauder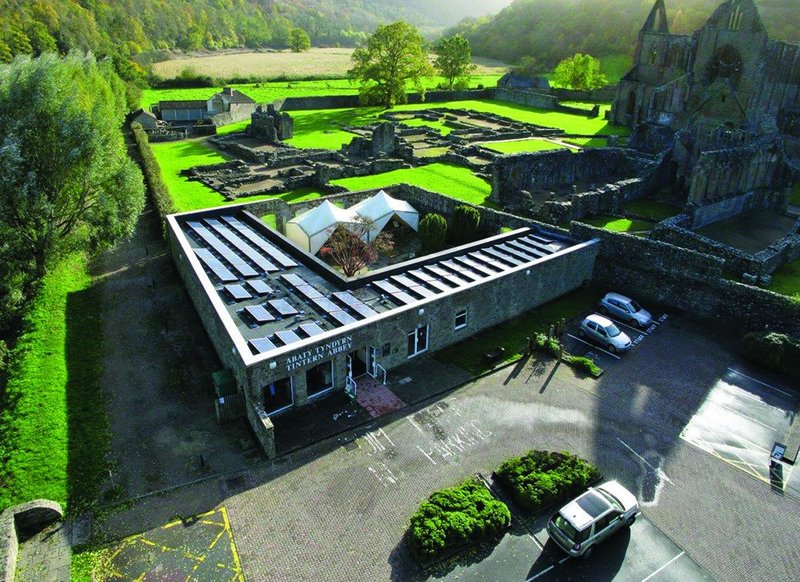 Say what you like about religious orders, they know how to pick a location. Wherever you go in the world, the most beautiful corner always has a monastery or some sort of retreat perched complacently at the viewpoint. Tintern Abbey is one of Wales' most scenic such spots, but not remote enough to escape Henry VIII's wrath. Now its visitor centre has a new Bauder roof with up to the minute SOLfixx Plus solar panels. All very cosy, but is it really necessary? The Abbey's managed without any roof at all for centuries but it hasn't stopped the visitors!
3. Fibre cement tiles, Marley Eternit
What a delightful spot to go to school, in this charming Victorian building at the heart of the scenic Welsh valleys near Aberdare. It has been reroofed using Marley Eternit's Rivendale fibre cement slates, combining a cost effective covering and traditional aesthetic. It's hard to imagine this idyllic scene in the cauldron of pit closures and the miners' strike, a particularly turbulent time in Wales' recent history. But the children of the area may still remember hearing the last live gig by band the Crass – keeping less a welcome in the hillsides than anarchism for the strikers.
4. Rooftop decking, John Brash Decking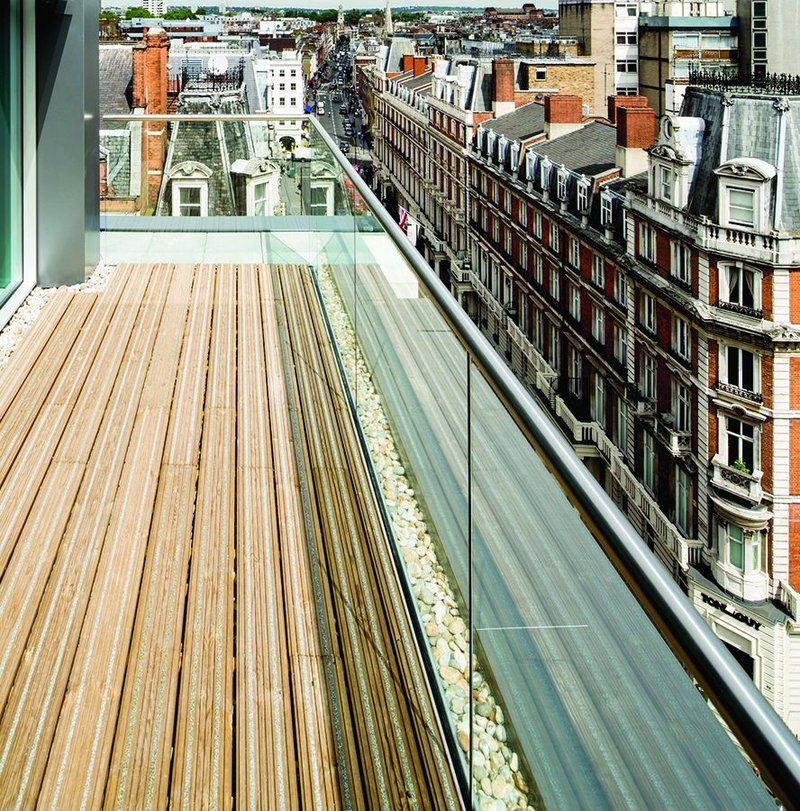 Brash by name but not by nature – judging by this FSC-accredited rooftop decking on the Wigmore Street development in London's West End. JB Antislip Plus Classic meets a host of regulations and looks like hardwood luxury while actually being made of affordable softwood. Marion Mellon, on a shopping spree to Wigmore St in 1877, should have tried this approach. Exceeding her dress budget bigtime at Debenhams, she had the shame of seeing hubby Alfred refuse to pay the credit bill, setting a famous legal precedent. The only credit to mention here, however, is the admiring sort.
5. Metal Web beams, Wolf Systems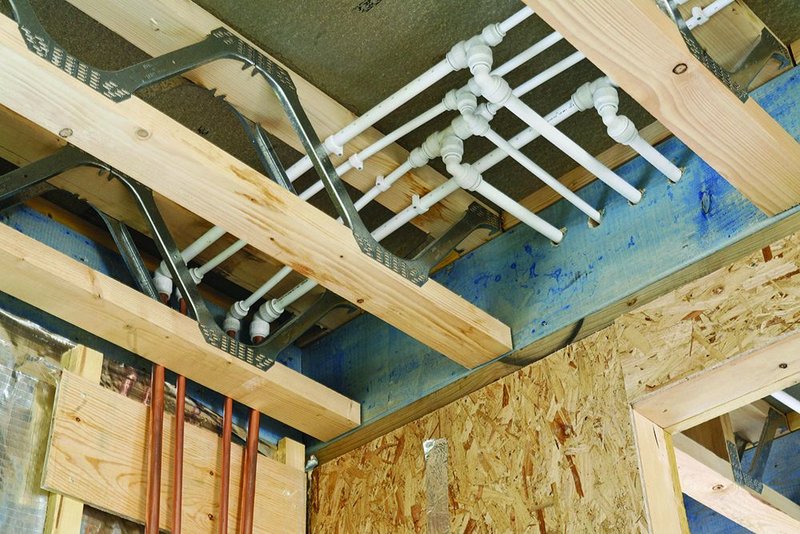 A lot goes on between floors, as this 'construction uncovered' image reveals. It's a complex mesh of beams, pipes and cables, interweaving like a spider's web. Funnily enough, this is the apt name for Wolf Systems' light, strong structural beam shown here. Its steel and timber Metal Web can be incorporated into MMR components, allowing structures to be speedily spun into a secure and comfy space where ceiling/floor maintenance is as easy as sitting at the desk below, browsing today's kind of web. They've thought of it all – there's no flies on this Wolf.
6. Raised flooring, Buzon UK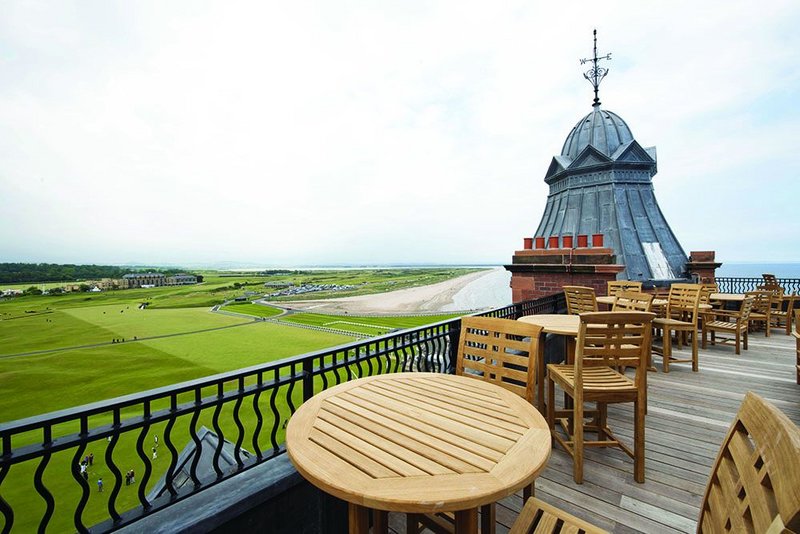 What links a grand hotel visited by film stars and royalty, a training HQ for the RAF, and a students' hall of residence? Well Hamilton Grand in St Andrews, Scotland, which is all about links, has been all three, and now exists as exclusive apartments. Buzon UK pedestals support decking on the balconies which – and here's the other reference to links – offer views of the Old Course golf links and the dramatic coastline. Corrosion-resistant, they can withstand salty North Sea air, safely allowing plaid clad residents to relax and relish views of golf or sea with a wee dram.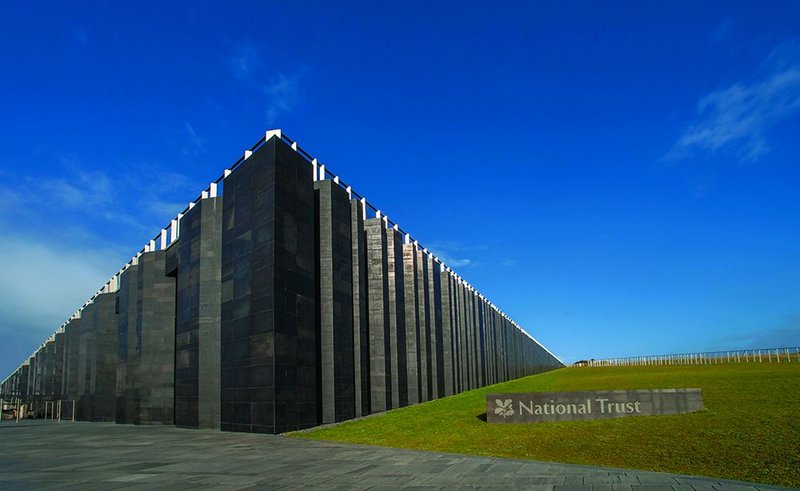 Aware the Emerald Isle's lushness is due to its prodigious rainfall, Irish architect Heneghan Peng sought foolproof waterproofing for the roof of its cavernous Giant's Causeway visitor centre. But what would legendary local giant and Causeway creator Finn McCool have made of Alumasc's Hydrotech Hot Melt system? Dispatching his aggressive Scots neighbour more with cunning than bravado, our hero might have been tempted by its dry billet for the baby impression that terrified his adversary, rather than stalking the cliffs in a downpour, chucking basalt columns about.
8. Kemperol membrane, Kemper Systems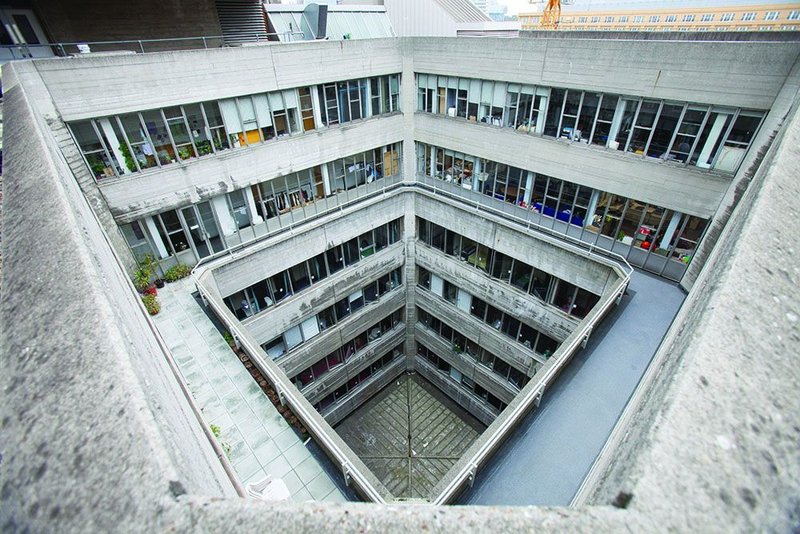 It's all very well for those luvvies strutting the boards within – calling on the winter elements to swell the curled waters 'bove the main – but the National Theatre, part of the Brutalist South Bank complex on the Thames, is a trendy outdoor hangout too, much used by Londoners. When its balconies started leaking onto the public walkways below, Kemper stepped into the breach, applying Kemperol 2K-PUR to reseal the substrate without disruption of strip-out or hot works. So blow winds and crack your cheeks; cataracts and hurricanoes, spout! We're still dry!