Take a peek at the latest news and innovations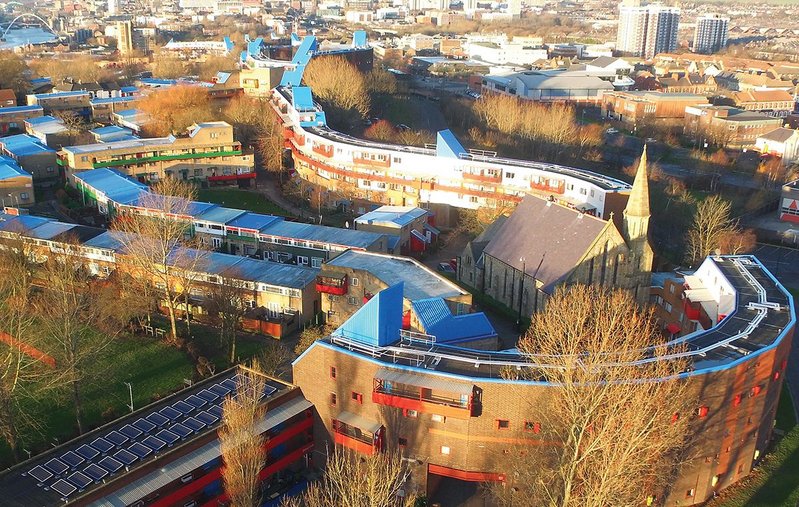 PV roofing
Bauder
Ten years since last airing, teen soap Byker Grove still divides. The boosters will point out even more extreme storylines than Grange Hill (upping the latter's 'just say no' ante to take in child abuse, homelessness and teen pregnancy) and so freaking your parents out even more satisfyingly. The theme featured kids leaping about to acid house on this very estate, designed by loveable Swede Ralph Erskine, the restoration of which has just netted Bauder a Roofing Award for its solar installation – letting them party like it's 1999 on the night.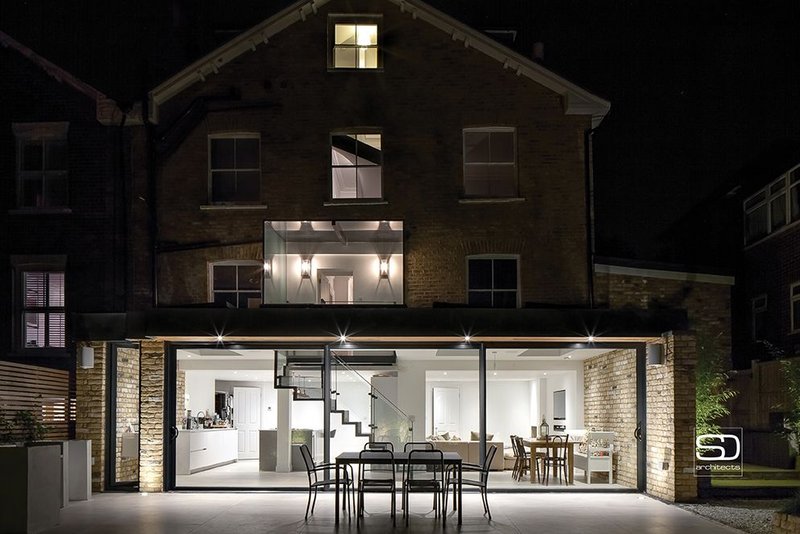 Bespoke rooflights
Sunsquare
Remember Merrie Melodies' Case of the Missing Hare cartoon when magician Ala Bahma tries to 'preste… prestedij… prestedigi…. PULL!' Bugs Bunny out the hat? That's sort of what's going on at this private refurb and extension in Brentwood, Essex. The 'hat' is a huge ground floor kitchen-dining extension and the 'rabbit' is a storey-height cube of frameless double-glazing from Sunsquare, with two sides frosted for privacy. But given the spotless look of the extension, this tale doesn't end with a thrown custard pie and the bunny slipping back into the hat playing 'Aloha'Oe' on a ukulele.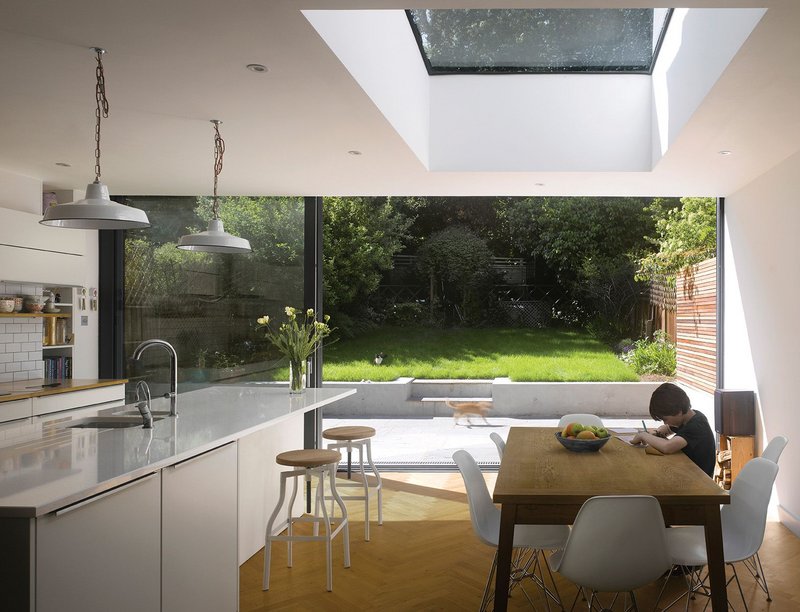 Fixed flushglaze rooflight
Glazing Vision
How can you be sure your child is doing homework rather than creating doodles of unicorns, ladders, rocket boots and unicorns? This innovative fixed-flush rooflight from Glazing Vision is perfect for helicopter pilot parents who can hover above to check he/she is progressing as they should with SATS. Or a drone with high res camera would do the trick; as indeed would clambering over the extension roof – perhaps the perfect vantage point for reassuring yourself how Glazing Vision's products meet the new Part Q.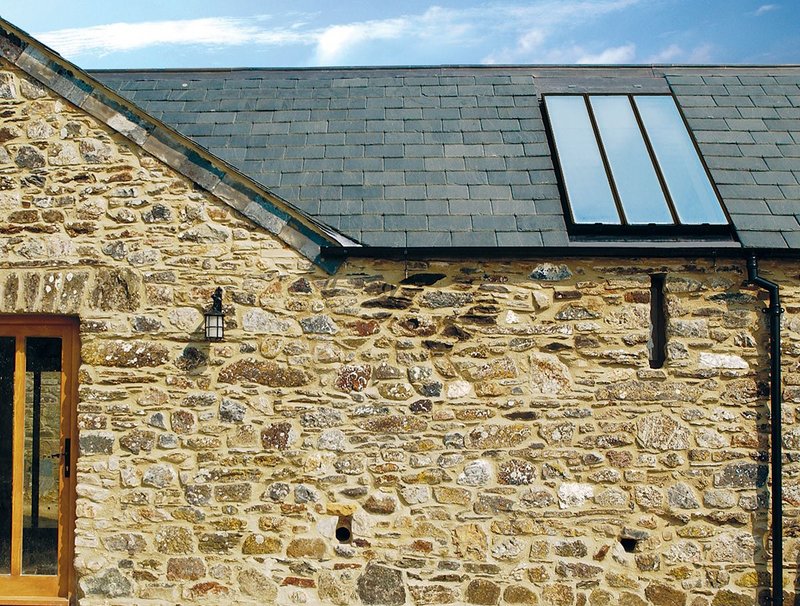 Conservation rooflight
The Rooflight Company
Just like the Rooflight Company's PR says, specifying a roof window is a one-time decision when working on heritage or listed agricultural buildings. There's no going back once you've installed it, and if it looks bad, you've just got to live with it. An example of getting a decision right in this context is the large Conservation Rooflights installed on Week Farm in Devon. An example of getting it wrong is Radio 4's Helen Archer telling little Henry to run along back to the TV room of the farmhouse after he'd asked mummy why daddy Rob was on the kitchen floor with a knife stuck in him.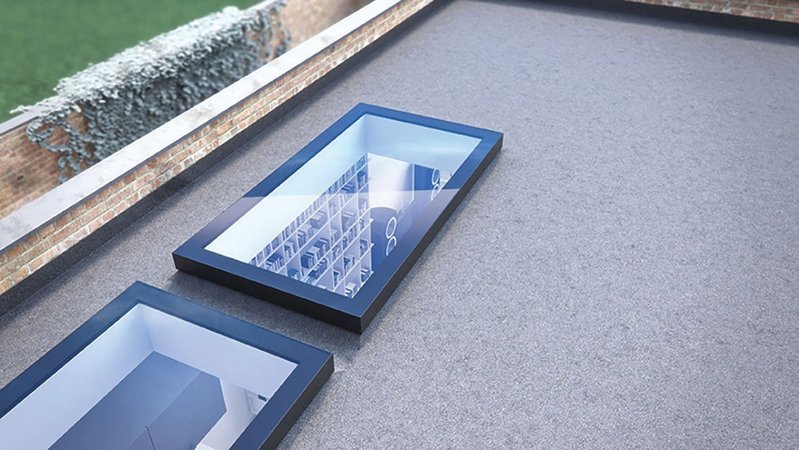 Energy efficient rooflights
EOS
This immaculately preserved 21st century tomb was the greatest find of an archaeological site in what was Finsbury Park in London. It is thought to be the resting place of a 'Dead Dad' and is notable for the treasures interred with the body, denoting one of great stature. Among the artefacts was a collection of box sets, including the ELO, the complete Cream and Bob Dylan, as well as rare 'Dad House' speakers, too powerful to have ever been played. The special Krypton-filled EOS rooflights are presumed to be the reason for the excellent condition of the finds.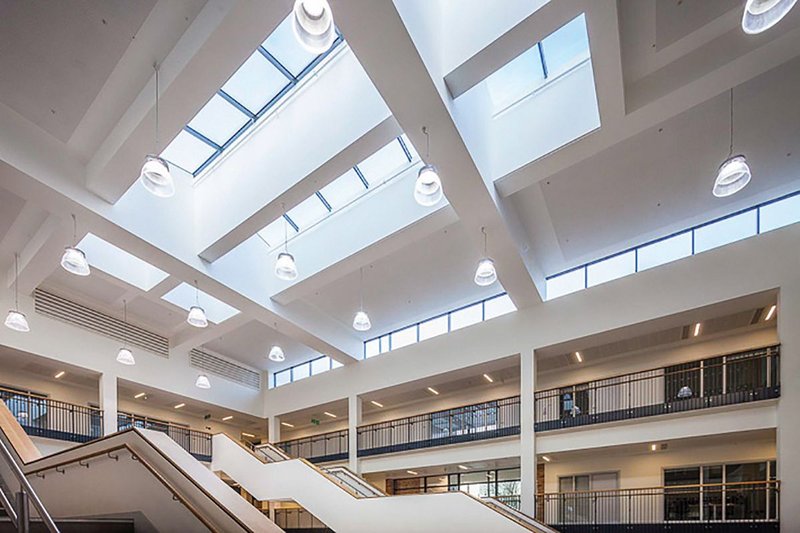 Rooflights
SAPA Building Systems
Local context is important in architecture, and here Associated Architects has used a curtain walling system that matches tonally and aesthetically with the surrounding car park. When it rains at the University of Birmingham School, which is virtually every day, the sheen on the Tarmac echoes the shine on the curtain walling. Inside the atrium, rooflights keep the space bright and as dry as a bone. The academy is the first to be tied to a specific university. SAPA provided the curtain walling, the Dualframe Si Casement windows and the rooflights.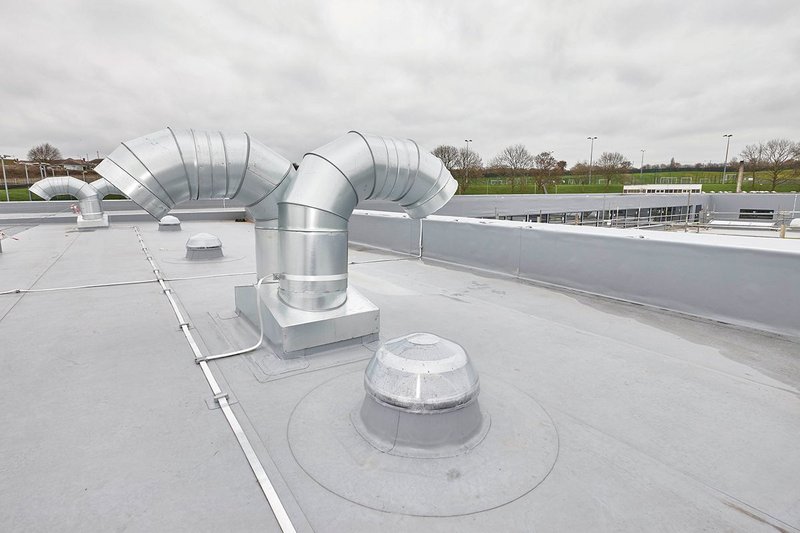 Single-ply membrane roofing
SIG Design & Technology
It's not often we see our advertisers making such a bold artistic statement as this, on the roof of the £14m Arnold Hill Academy. But we think the pair of extractor vents, facing away from each other, is a sculptural objet trouvé brilliantly symbolising the way any national schools construction programme tends to diverge from cost-reality. No such problem here though, where the subcontractor helped make the school waterproof and airtight beneath its 3,570m2 flat roof, despite a tight budget and even tighter programme.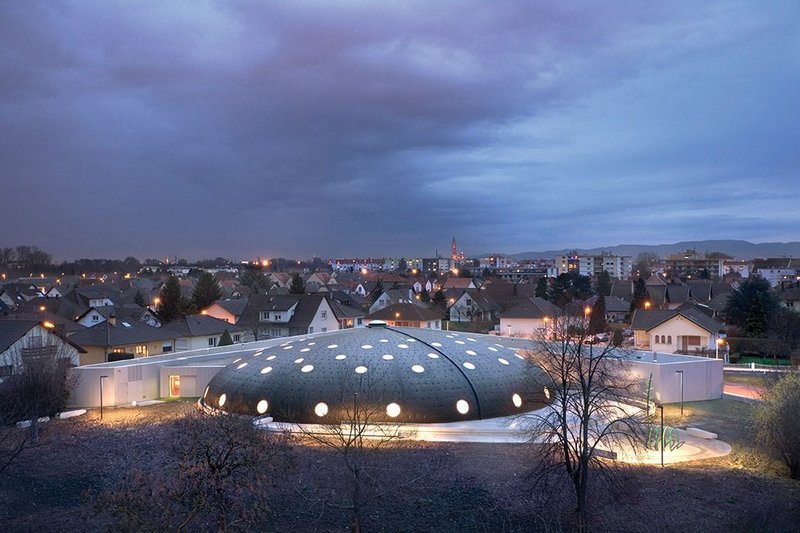 Roofing soffits
HI-MACS
Far-out architecture needs far-out solutions: this Bernard Schoeller designed 'Tournesol' (Sunflower) pool was created in 1969 and graced 183 French towns. The wacky structure opens its 'petals' when the sun comes out, turning itself into an outdoor pool. This, the Lingolsheim pool, was looking pretty grotty before architecture firm Urbane Kultur won a competition to upgrade it. The UFO-like dome was fitted with 48 Hi-Macs acrylic stone panels thermoformed into a double curve to merge with the existing structure.