Sensitive use of natural and artificial light sources creates an environment that is both practical and peaceful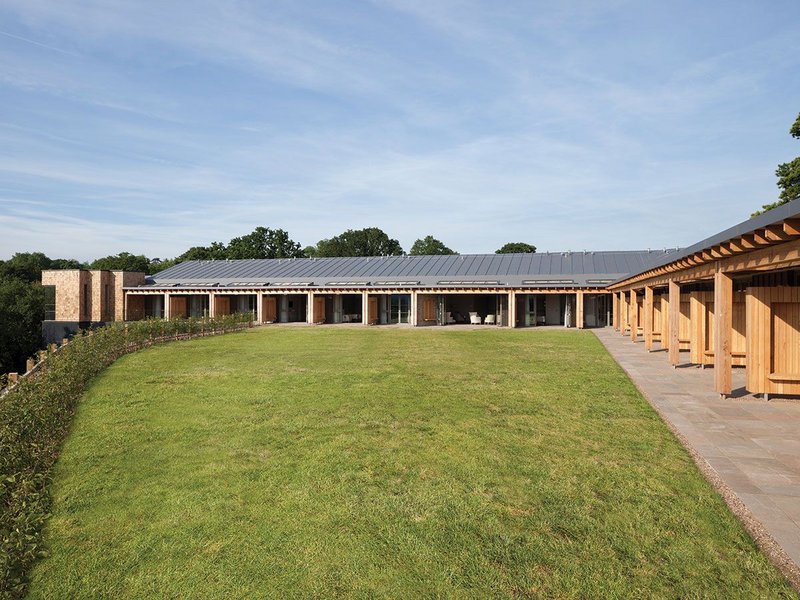 The building is designed in a reverse L-shape. Bedrooms have a private terrace and a loggia that give onto the lawn and expansive views.

Credit: Ståle Eriksen
Sunlight streaming in through the open window is one of my enduring memories of the days leading up to my father's death. In those delicate, contemplative hours, the quality of light – how it shone in deep yellow broken beams into the otherwise dark room, catching the sill at the end of his bed – felt significant, to the extent that memories of the events that led us there are fuzzy and it is the ambiance of the space, its intensity, that I think about.
He'd been on quite a journey to get to this point. It was a whirlwind of hospital transfers, words, nurses, doctors, disappointments and frustrations. But what we felt when he arrived at the hospice where we then knew he would die was an enormous sense of relief and tranquillity. The wintry light cast a dappledness into the room that captured that feeling, a serenity and freshness.
It is in moments in life like this that light, air and architecture come together, and one soaks in an aura of a place. Crucially, that moment hadn't been designed. For this feature, it therefore seemed appropriate to explore how lighting might be arranged in a purpose-built hospice instead. And the lighting at KKE Architects' new St David's Hospice in Newport, Wales, which has just won a RIBA Regional Award, could have many such moments.
Located in the suburb of Malpas, St David's is a charitable organisation founded in 1979 to provide 24-hour care to people in their homes. Over the past 10 years, however, the charity has expanded with a new head office, outpatient day centre and outreach chemotherapy unit completed by Worcester-based KKE in 2013, and now, following the takeover of the nearby St Anne's hospice in the same year, an inpatient block with 15 single-occupancy bedrooms on the greenfield site behind it.
'St David's has no set way of doing anything,' explains CEO Emma Saysell, who commissioned the building. 'We try to give people what they want, when they want, and provide choice in a non-judgemental way. Because we are smaller, we are more bespoke.'
The headlines of the brief to KKE were that the new inpatient building should be clinically safe, but homely so you wouldn't know what was going on there, have an emphasis on natural materials that age well, and be lovely for whichever social demographic you come from.
'It couldn't feel too much like a luxury hotel,' says Saysell. 'The majority of hospices are self-funding and that can often lead to opulent buildings. But I was mindful of using public money. It had to be affordable and without huge maintenance costs – or be too on trend either.'
The bedrooms had to be on a single storey, non-facing and supervised from a central nerve point too. But Saysell also had one unusual requirement: that if you want to see your horse for the last time, the building should allow it - that meant bedrooms with outside space: 'NHS hospitals make patients feel very enclosed. I come from rural Herefordshire so I lean towards things outdoors. Also, many patients in the area are non-cancer, with chronic respiratory diseases caused by mining. These people require fresh air to breathe well. There is no substitute for the real thing. That pleasure is completely cut off in an ordinary healthcare environment.'
KKE's response has been to design the building in a long reverse L-shape, with the entrance, café and service rooms to the approach-side of a central corridor and patient bedrooms with terraces overlooking Mynydd Twyn-glas mountain to the rear. The entrance is the only area where the view cuts directly through the building with a clear line of sight through the reception, family sitting room and green views beyond. The café comes off the reception, together separated from the patient area by a glass partition, allowing it to be lively and noisier.
Lighting plays a central role in creating an adaptable setting appropriate to the needs of patients, families and healthcare staff. As a result, it gives choice, control and autonomy for activities that might take place and atmospheres people may wish to create. Nonetheless, daylight is prioritised. In this regard KKE has been inspired by Danish good practice, visiting hospices in Djursland and Copenhagen, as well as taking advice from the Programme for Good Hospice Design in Denmark. It is part of a wellbeing strategy for users, particularly as eyes need greater amounts of light as they age, as well as to make the building economical to run.
Indeed, the entire rear elevation is made up of full-height, full-width bifold doors that let in light, provide views and enable patient beds to be wheeled out to enjoy the fresh air. The central corridor is also open to the rafters and top-lit by rooflights, and glazed bays at either end bring in light, create interesting vistas and provide seating areas. Staff offices and a family quiet room also borrow light from the corridor through internal glazing that helps with surveillance.
The key area is the patient bedrooms, which are spacious (between 20 and 25m2) and painted in green/grey shades to encourage calm. The terrace in Douglas fir, is protected by an overhanging roof for patients to lie outside. The deep loggia prevents overheating, but KKE has incorporated a strip of rooflights so it didn't cause too much shade to the room – a feature that was moved outside during value engineering so it could be single rather than double-glazed. An inner voile curtain can be pulled across for finer light adjustments or privacy.
Nevertheless, an enormous variety of artificial lighting has been specified as well, from external bollard and pavement lighting, to table and standing lamps for sitting areas. KKE's approach has been to minimise overhead lights as this is often the 'patient's elevation', and use lighting to bring down the scale of spaces, add a feeling of domesticity and opportunities for individual preferences. 'We wanted to avoid glare and visual complexity,' explains KKE director Phil Kavanagh.
Artificial lighting in the bedrooms, for example, is non-intrusive, offering many options to suit personal preferences – perhaps a calm environment for patients and visitors and a bright workspace for staff. There are two large Whitecroft Florin E3 recessed spotlights in the ceiling to provide stronger lighting and a Whitecroft Florence Elite inspection light above the bed for examinations.
Otherwise, the priority is on throwing light across walls, with two Astro 0966 Tokyo Classic wall lamps on each sidewall. All lighting is dimmable, and a slightly textured wall surface behind the bed helps the wall light dissipate even more softly, and break up the uniformity of the room. There are remarkably considerate details too – like the Astro 0660 Fosso flexible arm reading light wall-mounted above the pull-out bed in the family rooms so overnight visitors can have the light on and not disturb the patient. Recessed LED strip lights in the loggia partitions, downlighting the alcove and floor in a bluish hue, add a touch of disco to the night.
The central corridor is one of the most complicated areas as it is used by patients, families and staff. It has a generous width to allow a spacious feel, but also passing beds. The nurse station is positioned on the turning angle to have views to both sides. The exposed glulam structure brings in natural materials while the space is modulated into bays to make it feel more domestic in scale. The lighting scheme is also carefully considered in addition to rooflights and glazed ends; there are long Whitecroft Avenue Universal suspended LED strip light fittings the length of each strait, providing both down and uplight. These also work to lower the perceived height of the space. Low-level Thorn D-Co LED wall lights are evenly spaced for night hours so no invasive light passes through viewing screens as nurses check on patients.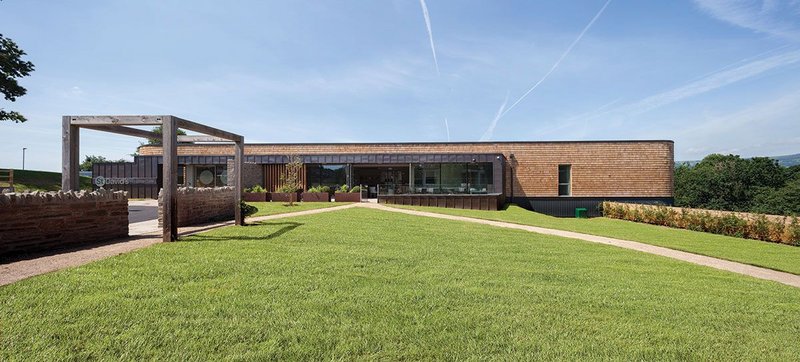 View of St David's new inpatient unit from the outpatient building. The café and entrance, clad in copper, step forward from the main elevation, which is primarily clad in red cedar shingles.

Credit: Ståle Eriksen
The en-suite shower rooms to patient bedrooms also prioritise natural lighting, with a solar tube fitted to supplement with two recessed spotlights. It means patients and visitors don't need to turn on the lights to go to the loo, making the experience that bit simpler in rooms without an external wall. Meanwhile, in the two assisted bathrooms, patients are treated to adjustable coloured lights in the bathtub, music and twinkling spa-effect ceiling lights to give the experience of taking a bath, one patients might not have had for a long time, a relaxing and perhaps entertaining quality. 'It can also look quite psychedelic,' explains Saysell.
Finally the peace room is another area where light, air and architecture combine to create a calm ambiance. Deliberately kept cool, it is a flexible, contemplative space. It unfolds in a series of side and top-lit stepped window alcoves, framing a brighter and brighter daylit space to the back that draws you in, to culminate in a projecting triangular window bay with views out to surrounding treetops. Flagstone flooring, copper cladding and rough-textured walls give an outdoor feel – with artificial lighting kept to a minimum except in recessed cubbyholes, but splashing across the textured walls with a soothing graininess. It is one of many spaces that capture attention for memorable moments.