A village creche built in SterlingOSB Zero by Nottingham architecture students has transformed life for Limpopo youngsters and their community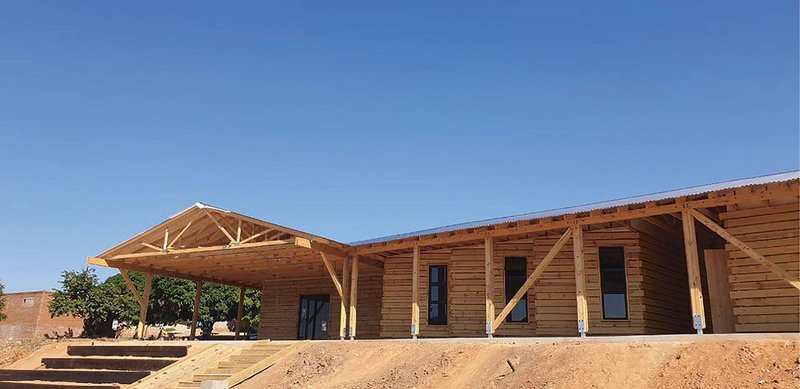 Mortusi Village's new creche, built in 20 days by University of Nottingham students and ready to move into.

Credit: University of Nottingham
A timber 'creche', built in just 20 days by architecture students from the University of Nottingham, will provide the young children of Deerpark in South Africa with their crucial first learning environment.
The 500m2 Early Childhood Development Centre, in Mortusi village outside Tzaneen, Limpopo, is the result of a partnership between the Design+Build Studio at the Department of Architecture + Built Environment and local NGO the Thusanang Trust, which trains head teachers to run creches for children up to six years old.
It is one of nine creches built since 2010 by the partners and will provide classrooms, play structures, a kitchen office, and storage for 79 children and teachers.
The project was designed and primarily funded by the 50+ architecture students and 10+ staff at Design+Build Studio, and students were flown to South Africa. It was built with support from local subcontractors and UK-based engineer Price and Myers. For many students it was their first end-to-end experience of construction.
Norbord SterlingOSB Zero, used in both temporary and permanent applications, was critical to the success of the project. When students arrived on site, with timber and tools, they had less than three weeks to complete the build from the foundations up. A lack of support facilities meant the first day had to be spent erecting temporary structures, including a site office, a kitchen, a workshop, a rubble tip and shade structures, all out of particleboard.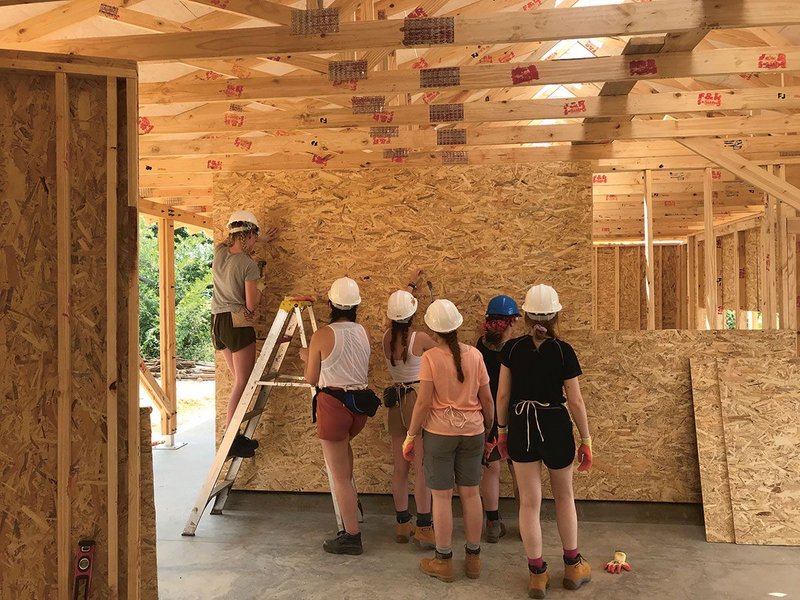 Students used 400 sheets of SterlingOSB Zero, employed for its intrinsic strength and rigidity.

Credit: University of Nottingham
Peter Russell, assistant professor and Studio lead, told RIBAJ: 'It is OSB's ease of use that makes these types of project possible; without a material like that I can't think how we would have done it.'
The main building, with a pitched roof that extends over outside learning areas, features roughly 400 sheets of particleboard, specified to take advantage of standardisation and construction speed.
'We needed something strong, rigid and predictable, in terms of regularity. Students are an unskilled labour force, so our materials had to do as many favours as possible; the fact that every sheet of OSB is exactly the same was one of those favours,' says Russell. In addition, the product's factory straight edge was key in this rural area where dimensional lumber can be unreliably true.
The12mm SterlingOSB Zero OSB3 panels were used in the walls as a full sheathing, which removed the need for cross bracing and expedited construction. The roof truss rafters were overlaid with a 15mm structural deck of SterlingOSB Zero OSB3, covered by a membrane then sheets of corrugated galvanised steel.
Robust interior finishes were required to cope with wear and tear. In some of the classrooms, the particleboard is left exposed on the lower 18 inches of the wall.
'Kids can kick it and bang into it, move furniture against it, and and it's fine. Softer sheet rock material was used above this and is less durable,' says Russell.
The creche was completed in April and is already improving young lives in an area where teaching typically takes place in a one room masonry building often without electricity and running water.
Nottingham students will reap the learning of this invaluable experience, having seen the consequences of building their designs first hand and the impact that good architecture can have on real lives.
The Design + Build Studio is re-visiting all its previous creche projects in an initiative part-funded by the 2019 RIBA Research Fund.
---
In association with Norbord Europe
@NorbordEurope