Warm, robust and easy to keep clean were key requirements for a young family's new kitchen. West Fraser's SterlingOSB Zero fulfilled all that – and most importantly fitted their very tight budget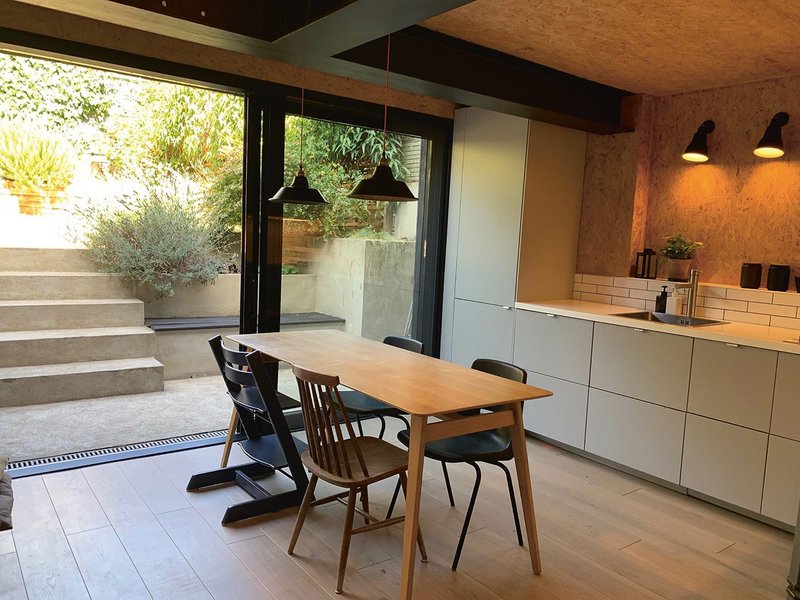 With a portal frame inserted in the rear wall, the kitchen could be opened out to the garden.

Credit: Stina Hokby
When architect Daniele Sini bought Ravensbourne House in London with his partner, his practice AU Studio set out to turn it into the perfect family home.
The focus of his attention was a poorly constructed, dingy, single-storey kitchen rear extension built for the previous owners. 'We have young children, so we set out to transform this part of the house into a family room,' he explains.
The challenge was that having spent most of their money on the house, the family had very little left for subsequent works. To keep costs down, AU Studio decided to retain the steel structure – with the addition of a new blockwork column to support the main beam, which was discovered to have been resting on their neighbour's chimney breast.
To open up the space, the low plasterboard ceiling and the boxing from around the steel structure were removed and a new portal frame was inserted in the rear wall to accommodate a large glazed sliding door to the back garden.
When it came to the finishes, Sini says they had to be robust: 'The children were young, so the finishes had to be able to take some bashing – we wanted them to look good without being too precious'.
The steel structure was painted with black intumescent paint to match the colour of the light fittings. New kitchen units were finished in grey, complemented by a cream-coloured glazed tile splash-back on the rear wall to create 'a neutral background for the functional elements,' explains Sini.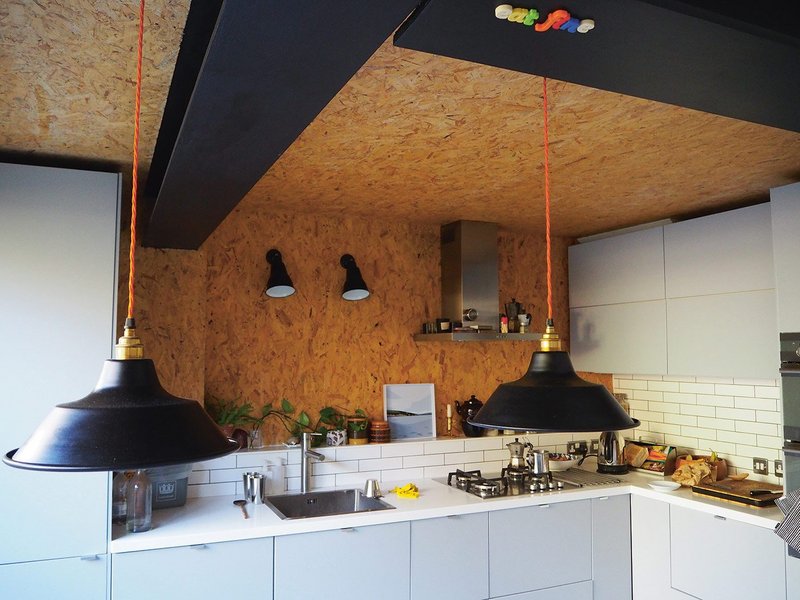 SterlingOSB Zero was chosen not just because it was economical, but for its warmth, texture and robustness.

Credit: Stina Hokby
Sini used SterlingOSB Zero to provide a durable finish that would also add natural colour to the kitchen walls. The boards are 18mm thick to help neatly mitre the corner junctions. To make it easy to keep the walls clean, the SterlingOSB Zero is treated with a sealant before being finished with a coat of clear fire-retardant paint to prevent surface spread of flame.
'I liked the texture of SterlingOSB Zero and its warm colour variation; this is emphasised by the morning sun to give the space a warm glow,' says Sini. 'I'm pleased SterlingOSB Zero is robust, but primarily I liked it because we wanted something cheap because our budget was so tight,' he laughs.
SterlingOSB Zero has also been used to finish the part of the ceiling where it conceals soundproofing fitted beneath the upstairs bathroom – without adding to the palette of materials.
'It's a small project, but it involved a lot of thought to make the most of the space and exploit what we've got to the best effect,' says Sini. 'For me this project was about using clever design to overcome the constraints in order to make the space fit our needs on a very limited budget.'
---