Stiltz's innovative home lift series can be installed in less than a day with minimal disruption to ensure homes are fit for the long-term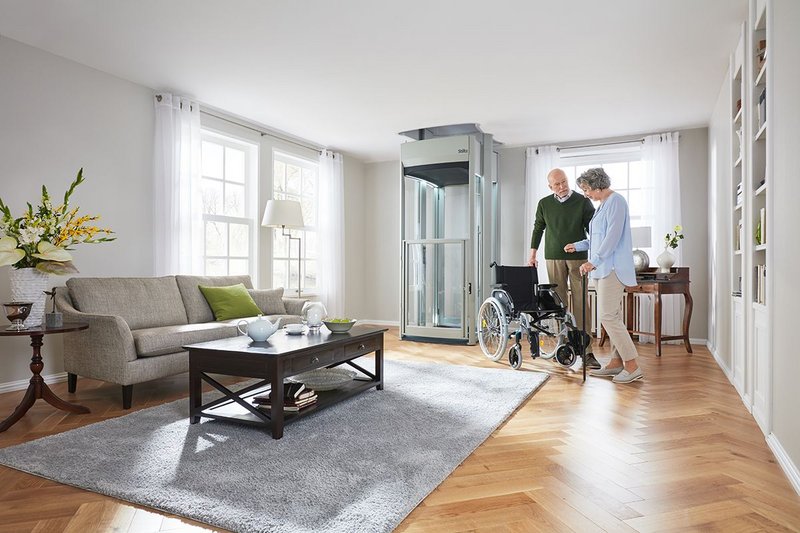 Stiltz's Trio+ Home Lift installed in a living room is suitable to carry three people or a wheelchair user.
Architects can now design homes that are generous, long-lasting and appropriate for the people who live in them, with innovative home lifts becoming a natural part of the process. Sleek and stylish, the new Stiltz Duo+ Home Lift adds function and beauty to any property whether it be for a new-build or renovation project. Technically superior to other domestic lifts on the market, the Stiltz lift has a compact footprint of less than a square metre and offers an exceptional travel experience between the floors in any home.
The perfect alternative to a stairlift or conventional hydraulic lift, the Stiltz Duo+ Home Lift can comfortably carry two passengers from floor to floor in under 30 seconds. With a typical installation taking less than a day, it makes futureproofing a home a quick process.
Almost silent in motion, the Stiltz Duo+ Home Lift demonstrates superb engineering and virtually 'disappears' from sight when seen from upstairs, leaving only two discreet ergonomic self-supporting stilts in view. As the domestic lift travels downstairs, a discreet panel on the home lift lid corresponds exactly to the upper level flooring, leaving the flow of the room upstairs seamless.
The unique modular design of the Stiltz Duo+ Home Lift means it can easily fit under most doorways and ceilings and can be transported to any architectural project in small sections and then pieced together. The only structural work needed is a small opening in the ceiling to allow the home lift to pass through when travelling between floors which can be carried out by a qualified builder.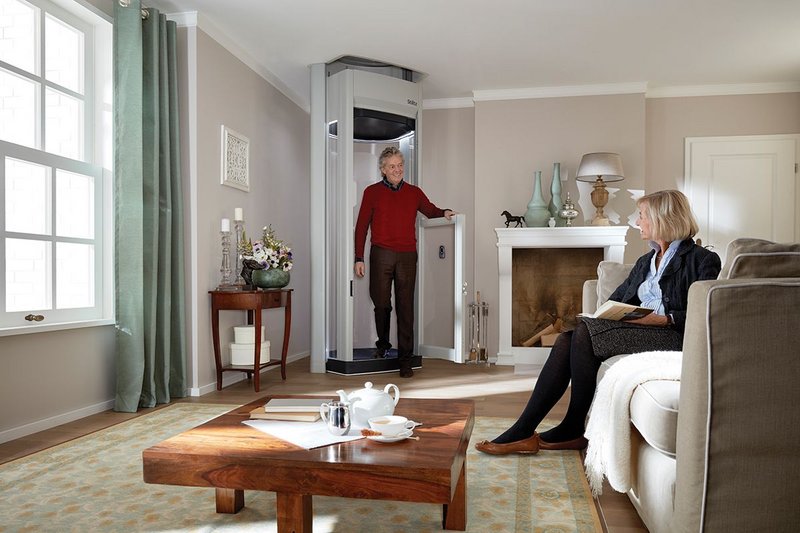 The Stiltz Duo+ Home Lift is able to carry two people at once.
This lift is versatile and can be configured in almost unlimited ways, but clients tend to opt for downstairs living space to master suite, cupboard to cupboard (so it remains invisible) or it can even be slotted into the void of a turning staircase.
The Stiltz Duo+ Home Lift is powered by an electric self-contained motor with no hydraulics, lift pit, lift shaft or separate machine room required. It simply plugs directly into a normal domestic socket using a 13amp power socket making it practical as well as energy saving.
With its cutting-edge design, the lift car is guaranteed to impress, but it is also made to slot neatly into any overall plans of the architect. The lift is engineered in soft warm grey aluminum with a matching half-glazed lift car fitted with soothing blue LED downlights, which activate when a user enters the lift. It is equipped with two remote controls to call the lift from any floor.
Stiltz also offers the Trio+ Home Lift which has a slightly larger footprint and can accommodate a wheelchair or three people. Stiltz Lifts was founded in the UK in 2010 and also operates in Canada and the USA. The company also own premium home lift brands, Lifton Home Lifts UK and Lifton Home Elevators USA.
For more information and technical support visit: www.stiltz.co.uk
Contact:
0844 870 9087
---