Peter Barber Architects' Beveridge Mews Development in Stepney is a stunning showcase for the use of cedar shingles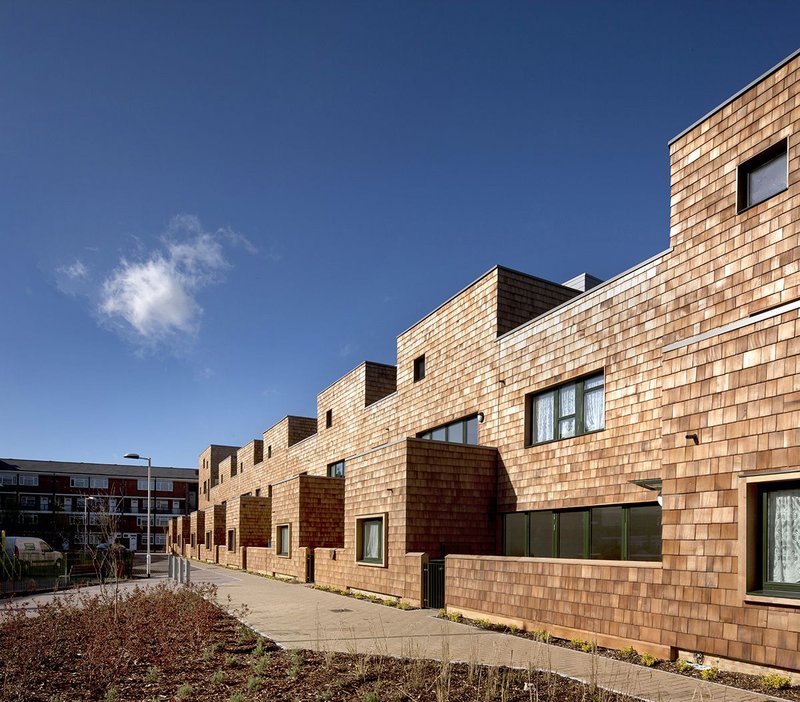 John Brash Western Red Cedar Shingles (JB Shingles) have been incorporated into a successful design by Peter Barber Architects for its Beveridge Mews Development in Stepney, east London. The shingles were specified by the architect to help the block of eight properties unify a former brownfield site which had previously been thought of as unusable for residential development.
Surrounded by existing houses, the timber cladding was chosen as an appropriate material to maintain the visual continuity of the fencing and enable the new homes to blend into their aesthetic environment.
Described by the Evening Standard as 'a bold choice for social housing', JB Shingles will demand less maintenance than a regular painted rendered building. It explains: 'Combining a material familiar to us from rural belfries and seaside cottages with an urban cubiform architecture creates an interesting paradox, and on a sunny day, the irregular timber cladding and and window frames cast beautiful shadows that add texture and character to the building.'
Inclusive access has been at the heart of this design. The houses provide a solution for multi-generational families and conform to the 16 principles of 'Lifetime Homes', while achieving Level 3 in the Code for Sustainable Homes.
Additionally, it terms of its environmental credentials, Western Red Cedar Shingles have the lowest carbon footprint of all widely used building materials. When designed as part of low or zero-carbon projects, JB Shingles can contribute significantly to the building's overall sustainability.
They are both low carbon in manufacture, and contribute to low carbon design and use. A recent Canadian study, using PAS 2050 methodology and a minimum 50-year service life, has shown cedar shingles can be a net carbon sink, even after transport and manufacturing.
For more information and technical support visit: www.johnbrash.co.uk
Contact:
01427 613858
---