A new type of porcelain, strong and translucent, could transform architectural facades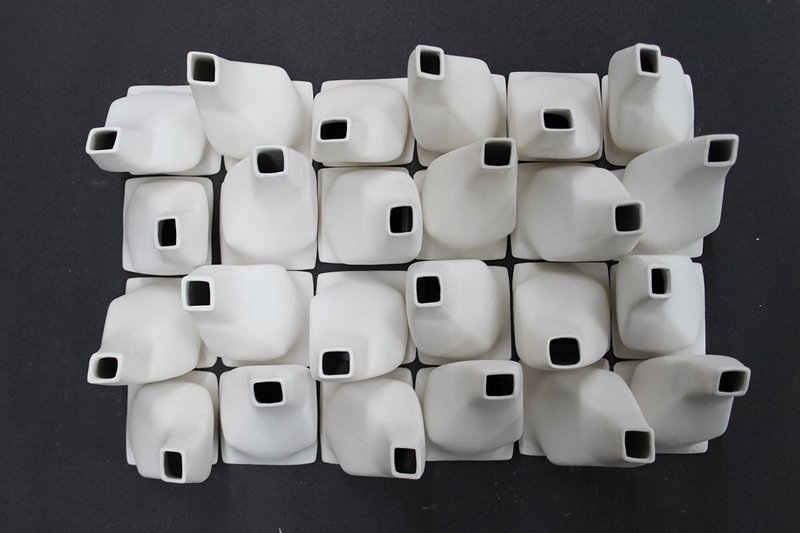 Ceramica Z.

Credit: Credit ECA Lab
Artworks made from a new type of porcelain, that is both strong and super-translucent, will go on show at RIBA North's Cerámica exhibition in Liverpool, from this weekend.
The eight cone-shaped objects were produced by Budapest-based artist Edit Szabo, using a combination of clay and thin glass fibres.
Kiln firing at high temperatures strengthened the material compared to conventional porcelain, even at a thickness of just 1-2mm, and made it glow brightly when illuminated from behind.
The material offers great architectural potential, says Amanda Wanner, a curator of the exhibition and co-director of the Environmental Ceramics for Architecture Laboratory (ECAlab): 'If the goal is to create a very strong material, then the glass fibres could act as a form of reinforcement mesh. Porcelain is known for being translucent, but the inclusion of the glass creates a very powerful optical effect, if applied externally it could really make you question the nature of an architectural facade. Ceramic tiles or faience tend to appear heavy and solid, but this material produces a different effect.'
Szabo was one of eleven ceramicists invited by Cerámica to interpret an engineered architectural ceramic component, a light diffusing sinuous cone, using their individual approaches to ceramic making.
Her previous work in ceramics has focused on acoustic treatments, such as the development of ceramic acoustic walls installed in Budapest. For Cerámica she went back to the drawing board to try to imbue the material with translucence and the ability to radiate light.
Some of Szabo's artworks feature small fragments of glass fibre mixed into clay, others feature entire glass threads wrapped around the surface of the cone in the glaze.
Mixing glass and ceramics has proved problematic in the past because glass melts at a different temperature to clay causing unpredictable results in the kiln. Rosa Urbano Gutierrez, co-director of ECAlab told RIBAJ: 'We assumed that the moment the glass cone went into the kiln it would melt; the geometry and therefore the internal transmission of light would be lost. But that didn't happen here – when the material was fired it became stronger.'
The material is also simple to mould and manipulate, adds Wanner: 'Porcelain is a very temperamental material that fractures and dries out quickly before it goes into the kiln. Szabo's additions enabled her to work it much better in its raw state.'
Cerámica will showcase the experimental design methodologies employed by ECAlab, a group of designers, engineers, architects and ceramicists set up to exploit traditional ceramic techniques and digital engineering processes and create new applications for ceramics in architecture.
Cerámica will run at the RIBA's new National Architecture Centre on the Liverpool Waterfront from this Saturday, 28 October to 10 February, 2018
---