Surface 360's deck-style porcelain pavers have transformed JD Wetherspoon's wraparound terrace at the Royal Victoria Pavilion on Ramsgate beach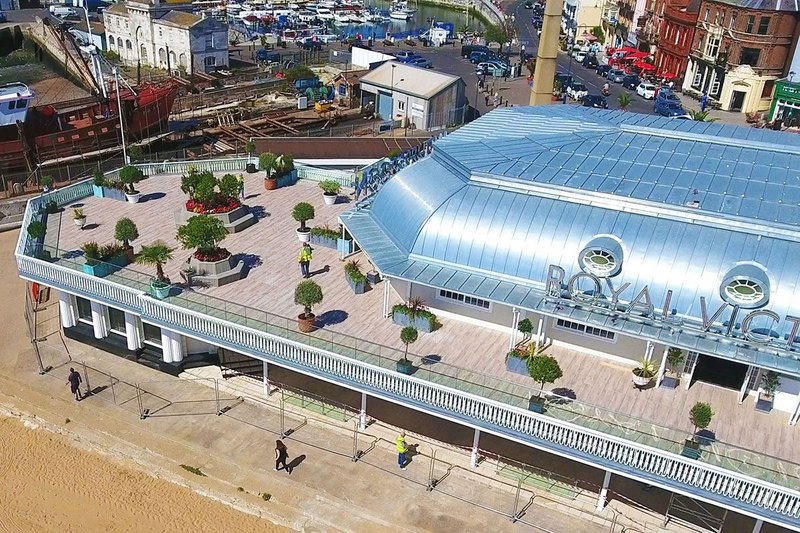 Perfect fit: Levato Mono Timeless 02 porcelain tiles at the Royal Victoria Pavilion.
When the JD Wetherspoon 'super pub' in Ramsgate, Kent, was looking for a new high quality flooring system for its 750m2 beach-side roof terrace, Surface 360 Levato Mono porcelain pavers were specified.
The pub occupies the Royal Victoria Pavilion, a Grade II listed former concert hall and assembly rooms designed by architect Stanley Davenport Adshead in 1903 based on the style of a Robert Adam orangery. 'Our brief was to supply external flooring that was smart, practical, low on maintenance and in keeping with the coastal setting,' says Barry Sheen, Surface 360 managing director.
Timber-effect porcelain pavers from the Timeless range were chosen to complement the surrounding views and provide a slip-resistant surface for improved safety under foot. The team faced challenges including multiple floor-falls and erecting new signage struts and other large static obstacles. Careful planning and the use of Levato Mono's height-adjustable, slope-correcting pedestal support system allowed them to level out and install the flooring in under three weeks.
'The finished terrace has been admired by everyone,' says Sheen. 'The Timeless range has a decking feel about it making it perfect for a seaside location and a durability that means no splinters, algae, stains or weathering.' The combination of the pedestal and retention system and 20mm porcelain pavers creates a high quality, low maintenance surface that can be installed on any awkward existing floor. High load bearing and impact resistant, the system is suitable for even the most demanding environments.
Surface 360 flooring is available in timber, stone and cement effects and in more than 40 colours. Using 3D printing and mould-making technologies, Surface 360 can produce and provide identical copies of original materials. Once laid, no replicated pattern is discernible, creating a natural look.
Surface 360 (formerly The Deck Tile Co) offers stand-out solutions for hospitality professionals. Specialising in exterior raised flooring solutions, the company can provide a cost-effective installation over most surfaces, including single ply waterproof membranes, roofing felt and other waterproofing systems and substrates.
For more information and technical support, visit: surface360.co.uk
Contact:
0118 391 4120
---