This year's Surface Design Show is a must for architects and designers. Stay inspired for all your next projects with new materials, up-to-date technologies and all the latest trends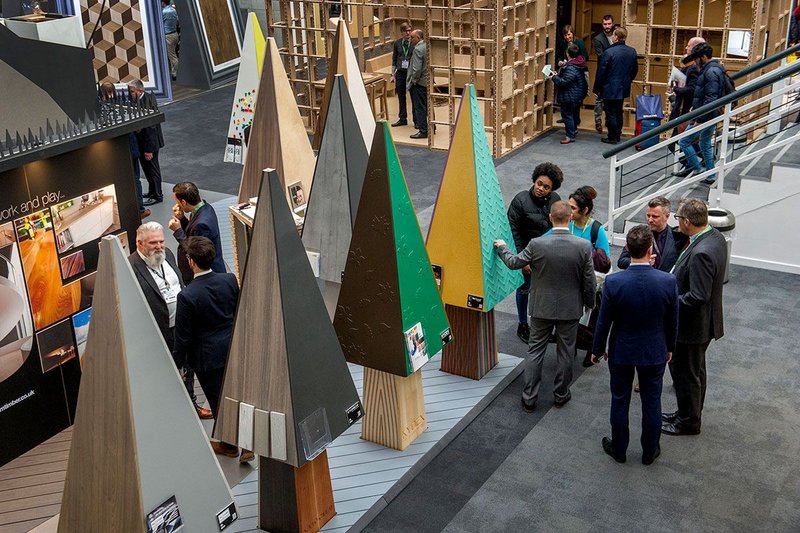 Surface Design Show 2019: two-and-a-half days of education, entertainment and engagement.
From 5 to 7 February 2019 Surface Design Show, the only event in the UK that focuses solely on interior and exterior surfaces, returns to London's Business Design Centre to provide a platform for architects, designers and specifiers to explore the best in surface material design, development and innovation.
For over ten years, Surface Design Show has been the place where industry professionals discover the latest materials for the built environment, gain new insights and network with like-minded designers, architects and suppliers.
Each year a schedule of presentations, discussions, CPDs and even a live debate by experts across the industry keep visitors informed and entertained. The line-up in 2019 is set to captivate with nearly 40 talks from over 50 industry professionals.
Opening the programme of discussions, the Opening Night Debate, Tuesday 5 February, 6.30 to 7.30pm, will see New London Architecture (NLA) and RIBA host a panel discussion called 'Factory Housing: Is this the solution to building better homes long-term?'. Led by Peter Murray, chairman of NLA, the speakers include Ben Derbyshire, RIBA president and chair of HTA Design; Hazel Rounding, director, shedkm; and Carl Vann, partner, Pollard Thomas Edwards. The panel will discuss the virtues and vices of factory-made housing models: could factory housing answer the needs of Londoners long-term?
Taking place on Wednesday 6 February, 6.30 to 8.30pm, is the ever popular PechaKucha Evening, a fast-paced style of live presentation. The PechaKucha will feature an incredible set of speakers to discuss 'Identities and Boundaries: Site specific responses to modern architecture'. Taking part are:
Chair: Chris Dyson, Chris Dyson Architects
Lucia Berasaluce, Haptic Architects
Alison Brooks, Alison Brooks Architects
Ben Cousins, Cousins & Cousins Architects
Simon Fraser, Hopkins Architects
Soraya Khan, Theis + Khan Architects
Nigel Ostime, Hawkins Brown
Stuart Piercy, Piercy & Company
Alex Scott-Whitby, Scott Whitby Studio
Chris Dyson will host the evening, in which speakers have 20 slides and 20 seconds to talk about each. The name PechaKucha is derived from the Japanese for chit-chat, so setting the tone for the always packed and fun presentations.
Talks at the Stone Hub in Stone Gallery will be curated by Arup on the last day of the show, Thursday 7 February. The hub will host a series of presentations for architecture and design professionals to listen and learn from the leading designers in the sector, presentations so far include:
'Sourcing Exquisite Marble' by Paola Blasi, associate, Arup, 11.30am to 12.15pm
'Stone in Innovative Facade Design' by Ed Forwood, director, and Paola Blasi, associate, both from Arup, 13.30 to 2.15pm
'Structural Stone Staircases' by Tom Clewlow, structural engineer, and Jemima French, geologist/natural stone specialist, both from Arup, 3.30 to 4.15pm
Now in its fifth year, Light School's Light Talks will return once again supported by the Institution of Lighting Professionals and LED Linear. Talks include:
'Wandering Lights' by Stuart Alexander, senior designer, Michael Grubb Studio, Tuesday 5 February, 6.45 to 7.30pm
'Lighting an Idea: Human needs, desires and architecture' by Mark Ridler, head of lighting, BDP, Tuesday 5 February, 7.45 to 8.30pm
'Light Builds Brands' by Paul Traynor, principal director, Light Bureau, Thursday 7 February, 1.00 to 1.45pm
Tickets for Surface Design Show 2019 #SDS19 are free for professionals and registration is now open at: sds19-visitor.reg.buzz/website