As energy consumption rises, there's much to learn from Sandy Halliday's updated guide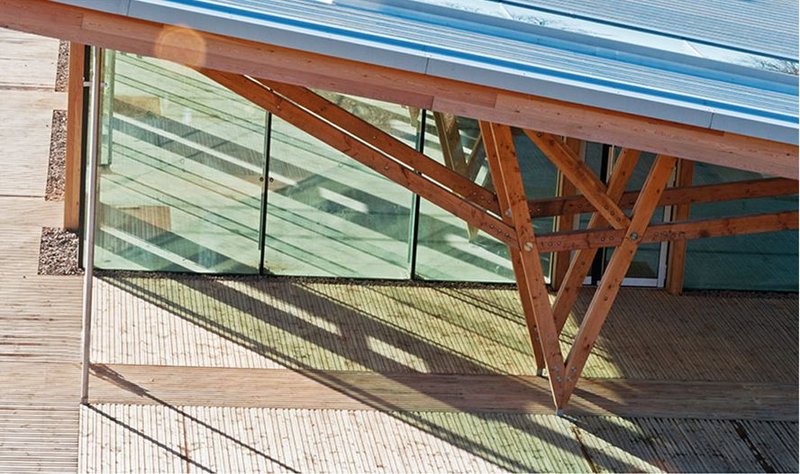 Sustainable Construction, Second Edition by Sandy Halliday, Routledge.
If you think the term 'rammed earth' refers to overpopulation, or that a Post Occupancy Evaluation is the book you fill out at the end of a holiday let, it's probably time you picked up a copy of Sustainable Construction by Professor Sandy Halliday.
Now in its second edition and effectively a 'total rewrite' since the first edition was published a decade ago, the 466-page tome provides a comprehensive overview of the principles and techniques involved in the design and delivery of sustainable buildings and places. It features a reworked internal design, a new chapter on urban ecology and a deeper exploration of cost issues and the value of sustainable design. Many ideas are explored through 120 case studies that demonstrate current best practice.
The book's stated aim is to move sustainable construction 'beyond straw bales and clay to the heart and soul of economic and social policy', along the way addressing the fact that design practice still falls well short of applying even the most basic principles, while opportunities that could bring real advantage are being missed every day.
There is general agreement that buildings account for almost one-third of global energy consumption and an equivalent proportion of CO2 emissions. Mitigating this damage will require fundamental changes to how buildings are designed, how they use energy, and a shift to cleaner sources of fuel.
It is frustrating to read that although many international bodies, national governments, clients, builders and designers now have sustainable construction policies, there is little agreement on the extent of the problems, the priorities and action required. 'Policies must change to enable the sector to respond to current threats and reverse unsustainable trends, with agreed targets to deliver them,' states Halliday in the text.
Also concerning is the dearth of information available on the cost of sustainable building, with most contractors still unwilling to divulge specifics. However, certain beneficial features are proven to have little or no additional capital cost, such as site and window orientation, eliminating oversizing and attention to layout and form. In addition, systems that in the past were assumed to increase costs, such as efficient lighting, additional daylighting, sustainable drainage systems and high insulation levels, are now cost neutral or better.
Mechanical services are an escalating aspect of building costs, typically accounting for more than 25 per cent of capital outlay, responsible for high levels of resource consumption during operation. As a result, many designers are adopting a fabric-first approach.
On the subject of materials selection, Halliday recommends that that designers and specifiers adopt a lifecycle approach, rather than a set formula, considering the resource base (where the material is from and how much is left), what is embodied (resources, pollution and ethical aspects), impacts in use (the effects on people and the environment) and its final destination at end of life. One best practice example is the Rucid Agricultural College in Uganda, by architect Felix Holland, which is built of earth and eucalyptus and designed to return to earth harmlessly at the end of its lifespan.
The roll-out of renewable technologies has increased rapidly over the past decade as costs have fallen, but when considered against a backdrop of globally rising energy consumption and an expanding building stock, a dramatic improvement in energy efficiency is still required. The book states: 'Estimates suggest that an overall reduction in energy use of 2.6 per cent is required year on year for the foreseeable future and that average building energy use per person globally needs to fall by at least 10 per cent.'
Feedback on performance in use is taken for granted in most industries for the purpose of quality control, but Post Occupancy Evaluations (POE) remain rare and difficult to fund in construction, despite growing awareness of the benefits. This is a particular concern for designers who, due to time and cost pressures, often move from job to job without learning lessons from previous projects.
'Feedback from POE can make a major contribution to the future environmental impact of the project and assist the whole design team to deliver future successful projects,' the book states. 'Procedures need to be in place at each stage or the sustainability agenda is at risk. Every participant has a key role to play.'
Sustainable Construction, Second Edition, by Sandy Halliday, 466pp, Routledge, 2018, £110 in hardback, £39.99 in paperback, and £35.99 as an ebook.