A conference organised by the RIBAJ and Dow considered progress on sustainability in the built environment – and how to take it forward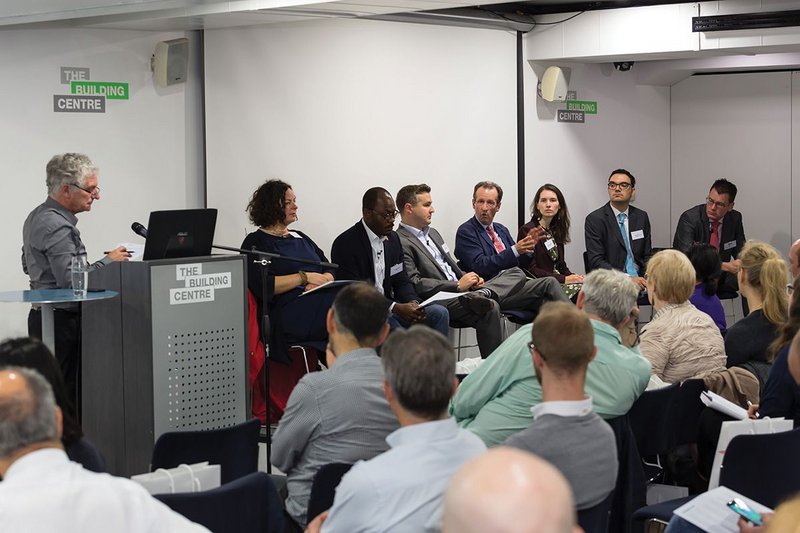 The panel for the conference Sustainability – where are we now?
Electric and hybrid vehicles are becoming familiar sights on our streets, low energy lighting is commonplace and recycling of waste is a must. We have made progress in putting our lives and our consumption of natural resources on a more sustainable footing over the past decade or two.
In the built environment we can measure the progress in products, technologies, developments, business processes and policy documents. But the rapid pace of technological change, shifting political sands and the lessons emerging from buildings themselves – around the gap between designed and built performance – raise questions about what sustainability means for tomorrow's buildings, and how the industry can continue to drive progress.
'I don't think anyone anticipated the speed of change we're seeing now,' said Rab Bennetts, founding director of architect Bennetts Associates.
He was speaking at the conference Sustainability – where are we now? which was organised by RIBAJ and manufacturer Dow Building Solutions in September to take stock and consider where we go from here. The event was chaired by Bennetts, with an expert panel comprising Dr Owen Abbe, associate director of sustainable products at building science centre BRE; AHR director Dr Judit Kimpian, chair of the Architects' Council of Europe sustainability group; Joan Ferrer, technical sales manager at Dow; Mark Harris, head of technical services and operations at roofing specialist Radmat; John Davies, head of sustainability at developer Derwent London; Chris Twinn, founder of consultancy Twinn Sustainability Innovation; and Katy van Geffen, project architect, David Miller Architects.
The development of more sustainable office buildings, housing, schools and universities across the UK can be attributed to a succession of policies and standards, as well as the work of the UK Green Building Council (UKGBC ) and others. It has been aided by the uptake of BREEAM, which has been applied to such high profile projects as Bennetts Associates' 5 Pancras Square, and other buildings at London's King's Cross.
Radmat's Harris, who chairs sector body the Green Roof Organisation, praised the London Plan: 'It has been the single most important document for us, in driving sustainable green roofing. It has given the opportunity for the mayor to drive the agenda, and we hope other mayors will follow suit.'
But policies come and go, and the government's determination to cut red tape, which saw the scrapping of the Code for Sustainable Homes, has shifted client perceptions. 'Sustainability has lost its aspiration for some clients – they can no longer say they want to achieve a high level of the Code for Sustainable Homes,' said David Miller Architects' van Geffen. 'In the residential sector there's often a disconnect between the client at development stage and the end user. The developer may focus on profit while the end user is unaware of sustainability benefits.'
The government's light touch approach, relying largely on building regulations, won't be sufficient to promote sustainability because, as Chris Twinn put it: 'Regulations don't drive the leading edge of the market, they catch the laggards.' BRE's Abbe took up the point: 'Regulations are intended to be all encompassing, so that the lowest can climb the ladder.' Sustainability's future depends on a different approach, he said. 'It is more a question of driving awareness and understanding.'
The London Plan's requirements show the industry can go beyond building regulations, and manufacturers can meet that market demand, said Dow's Ferrer: 'We have the knowledge and the products to do better than building regulations.' But, he added, 'We have to be sure that the products we put in the market will allow people to achieve what they want.' That has led much recent sustainability research and industry effort to focus on building knowledge and certainty.
We can't design the perfect building of the future. Let's not lose sight of simple adaptability
Michael Mamalis, partner, Grayston Alan Durtnell
On the client side, there are initiatives such as the LENDERS project, which brings the UKGBC, mortgage lenders and the building industry together to build an evidence base for including energy bills in mortgage affordability calculations. Or there's the European ABRACADABRA project, which is looking at the non-energy-related benefits of deep retrofits.
At the same time, the industry is gathering data to inform its understanding of how products, systems, buildings and their users all work together in an effort to help close the performance gap.
The real world performance failings of sustainable buildings have led the word sustainability to become associated with a 'credibility gap', said Architects' Council of Europe's Kimpian. That has contributed to the prevalence of a string of alternatives to the S word, such as resilience, whole life or even just quality. Kimpian led the development of Carbon Buzz, the platform established by RIBA and CIBSE to crowdsource data on building performance at design stage and in use. 'In the absence of a regulatory drive it's up to bodies and universities to work together to create and monitor data,' she said. 'We do know a lot, but we should be able to design a building where users can intuitively do the right thing. We need to be more aware of outcomes and conclusions.'
Developer Derwent London is, said Davies, 'obsessive about data'. "We manage our buildings so it's important for the tenant experience, maintenance costs, our knowhow and our future buildings,' he said. But he also lamented the fact that there is no facility in the capital to allow the developer to compare its data with others'.
We've got a fragmented playing field now, with the Home Quality Mark, zero carbon and wellbeing
Stephen Edwards, sustainability manager, Catalyst Housing
Building information management (BIM) holds the promise of embedding data into building design, construction and ongoing management, although there are challenges to be overcome, with Kimpian drawing attention to the need for the design profession to become 'more data literate as a profession'. She explained: 'As a profession we're not clear on what information we want to extract at each stage.'
David Miller Architects is among those already applying BIM to projects. Van Geffen said its adoption in the very early stages of a project raised questions about what information should be incorporated into the model. Nonetheless she believed BIM could not only provide a framework for data, but could also help designers make the case for sustainability.
Twinn said BIM could also offer an opportunity for designers to regain lost responsibilities by taking on the role of 'custodians of the process'. 'We are the only people who consider long-term value, comfort and wellbeing of occupiers,' added Kimpian. Sustainability's name may have changed, but the future of sustainable building looks to be in the hands of the architectural profession itself.
---
This event was produced in partnership with Dow Building Solutions www.styrofoam.co.uk