Guide outlines structural possibilities of cross-laminated timber and how it can help decarbonise construction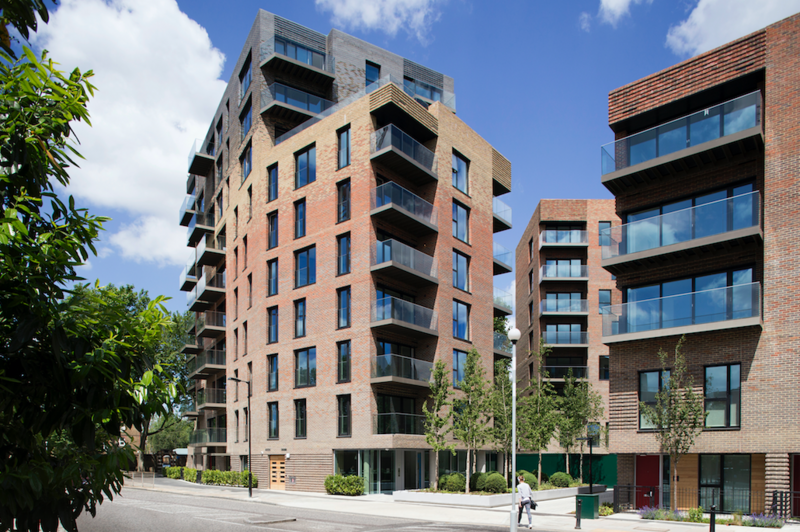 Stirling Prize-shortlisted Trafalgar Place apartments, part of the Heygate Estate regeneration in Elephant and Castle, London. dRMM Architects. Two of the buildings are made from CLT.

Credit: Alex de Rijke
A new edition of the 150-page Swedish Wood CLT handbook has been adapted for the UK market and brought up to date with the latest research and developments by industry experts and Arup.
At a time when timber is top of the agenda for de-carbonising construction, and cross-laminated timber (CLT) offers architects and engineers exciting new structural possibilities, the authoritative handbook provides the guidance to ensure the design of safe, resilient, comfortable and sustainable timber buildings.
The aim of the CLT Handbook is to help structural engineers and architects design structures using CLT. The handbook describes CLT as a construction material, as well as methods of design.
CLT is an engineered material that can be used for architecture in an industrialised way, with extensive prefabrication of components. Elements based on wood can be processed all the way to the detailing and surface finish. With modern digital technology offering new choices and incredible precision, the construction world is no longer tied to the sub-optimal, site-bound building culture.
CLT panels perform structurally like concrete components, but with much lower self-weight. For calculation purposes, it is a sheet material, with defined strengths.
Modern manufacturing techniques, combined with good strength properties, make CLT a valuable construction material with many unique properties:
The potential for increased prefabrication of buildings.
High strength in relation to the self-weight of the material.
Tight manufacturing tolerances and good dimensional stability.
Inherent fire resistance for a defined period of time, thanks to slow defined rates of charring and the insulating qualities of timber.
Good thermal insulation.
Low self-weight, which means lower transport, assembly and foundation costs.
Ability to tolerate chemically aggressive environments.
Flexible production - panels can be made in a wide range of sizes.
Building with wood is positive for the climate. To minimise the environmental impact of construction and contribute to a sustainable society, every opportunity to use renewable materials must be seized with both hands.
For the construction and property sector, this means considering production as well as operational phases, both of which affect the environment.
As the operational phase has become increasingly energy-efficient so the manufacturing and construction process has bigger consequence when measuring the environmental impact of a building over its entire life. It is here that the low CO2 emissions and carbon sink of timber structures have a significant advantage.
Since the Swedish Wood CLT Handbook was first published in 2017 there has been a rapid increase of interest in CLT worldwide thanks to its exceptional sustainability, low weight and suitability for accurate off-site manufacture.
At the same time, CLT buildings have been getting taller. This has placed ever-greater responsibility on designers and engineers to ensure they understand how to design safe and strong buildings in CLT, on manufacturers to ensure their products have been tested exhaustively, and on governments to ensure their building codes reflect and demand the latest best practice. This is what lies behind the new edition of the handbook, which is produced in co-operation with the Confederation of Timber Industries.
To ensure the information is kept up to date with research programmes currently underway in Europe, the handbook is available - free - as a searchable web-based publication from Wood Campus, the UK timber industry's free online information portal, at woodcampus.co.uk/clt-handbook
For more information and technical support, visit woodcampus.co.uk
Contact:
---