Versatile Swisspearl fibre cement panels from Swiss Facades are eco-friendly and aesthetic, offering architects a range of design possibilities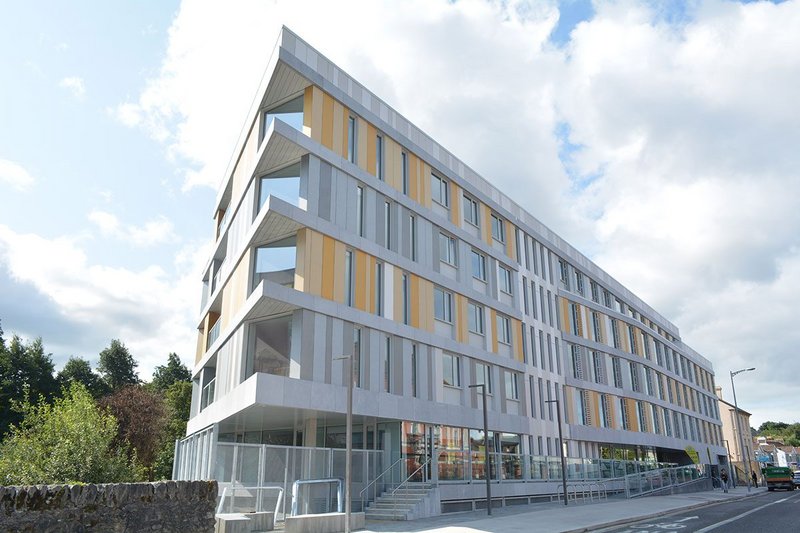 Swisspearl Carat, Nobilis and Reflex fibre cement cladding in complementary shades of yellow and grey at the Graduates student accommodation in Cork.
Swisspearl stands for innovative and sustainable fibre cement products for facades, roofs and interior design, as well as garden and design.
With a high expertise, it is a pioneer of fibre cement cladding panels since fibre cement as a material has fascinated architects and designers over decades due to its unprecedented strength and resistance. For the UK markets, its fibre cement products are not new either and have been in circulation from the 1990s and since 2010 promoted through Swiss Facades.
Environmental concern
The Swisspearl Group is very conscious of how construction impacts on the environment and is always looking how it can reduce carbon emissions.
One of Swisspearl's goals is to eliminate the use of fossil fuels within its factory. Today, the Niederurnen site is fuelled directly from the main waste incineration plant in Switzerland. Since 2013, CO2 emissions have been reduced by 61 per cent and energy efficiency has been increased by 21 per cent.
Some of the ways this was achieved include:
Producing electricity using solar panels, which is fed into the factory's internal power grid and reduces external power consumption.
Almost 100 per cent excess waste-water from the factory is biologically purified and returned to public water by waste-water treatment organisations.
Switching to electric powered vehicles for transporting materials around the factory.
84 per cent of raw material sourced locally from Switzerland.
90 per cent of raw material transported by rail to reduce emissions.
Factory lighting, motors and compressors are kept updated to ensure optimum efficiency.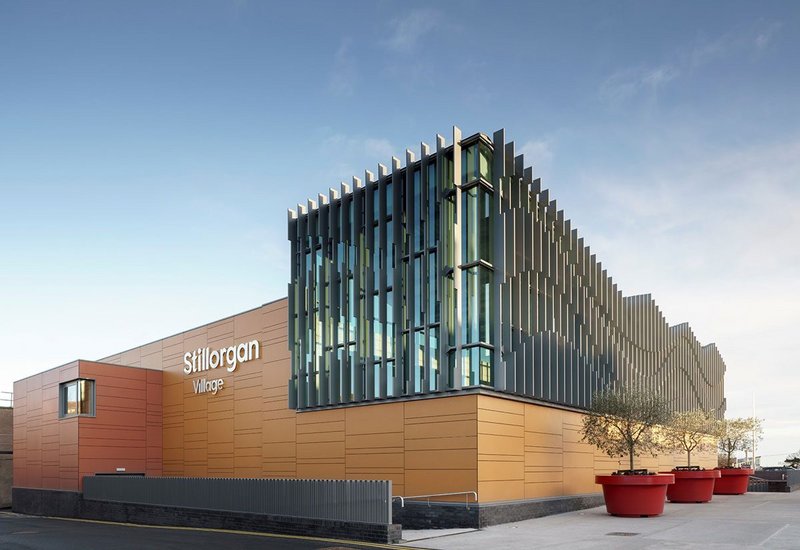 Swisspearl Carat fibre cement cladding in Topaz, Onyx and Coral at Stillorgan Village Shopping Centre in Dublin.
Panel make up
More than 80 per cent of the ingredients of Swisspearl fibre cement panels are sourced locally from Switzerland. The panels are made from authentic ingredients, which allow for an eco-friendly choice of material.
Swisspearl panels are naturally dried for four weeks. Allowing the panels to dry naturally means Swisspearl can keep its energy consumption down. Unlike autoclaved fibre cement, which uses extremely high levels of energy to extract moisture.
Natural raw materials and an enduring inventive spirit form the recipe for the success of a product that is over 100 years old, has never gone out of fashion and is now worldwide indispensable in architecture.
In the touch, fibre cement shows its homogeneous materiality and its strength. The natural texture and the versatile colours that match the material form a visual unique character.
Swisspearl is the only manufacturer that masters the highly demanding production process for integrally coloured shade in shade fibre cement panels offered in such a wide colour variety.
Projects with Swisspearl
There are many projects in the UK and Ireland that have used Swisspearl fibre cement panels.
As with all Swisspearl products, the cladding the panels are fire resistant, A2, s1 d0, and weather resistant. The natural appearance of the panel creates a certain elegance and, with a range of finishes, the design possibilities are endless.
There are a multitude of colours and finishes that can blend with a variety of other materials to create a stunning impact on any project. Swisspearl's concern for its environmental impact means that architects can choose the products knowing they will have a range of design possibilities while also choosing an eco-friendly product.
For more information and technical support, visit swissfacades.com
Contact:
Head Office +44 (0) 287 930 1548
Dublin +353 (0) 16877146
Glasgow +44 (0) 141 280 9905
London +44 (0) 203 745 3905
Manchester +44 (0) 161 541 2605
---