The flooring specialist's new loop-pile carpet tiles are inspired by the patterns of nature and the textures of natural materials and aim to create healthier, more productive workplaces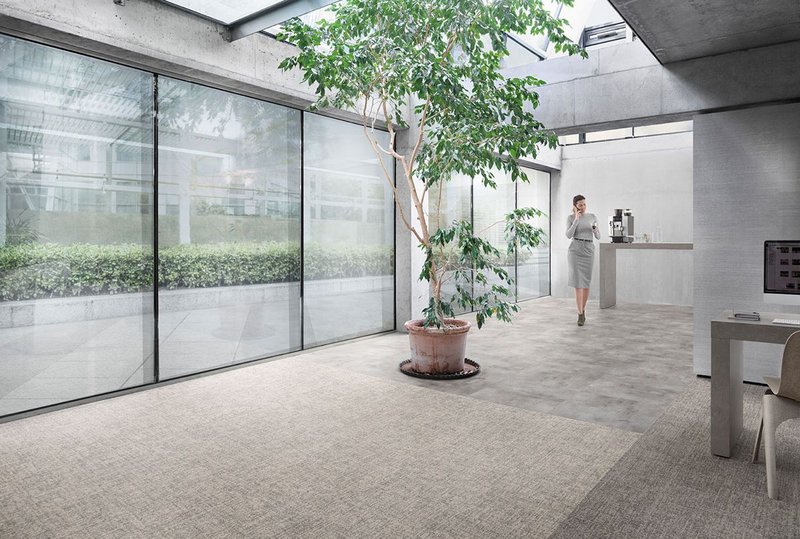 Desso Linon carpet tiles bring the texture and look of linen to work spaces.
When it comes to the working environment, the office is still the most popular destination for aiding Europe's workforce in getting through their to-do lists. But it seems that some changes need to be made. Modern workers crave a greater focus from employers on health and wellbeing and designers are challenged with adapting spaces to create an office concept fit for the future.
Tarkett, the leading innovator of sustainable flooring solutions, recently commissioned a survey of 2,500 European workers, which revealed the office environment is where people believe they are most productive. This was selected by 63 per cent as the place they are likely to get through their workload, above working from home (10 per cent).

Despite this, some elements of the traditional workplace environment clearly need to change. Of those surveyed, almost 40 per cent currently work in an open-plan office, which is ideal for collaborative projects. However, for tasks that require a deeper level of concentration, people desire quieter areas away from the main hustle and bustle. It is perhaps unsurprising that noise is what concerns people most about their current workplace environment. This is followed closely by indoor air quality.

In addition, a third of people described their preferred working method as 'independent' as opposed to being 'collaborative' - the latter was chosen by just 18 per cent. This suggests there is a wealth of opportunity for businesses to harness greater levels of productivity by adapting workplaces to suit different working styles and preferences.
Thinking outside the box
To address these problems, and others highlighted in the survey, Tarkett believes the key lies outdoors. 'The great outdoors' is largely associated with a sense of wonder and adventure, with time in the fresh air imagined to be a positive experience. Yet, the average person spends 90 per cent of their time indoors.

In response, Tarkett has launched an initiative dedicated to promoting health and wellbeing in the workplace. This spans products, which counteract some of the challenges of being inside for such a large part of our lives. It also includes a report, Rethinking the Workplace Part I, and The Great Indoors - a website sharing insights and industry opinion on the future of work.

Introducing Linon and Resonance
Spearheading this vision for the future of workplace design, are two new Desso ranges, Linon and Resonance. Tarkett has created each with nature firmly in mind.
From the Ancient Greek word for linen, Linon is available in 18 colours. Nine shades take inspiration from nature, while the remainder introduce playful accents of dusky pink, mauve and light blue, alongside complementary grey tones.
The range is inspired by the timeless appeal and tactile irregularity of woven fabrics, unifying colour and texture to create a warm and welcoming feel in contemporary work spaces. The survey found that, if given the choice, almost a fifth of European office workers would prefer a collaborative and homely environment to any other interiors trend.

The Resonance range is influenced by organic movement in nature - from rippling water to swirling fog and rocky landscapes. Its colour palette of six subtle tones complements natural surfaces, while the variety of textures works well when used either as an accent or as a standalone product.
Both the Linon and Resonance collections have been created as 50 x 50cm structured loop pile carpet tiles. The tiles can also be combined with Tarkett iD Square luxury vinyl tiles to further enhance the design possibilities.

All Tarkett carpet tiles are made from 100 per cent Econyl yarn, a regenerated nylon made from recovered waste materials such as fishing nets, in Tarkett's Refinity recycling facility, and offer exceptional sustainability standards.

With almost half of Europe's workforce dissatisfied with their current workspace - 45 per cent claim their office 'functions well but doesn't look great' - the opportunities for designers to create positive improvement are plentiful.
To find out more about The Great Indoors, visit thegreatindoors.eu
For more information and technical support, visit desso.co.uk
Contact:
01235 554848
service-uk@desso.com
---