In O' Magic Power of Bleakness Mark Leckey shows three video artworks in the life-size underpass setting to explore his past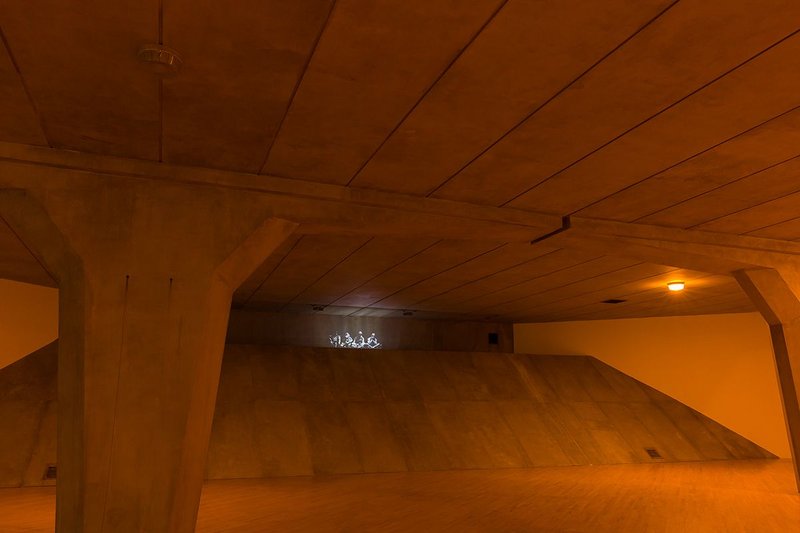 A shaft of light penetrates the underpass from above.

Credit: Mark Blower
A full-size recreation of a motorway underpass inside Tate Britain provides the mysterious backdrop for a new exhibition by Turner Prize-winning artist Mark Leckey.
The ground floor gallery is transformed into a dark and disorienting realm of faux-monolithic reinforced concrete, a loose recreation of a section of the M53 flyover at Eastham Rake in The Wirral, where Leckey used to play with friends near his childhood home.
Four chunky pillars and a diagonal ramp cut through the gloom, enclosed by the underside of the two-lane flyover that intersects the gallery ceiling. Lights on the underside of the bridge occasionally flicker on, coating the structures in a sodium orange glow.
O' Magic Power of Bleakness is both a sound and light show and a stage set for three of Leckey's video artworks: the new work Under Under In, Fiorucci Made Me Hardcore (1999) and Dream English Kid 1964-1999 AD (2015).
The motorway bridge featured in Dream English Kid and is a motif for social history and Leakey's own past. It was built in 1968, four years after Leckey's birth; a modernist emblem of Britain's technological future. But by the 70s it had turned dystopian – 'a neglected ruin full of the threat of violence and dread,' said Leckey in an interview in 2017. In this sense it reflects the wider perception of Brutalism as a cipher for social breakdown and failed utopias. 'By the 80s it came to represent a fantasy of nuclear winter post-apocalyptic landscape and in the 90s it was repainted and rebranded as part of New Labour's programme to take Britain back to the swinging sixties,' he added.
Leckey has confessed to being haunted by things and experiences in his childhood and youth and the underpass is remembered as a place of mystery, an escape for neighbourhood kids and a glitch in the fabric of reality.
Under Under In is an audio play that follows four teenagers under a motorway bridge haunted by fairies. It draws on the idea of the changeling, a child believed to have been stolen by fairies and swapped with a clone who is in some way transformed.
Constructing the flyover within the confines of Tate Britain posed challenges for the production and installation team, which worked closely with Leckey's own team of collaborators.
Elsa Coustou, curator for contemporary British art at Tate Britain, told RIBAJ: 'This exhibition has been an immense technical and physical feat to realise, at over 740m2 it is certainly the largest and most ambitious realisation of Leckey's Bridge motif so far.'
The structure is relatively simple, made from plywood and plasterboard, but it required skilled carpenters and a team of set-painters to render it to look like concrete.
All internal walls in the 1979 Richard Llewelyn-Davies extension were removed to create a 35.955m x 26.8m space for the underpass. The overhead road is 38.5m long and comprises two adjacent 12.3m-wide carriage ways that cut across the white-cube gallery ceiling and appear to continue on into the rest of the building.
The bridge is not identical to the original. 'Leckey wasn't necessarily interested in creating an exact replica, but a structure that would serve as a conduit for his childhood memories,' says Coustou. 'By rendering the bridge as an architectural setting he references the cast-concrete architecture exhibited in contemporary art museums like Tate Modern and BALTIC Centre for Contemporary Art.'
Brutalism has become synonymous with ideas of social upheaval and failed utopias, and that power of bleakness adds weight to the ideas explored in this immersive exhibition.
---
O' Magic Power of Bleakness by Mark Leckey, until 5 January 2020, Tate Britain, Millbank, London SW1P 4RG