An intricate brick and stone palette turns Hawkins\Brown's Colindale Offices into a distinctive urban marker, at one with its neighbouring architecture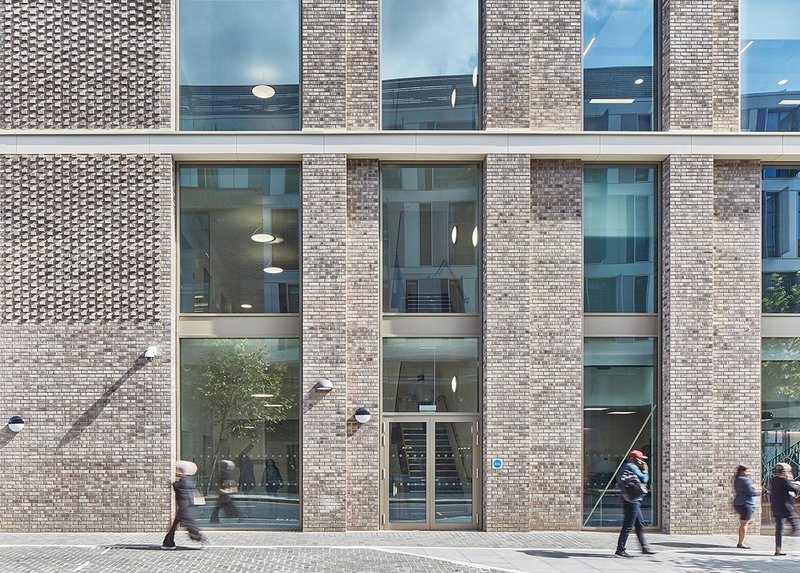 The brickwork facade with protruding header details at Colindale Offices in Barnet.
Facades and timber product solutions firm Taylor Maxwell has supplied the brickwork for Barnet Council's Colindale Offices headquarters.
The offices were relocated to the Colindale area as part of the council's Grahame Park estate regeneration project to improve building conditions, services and amenities in the north west London district.
The building, designed by Hawkins\Brown, consists of 90,000 square metres of office space, including a public cafe and contact centre. The new office replaced several defunct buildings and allowed the majority of council services to come together under one roof.
The architect wanted the offices to create a distinct urban marker and gateway into the newly regenerated area. The design needed to combine two geometric elements: a four-storey triangular-shaped block and a 10-storey rectangular tower. The combination meant that the roof of the four-storey element could be used to create an outdoor terrace area for staff and visitors.
As two sides of the adjoining tower's facade would be visible to users of the roof terrace, the architect had to carefully select materials that delivered the desired finish while incorporating interesting details.
Hawkins\Brown, Galliford Try and Rosedale Brickwork had previously worked with Taylor Maxwell to select and specify the brickwork for Ivydale Primary School in Southwark, winner of a 2018 RIBA regional award. The same bricks were specified to create a striking effect at Colindale Offices.
String courses of stone wrap around the building perimeter at every second storey and are combined with a brown-bodied facing brick that has white and black accents and grey-blue shades. Brick piers and panels frame large glass windows and protruding header details in the brickwork add a sense of depth and rhythm.
The design contrasts with the buff yellow brick used for neighbouring housing schemes, providing a sense of individuality while remaining complementary to the nearby architecture. The Colindale Offices project was shortlisted for the Brick Awards in 2019.
For more information and technical support, visit taylormaxwell.co.uk
Contact:
0203 794 9377
enquiries@taylor.maxwell.co.uk
---