Rapid liquid printing draws objects in gel to speed production and make larger, stronger items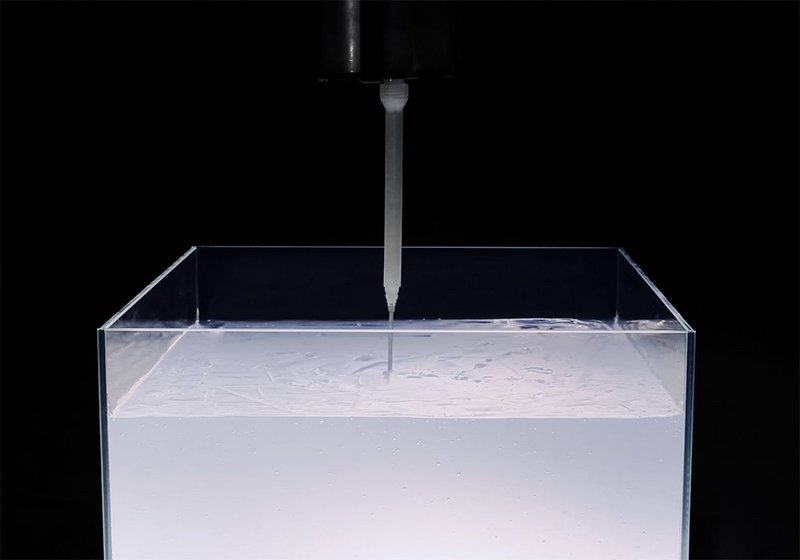 This process is fascinating to watch – a computer-controlled nozzle extrudes a complex geometric pattern into a vat of cloudy liquid. When the sequence is finished, a solid object is lifted whole from the vat, dripping with goo, like the offspring of some alien lifeform.
This otherworldly technology is rapid liquid printing (RLP), an experimental form of manufacturing developed by researchers at Massachusetts Institute of Technology (MIT), in collaboration with US furniture manufacturer Steelcase.
The prototype device physically draws objects in 3D space in a gel and is able to produce large-scale structures much faster than conventional 3D printing. A demonstration at the Furniture Fair in Milan used a 1m-long tank to produce a coffee table top in under 30 minutes.
Yuka Hiyoshi, a senior industrial designer at Steelcase, comments: 'As a designer, what's most fascinating about RLP is the line quality of the print. It's soft, almost organic. It evokes images of brushstrokes or the branches of plants ... And the printing speed is very impressive. In the far future, large scale objects could be printed in minutes instead of days.'
RLP was developed to overcome three key obstacles that have prevented 3D printing from gaining widespread adoption in manufacturing: slow fabrication compared to processes like injection moulding, casting, or milling, etc; the inability to produce large scale objects; and low quality compared to industrial materials.
The use of a quick-setting compound in a stable gel speeds up printing, in single strokes that solidify quickly without the impact of gravity. In contrast, 3D printers that build up objects in layers have long print times as the layers have to be extruded and fused.
In terms of scale, the system is limited only by the size of the gel vat and the extrusion machine being used, say researchers. Furthermore, quality is improved because objects are composed of a continuous material, not layers, which can typically cause structural weaknesses when printed and fused together. MIT has demonstrated the system using regular materials like plastic, foam and rubber.
The potential to revolutionise design aside, RLP is elegant and beautiful to watch, which is no bad thing.
---