Architects and businesses are trying to create more domestic and nature-inspired environments in their offices. The latest Woven Weave collection from Interface is designed to meet these objectives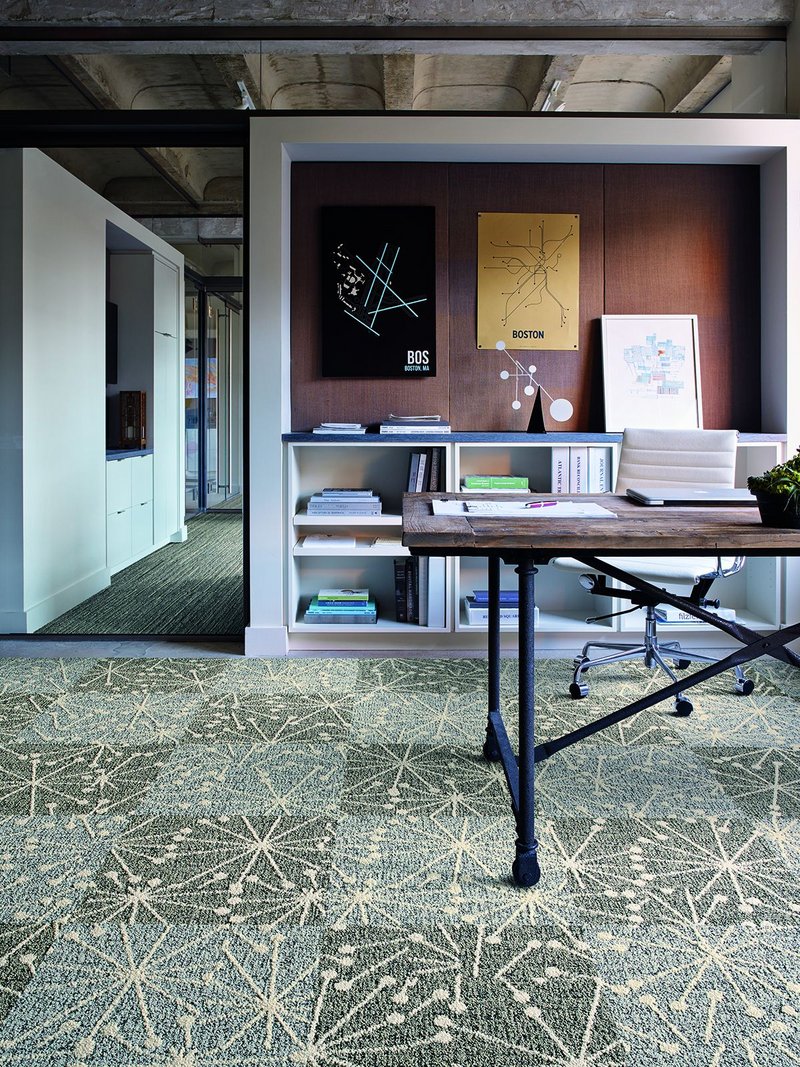 As flexible working practices take precedence in modern office spaces around the world, architects are looking for new design features to increase the productivity and comfort of workers.
Office buildings are no longer defined by corner rooms and static furniture. In fact, many architects are taking the opportunity to redefine the traditional business model by designing buildings that give occupants more than the typical 9-5 working day. By offering workers a space that combines work and play, office buildings are increasingly becoming a home-from-home.
Taking up residence
This is particularly evident in European workplaces where designers are combining elements of residential architecture and home comforts, predominately through the use of textiles, with functional office solutions to create relaxed commercial spaces.
One example of this is BBC Media's offices in London. Relocated from White City, the new office space combines functional breakout spaces housing informative display boards, with subtle residential features used for zoning, such as soft rugs and sofas. Designs like these exemplify the movement towards comfortable commercial spaces which are more akin to a domestic setting.
A natural way of working
Nature inspired design is another popular trend in the commercial office environment which goes hand-in-hand with residential influences. From natural light, to colour and textiles, designers are experimenting with different ways of bringing the outdoors in to positively impact the well-being of workers.
Nature inspired design, or biophilic design as it is often referred to, is founded on the idea that humans have an innate need to be connected to nature. Whether they are hearing the calming sounds of breaking waves, seeing the relaxing dapple of sunlight through leaves, or sensing the texture of grass underfoot, people instinctively feel happier and more relaxed when they are connected with the natural world around them.
This is a concept which global flooring manufacturer, Interface, has conducted much research into. The Human Spaces global report, authored by professor sir Cary Cooper and commissioned by Interface, found that office spaces which incorporated natural design elements increased workers' well-being by 15%, productivity by 6% and creativity by 15%. By using materials, colours and textures inspired by the natural environment, office designers can help organisations create inspired workspaces that challenge the norm and cultivate better, more effective ways of working.
Weaving old and new
The trend for including residential elements and biophilic design in the workplace indicates a move towards a more natural way of working and a step away from the stresses of modern life. Office designers are imitating this in their choice of uncomplicated, hand-crafted and imperfect materials.
Interface's latest global collection, World Woven, for example, combines domestic-like design with elements found in nature.
A delicate combination of old and new, World Woven weaves together modern sensibilities with memories of some of the most enduring textiles of the past. The collection has been developed by Interface's exclusive product designer David Oakey of David Oakey Designs, and was inspired by tweeds and bespoke woven textiles from around the world.
Oakey believes that the beauty of hand weaving is closer to nature than the synthetic uniformity of 'modern' machined production. In traditional Scottish tweed, for example, what looks like solid green actually has at least 10 to 15 hues, which is similar to the way nature works with colour. Oakey takes inspiration from this in World Woven to add dimension to his latest biophilia-inspired design. While it doesn't make overt references to natural elements, the new collection recreates nature's irregular patterns and colour variations without replicating specific patterns found within a landscape. This allows designers the flexibility of using just one of the new ranges to create a simple neutral background, or combine multiple textures to create diversity and movement similar to that found in the natural world.
Working towards well-being
Businesses are moving away from busy workplace design concepts in favour of simpler, calming office interiors which sooth workers, support their well-being and boost productivity. This reflects a fundamental change in the way people work. Modern, flexible business models are replacing the structured working day as more companies aim to promote a healthy work/life balance. As a result, the line between residential and commercial design is beginning to merge. Softer, more inviting textiles are infiltrating the functional designs of previous decades in a bid to increase the comfort and well-being of workers.
Written by Helmich Jousma, concept design team leader, Interface
For more information and technical support visit: www.interface.com
Contact:
01274 698503
---