The Sika roofing offer covers all options, with its three brands providing the ideal solution for a multitude of different projects, from the straightforward and quick liquid applied range of Sika Liquid Plastics to the comprehensive and multi-purpose single ply solutions from Sika Sarnafil and Sika Trocal.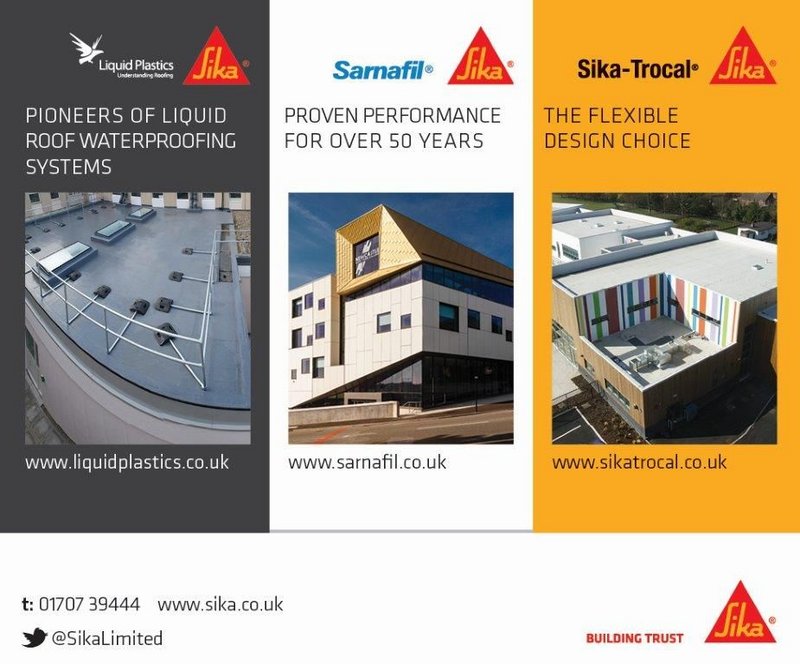 Each of Sika's roofing brands has years of expertise and experience and, depending on your requirements, can be backed by industry leading guarantees and technical support that offers a complete membrane roofing solution. The Sika Sarnafil system includes adhered, mechanically fastened, ballasted, green roof and solar systems. Sarnafil roofing membranes are very versatile and flexible, making it ideal for almost any kind of roofing project, from the abstract to new build and replacement or refurbishment of existing roof coverings.
Sika Liquid Plastics manufactures specialist liquid applied membranes. Its range of moisture triggered, polyurethane systems offers exceptional flexibility and durability, making it ideal for challenging or complex projects.
Sika-Trocal provides flat roofing membranes that are suitable for a wide range of applications including new build, refurbishment, solar and green roof specifications. With more than 40 years in the UK, Sika-Trocal offers speedy application and freedom of design, due to the lightweight, durable and flexible membranes it uses to ensure a fast, safe and economical installation process.
All come with guarantees from 10 to 25 years, as well as being certified by the BBA.
For all your membrane roofing needs, Sika is the answer.