This can be a real challenge but Dynamik has the solution…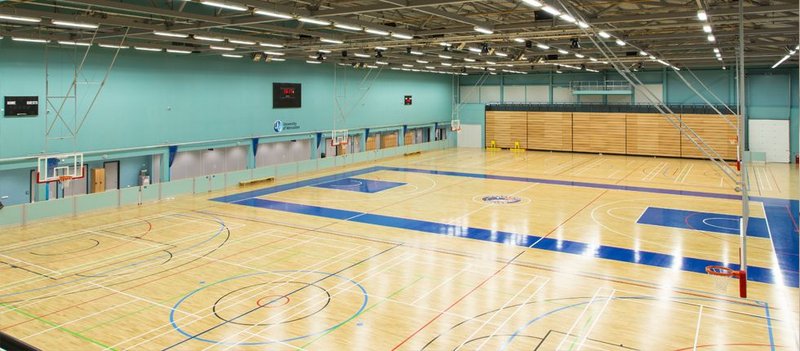 Dynamik Sports Floors has been selected by arenas for the superior performance of its Helsinki 10 – 10 area elastic sports floor system.
The system was specified at the University of Worcester for both its sports performance and ability to withstand high loadings since the facility incorporates portable goals and portable bleacher seating units with a 2,500 seating capacity. Additional support is not required within the playing areas – thus ensuring consistent performance over the whole floor.
The floor meets the requirements of BS EN14904 Class A4 and FIBA Level 1.
A high specification was a prerequisite because the facility is used extensively for a variety of sports by both able-bodied and disabled athletes, and is a preferred centre for wheelchair basketball.
Using an engineered board with a plywood carrier and plywood substructure, the Helsinki 10 – 10 system has elasticity and durability.Its additional benefits include low life-cycle and maintenance costs, as well as being fully recyclable.
Basketball England who part funded the project were delighted with the overall performance of the floor system and it has now been specified for the new Belle Vue Sports Village in Manchester and the Leicester Community Sports Arena.
On 4th August Peter Griffiths, facilities manager at Basketball England, commented: "Dynamik's range of floors combined with their technical expertise is second to none. It is great to work in partnership with such an experienced company and promote them as our official flooring supplier."
For more information and technical support visit: www.dynamiksportsfloors.co.uk
Contact:
0117 301 5120
---