When you're designing for high profile projects, it's essential that every product not only looks the part, but offers the best functionality and longevity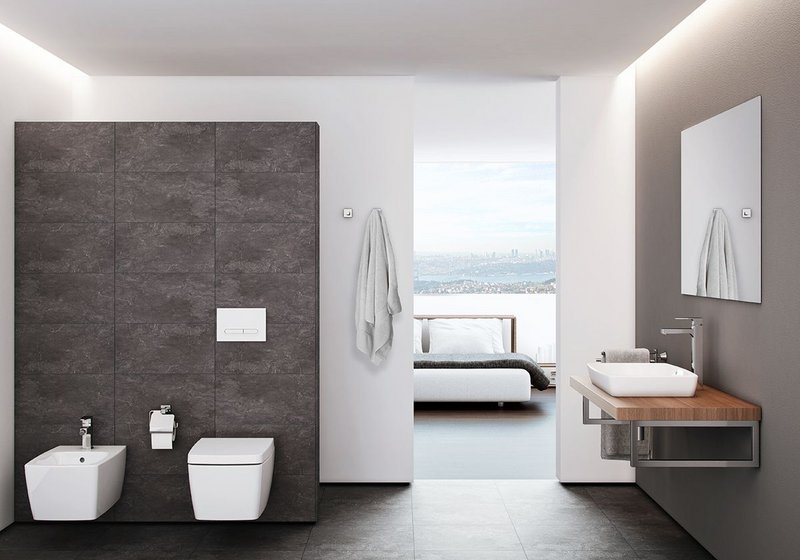 VitrA M-Line bathroom with RIM-EX WC
When you're designing for high profile projects, it's essential that every product not only looks the part, but offers the best functionality and longevity. VitrA has designed the M-Line RIM-EX WC to provide the perfect solution for those specifying for bathrooms.
The M-Line RIM-EX WC has been created by the German design studio Noa who are known for producing intelligent products with beautiful aesthetics. Its sleek and modern exterior conceals a whole world of advancements within. This radical design features a specially developed bowl with a completely smooth interior with an easy clean surface and no rims or holes where dirt or germs can collect. Instead of a traditional rim, this model features a specially developed ceramic water diverter which distributes water accurately around the pan for flushing. It makes cleaning quick and simple and is 95% more hygienic than standard WCs.
The WC can also be kitted out with a VitrA Fresh flush tank. It sits flush at the back of the WC, blending in with the overall design. It adds a dose of cleaning liquid to every flush to keep it exceptionally fresh and hygienic. For maintenance, the tank is very easily accessed and replacement liquid is required infrequently.
The RIM-EX M-Line WC retails from £309 including VAT. For further information about VitrA, please call 01235 750 990 or visit the website at www.vitra.co.uk.
---