Eric Parry Architects' ceramic baguettes have given The Welding Institute three huge new buildings that look to future flexibility while blending in with their countryside setting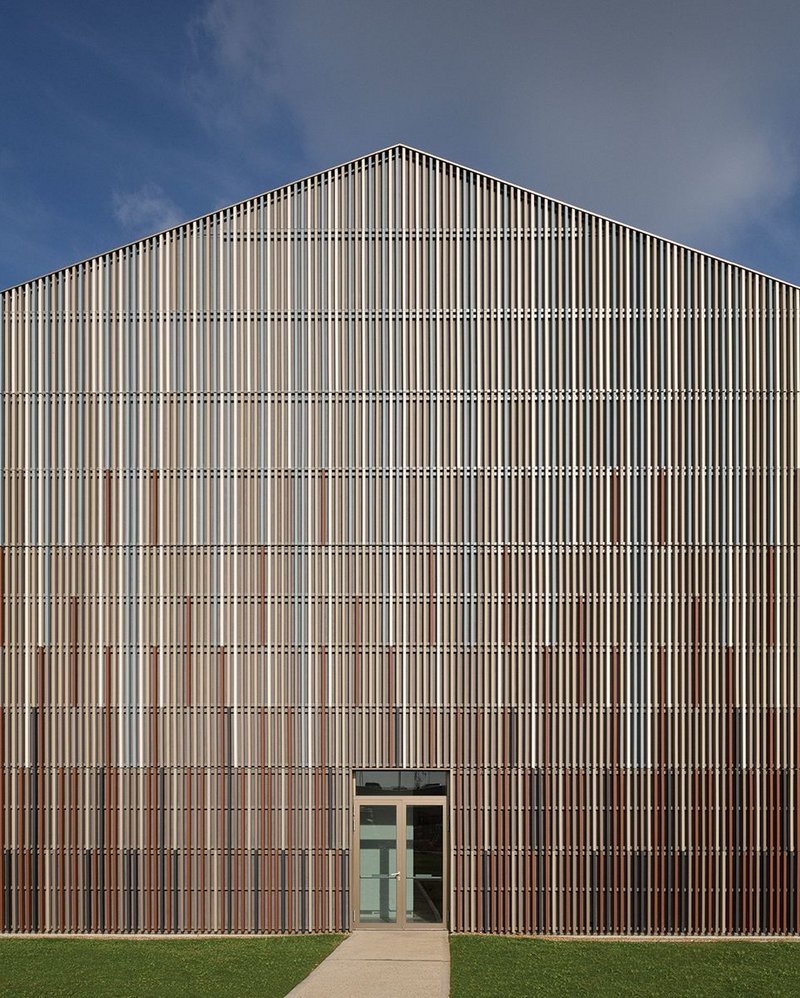 The south face of the testing facility uses the baguettes to greatest effect; the colours appearing to shimmer in the light.

Credit: Dirk Lindner
There's nothing particularly unusual about a hi-tech business park on a country estate – the Second World War often saw isolated country estates like Bletchley Park, Bushey and Ditton Park requisitioned for scientific and military intelligence purposes, and new technologies linked to the country campus were culturally established in the UK decades before Silicon Valley adopted the idea. But it is unusual, eccentric even, to find one developed around a cricket pitch and pavilion, as happens here at The Welding Institute, at the 18th century Abington Hall Estate outside Cambridge. Humphrey Repton's picturesque winding drive to the hall may have been lost in its subsequent piecemeal post-war development, but Eric Parry Architects' new master-plan for Granta Park, over 70,000m2 of tech and biotech industry space, adopts a modern take on those picturesque principles.
But it all comes back to that focus of the cricket pitch; not originally part of the estate, but the brainchild of Bevan Braithwaite, a larger than life engineer, who by the time he became chief executive of the Institute in 1988, was a world authority on structural fatigue. Parry recounts how, normalised as a government quango in 1946, the British Research Welding Institute was established to look into the failure of the Liberty ships, more of which were being lost to welding issues than to enemy fire, and to support aeronautical development as part of the war effort. Its specialisations multiplied; today TWI is a world centre in welding technology, its 500 staff as likely to be providing high level research into skin bonding as waste encasement capsules for the nuclear industry or fabrication techniques for NASA rocket builders.
But long divested of government funding, and generating its modern incarnation, TWI had to look into alternative means of raising revenue from the site through visionary developer Ian Laing, who initiated the Granta Park masterplan. Parry was brought on board in 1996 and proposed 'green fingers' radiating from the cricket oval and balancing pond to wooded parking and ancillary areas beyond, maintaining a picturesque feel at the site's heart. Plots built out to varying levels of success, by a menagerie of architects and contractors, are now let to biotech industries as a revenue stream for TWI. But in 2012, with hefty HEFCE funding, Laing brought Parry back to consolidate the estate in its most significant iteration yet – nearly 28,000m2 in three new buildings all connected via a wide internal spine back to its 2003, Bovis constructed, Bevan Braithwaite Building.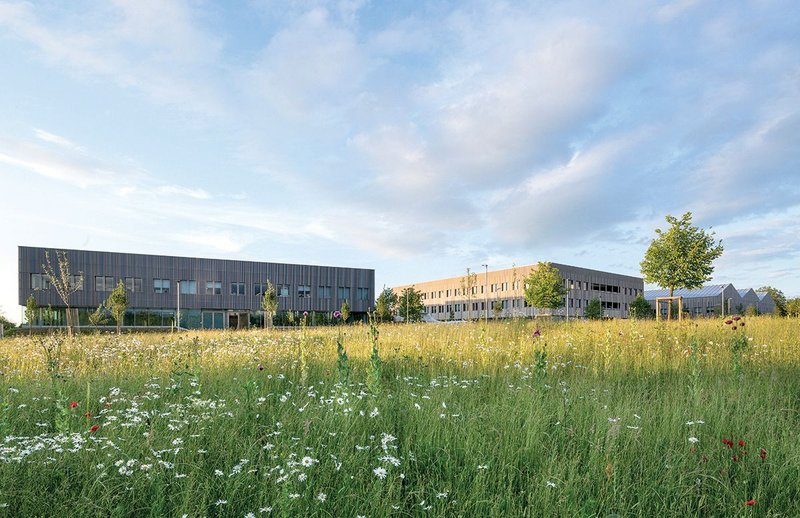 TWI's latest iteration: Two pavilions and a shed, all clad in vertically hung ceramic baguettes stretching out into the old meadowland of its Abington Hall site.

Credit: Dirk Lindner
Varying programmatic requirements of TWI's phase II may have allowed Parry to indulge himself with the kind of balanced asymmetry that would have pleased Repton himself. The new £50 million complex extends southwards into the central site as three distinct structures. The westernmost block is dedicated to TWI's library, conference areas, admin offices and refectory spaces, the central houses laboratory research facilities, and the largest, eastern-most block is TWI's 'engine room', its sizeable and heavy duty testing facility. Two of the blocks are skewed in plan relative to each other, the testing facility only prevented from doing so by logistical demands of the service yard to the rear; yet despite the scale of the geometric shift, it is probably the buildings' more subtle picturesque play. Most obvious is the firm's choice of a beguiling five-colour modulating facade of vertically hung ceramic baguettes that visually unifies the three blocks into a whole.
With the budget tight, Parry admits the biggest challenge was getting the approach right to cladding an 'enormous building' in Abington Hall's meadows – especially on a constrained design and build budget. Panellised aluminium systems were considered, says project architect Lee Higson, but quickly dismissed for German firm NBK's rectangular hollow section terracotta baguettes. 'We knew there was a world of metal profiles out there but we have always been concerned with materiality and weathering. We were really keen that the cladding convey a sense of hand working and craft.'
'It struck me that using them would allow us to create a form of camouflage,' recalls Parry. 'The varying colours could create an ambiguity of depth, going from something dense and grounded at the bottom to something lighter and more aerial at the top – getting lighter and thinning out, like staring into a birch forest.' The ensuing colour palette, decided on for its 150mm lengths, was developed with an artist in shades of brown, blue and grey – the colour runs through the section so it can take the knocks of time. But Higson admits it was at times a struggle arguing for a subtle facade approach such as this, with a science organisation understandably more concerned with ensuring its brief was met within the budget than aesthetics.
Perhaps what tipped the balance in Parry's favour was Laing's long term view for the organisation, which currently relies heavily on the oil industry research for its revenue. He wanted TWI to consider future scenarios where it might have to contract and let out the office and lab blocks to commercial or biotech tenants. This notion, says Parry, turned out to be a bit of a game changer, as it forced the client to consider the project not just as a design for itself but as one for a competitive market far more influenced by the look of a building. 'We'd considered the buildings as three agricultural sheds,' he says, 'but in light of Ian's thinking, it quickly changed to the idea of two pavilions, each with its own dedicated entrance and a shed.' But there was a qualitative shift too; the ceramic baguette facade could now be justifiably argued for; not only that, it could be complemented on the pavilions and 100m long internal link corridor with a ground level run of standard Schueco system aluminium glazed cladding.
Even the pavilion glazing, recessed 600mm, was augmented with a secondary facade of sheer glazing, hung off a steel perimeter beam running flush with the baguette rainscreen cladding. True, it's a ventilated facade that cuts solar gain to the offices and labs but, meeting a grassy berm wall as it does, other ideas come into play. 'The berm was to nestle the pavilion into the landscape and the glazing was to allow everything above it to float,' explains Parry. 'We were aware that labs and offices can change all the time and the flush outer glazing was there to allow the anarchy of partitioning to go on within but still maintain an overarching order from the outside.' The effort makes for some crisp detailing externally and creates interesting relationships internally too: the berm wall is at worktop height, giving staff the sense of being hunkered into the landscape as much as the building is.
The same attention to detail can be seen at the interface of baguette cladding with recessed upper level windows, where the firm argued successfully to have baguettes run in front of the reveals, necessitating a bespoke spigot detail attaching to the backing rail below each sill. Higson says it was another detail that had to be fought for. 'It accentuates the depth of the reveal and emphasises the idea of the facade as a screen running through as opposed to one of punched windows,' he adds. In fact, the baguette face line is sacrosanct throughout; there's a neat, flush trim at parapet level and even gutter down-pipes are recessed back into the facade.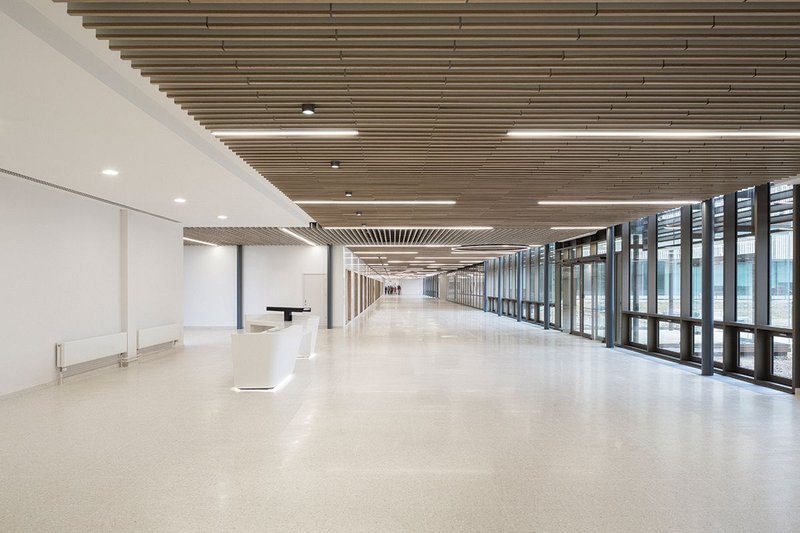 Clad in a standard Schueco aluminium glazing system, the 8m wide internal spine picks up on the external baguettes with hanging acoustic baffles with veneered timber on the lower face. The terrazzo floor is designed to take loaded fork lift trucks.

Credit: Dirk Lindner
Higson seems keen to acknowledge the efforts of small contractor SDC in the Design & Build procurement of its biggest project to date. While the 9m by 9m steel structure of composite slabs was clad in a fairly simple insulated Metsec system with an exterior weather board, it took skill and no small effort to hand fix and bolt each baguette upper and lower fixing point back to the backing rails – in all there are over 100,000 of them fixed onto the buildings.
Parry admits that with hindsight he would have preferred more colour variation on the pavilion buildings to offset their dull gold, but on the sunny winters day that we visited, the gable end facade of the testing facility was fizzing in the light; the coloured baguettes almost deflecting the gaze; the facade visually resonating – not a bad effect for a build cost of £1500/m2.
Yet for all their homogeneity, the three buildings present themselves as very much distinct from one another, with their own unique characteristics. The testing shed as a sophisticated iteration of an industrial shed, the labs and research block's recessed balconies revealed as if a curtain has been drawn back on a stage; and the west pavilion, its double height glazed refectory respectfully addressing that bonkers cricket pitch. It might not be formed of the late Bevan Braithwaite's hallowed willow but he'd probably acknowledge that TWI's new facility, with its facade of wicket-like strips, seems welded to the landscape in which it sits.
---
Credits
Client TWI
Architecture Eric Parry Architects
Structural engineer Glanville Consultants
Services engineer Hoare Lea
Quantity surveyor Aecom
Landscape Land Use Consultants, Josephine Morrison Landscape
Fire consultant Hoare Lea
Acoustics Hoare Lea
Contractor SDC builders