Classic Thonet chairs with a maritime-themed makeover have been specified for star chef Enrique Valentí's new restaurant Marea Alta in Barcelona, which opened in 2016 in the Edificio Colón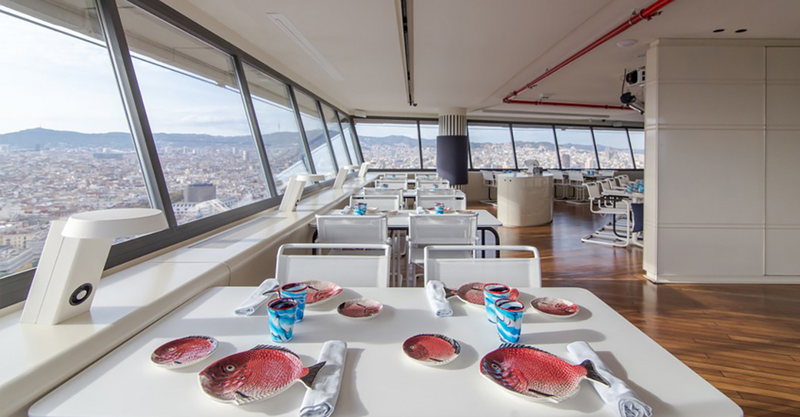 The new Marea Alta restaurant in Barcelona has 360-degree views.
Just a few metres from Barcelona's old harbour and the famous La Rambla promenade, the Edificio Colón was the first tall building to exceed 100m when it was completed in 1970.
Originally designed by Daniel Gelbert i Fontova & Josep Anglada i Rossello with a height of 110m, last year the 23rd and 24th floors were transformed into the new restaurant and bar of Spanish star chef Enrique Valentí. Marea Alta, a seafood restaurant with French and Japanese influences, was redesigned by to highlight its maritime setting, with wooden floorboards, porthole-shaped mirrors and a largely white and marine blue colour palette that is reminiscent of ship interiors.
As part of the design, Thonet has supplied 16 classic cantilever chairs S 64 N with chrome-plated frames and various models of the 'Thonet All Seasons' collection to furnish the the restaurant. The outdoor furniture has also been specified to complement the interior, making a striking impression both indoors and out. A total of 83 chairs of model S 34 N were used completely in white, some with night-blue cushions. Three lounge chairs S 35 N including footstool invite visitors to comfortably enjoy the view of the Mediterranean. Thanks to the hexagonal shape of the space and the floor-to-ceiling windows, visitors now sit back and enjoy the 360-degree views of Barcelona and the sea.
For more information and technical support visit: thonet.de
Contact:
---