Architect Joan Miquel Seguí Colomar and design duo Xavier Martí and Lucía Ferrater scoop this year's top prizes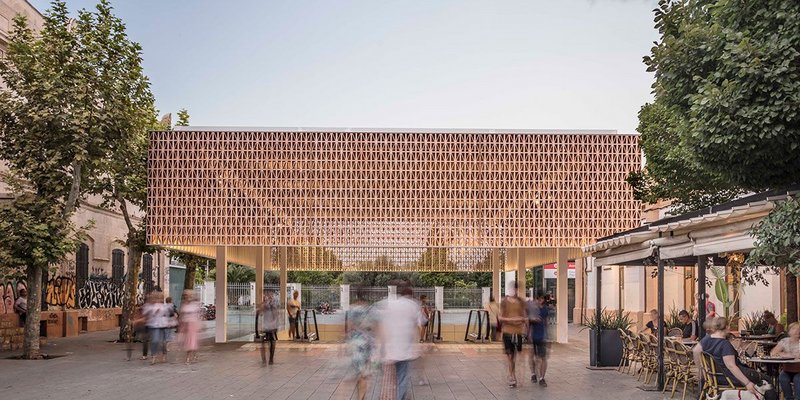 The new entrance to Palma's intermodal station was winner of the Architecture category. By Joan Miquel Seguí Colomar.

Credit: Adriá Goula
The Tile of Spain Awards celebrate the innovative use of Spanish ceramics in interior design and architecture. Now in its 17th year, this well established event is organised by ASCER, the Spanish ceramic tile manufacturers' association, and is considered a major event both in Spain and internationally, earning its winners a highly respected accolade.
First prize in the Architecture category, with a cash award of €17,000, went to Joan Miquel Seguí Colomar for the new entrance to Palma's intermodal station. The panel of judges particularly valued the use of ceramic tiles to create a latticework effect as a defining feature of the entrance, marking the threshold between the urban space and the station's service infrastructures.
First place in the Interior Design category, also attracting a cash prize of €17,000, went to the 'House Overlooking the sea' in El Port de la Selva, Catalonia, by Xavier Martí and Lucía Ferrater. The judges applauded the use of ceramic floor tiles to create a sense of connection when moving between the various spaces and levels, forming a harmonious continuum with the other materials featured.
In the category reserved for Architecture students, the winning Final Degree Project awarded €5,000 was 'A Positive Happening', the work of Manuel Bouzas Barcala from the Madrid School of Architecture. The judges admired the author's creativity, desire to experiment and the clarity of ideas underpinning the thesis.
Architects Jorge Silvetti (Chair), Elías Torres, Ricardo Carvalho, Jordi Garcés, Belén Moneo, Mario Ruiz and Ramón Monfort made up the panel of judges.
The award ceremony will be held on 29 January 2019 in Valencia during CEVISAMA, the international trade fair for ceramic tiles, surface coatings and bathroom and kitchen design. Tile of Spain is the voice of the Spanish tile industry, representing more than 125 tile manufacturers.
For full details of this and previous editions of the awards, please visit: tileofspainawards.com
---