Tile of Spain looks at some of the innovative ideas to emerge at this year's Cevisama tile fair in Valencia - from fresh twists on terrazzo to the deconstruction of the square as a geometric form…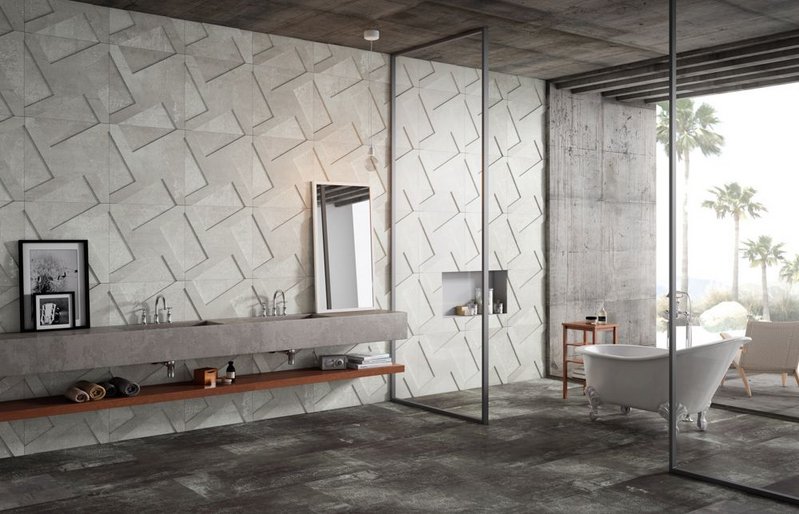 White Décor Ramp by Apavisa, Alchemy 7.0 Collection. Porcelain square tile in 59.55x59.55cm format that contrasts hammered and natural finishes with a 3D relief in white, black or blue.
Spain's annual tile fair Cevisama attracts over 145 countries and showcases a pioneering sector that produces in excess of 530 million square metres of tiles a year. It's no wonder there's a palpable sense of excitement as the latest technologies and innovative designs are revealed.
Deconstructed squares
Playing around with the geometrical possibilities of the square affords a designer unlimited opportunities to create dramatic effects for surfaces. Deconstructed squares are a dominant theme. Whether cut up and rearranged, scratched with fine lines or pressed into moulds to create dynamic 3D forms, the square tile can be reinvented in countless ways.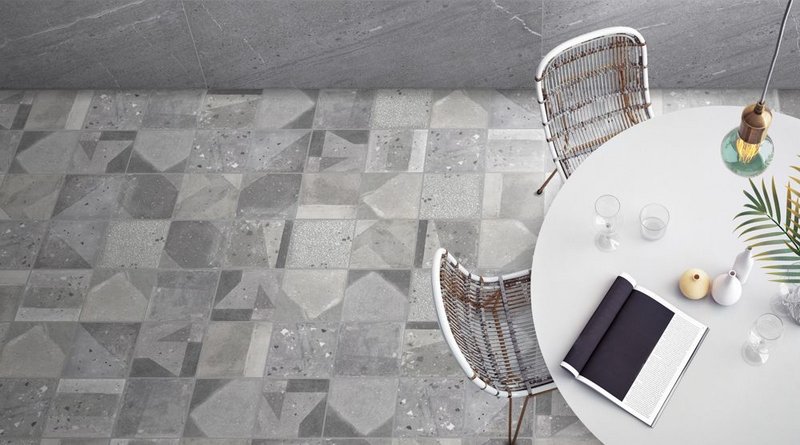 Agnes by Dune, Emporio Collection. Wall and floor porcelain tiles in 12 distinctly contemporary designs and a palette of beige and grey that can be randomly mixed. Décor tile in 20x20cm format and a variety of plain formats also available.
Terrazzo comes of age
Giant flecks, unusual colours and geometric patterns overlaid with marble pieces are reinventing classic terrazzo. Numerous brands have created designs that nod at traditional terrazzo, but take a contemporary spin. Another key development is that it's now possible to have a larger format version - even a generous 360x120cm slab - as well as a wider variety of unexpected smaller formats. Of course you can still find plenty of heritage-style terrazzo - a look that typically has tiny chips of marble or stone set in a cementitious ground - but look out for innovations too…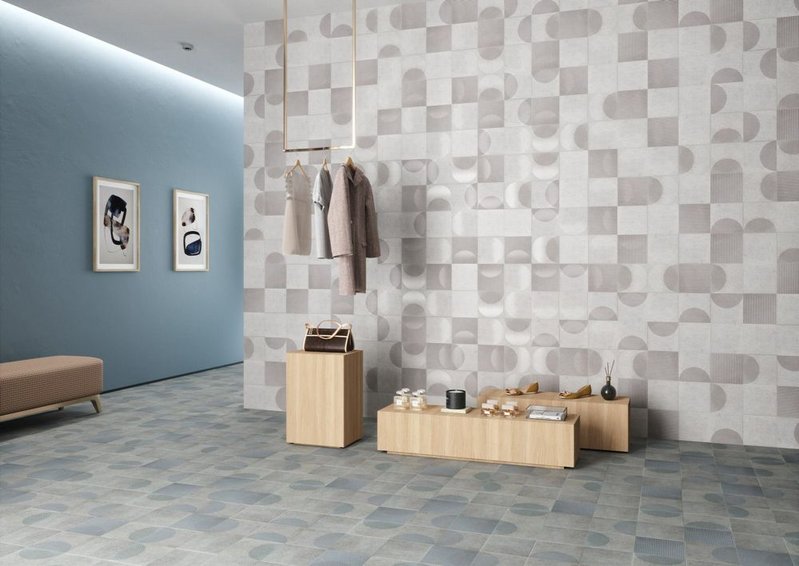 Fading by Harmony features porcelain tiles by Jin Kuramoto in a 20x20cm format with faded overlapping patterns and finishes in five colours and five décors. Suitable for wall and floor.
Faded splendour
For those who love pattern but want something subtle, the trend for the faded or rubbed-out décor tile - where a pattern is often interrupted or smudged - is ideal for adding character to a surface while avoiding the heavy rustication of distressed finishes. Spanish manufacturers are very inventive with this trend, exploring digital printing to the full.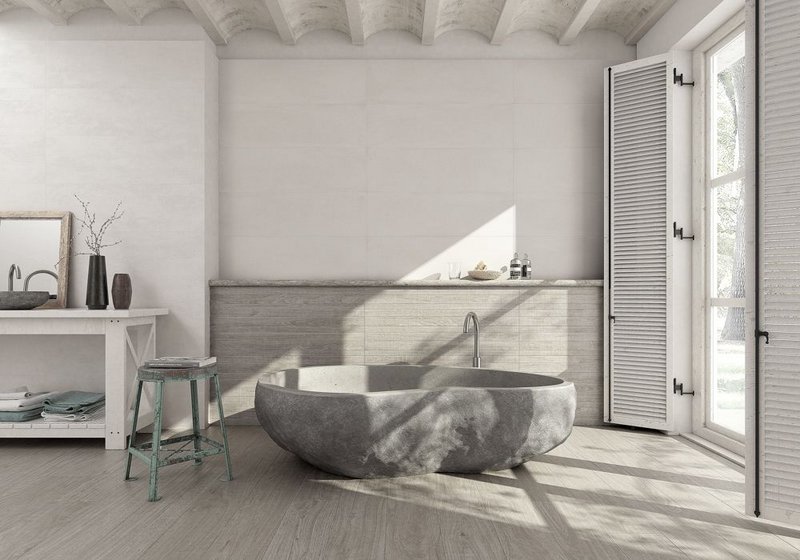 Wabi Sabi by Grespania features three designs, including Concrete, a cement look with subtle spatula effects in three formats, including 31.5x100cm (shown), 30x60cm and 60x60cm.
Carefully constructed
Inspiration comes from many places, but a notable source this year is the construction yard and the skills used by the building trade. Whether it's shuttered concrete, chipboard, plaster, building blocks or just the pattern made on an exterior wall when façade tiles are removed, décor tiles reminiscent of these materials or processes create appealing backdrops for commercial and residential interiors.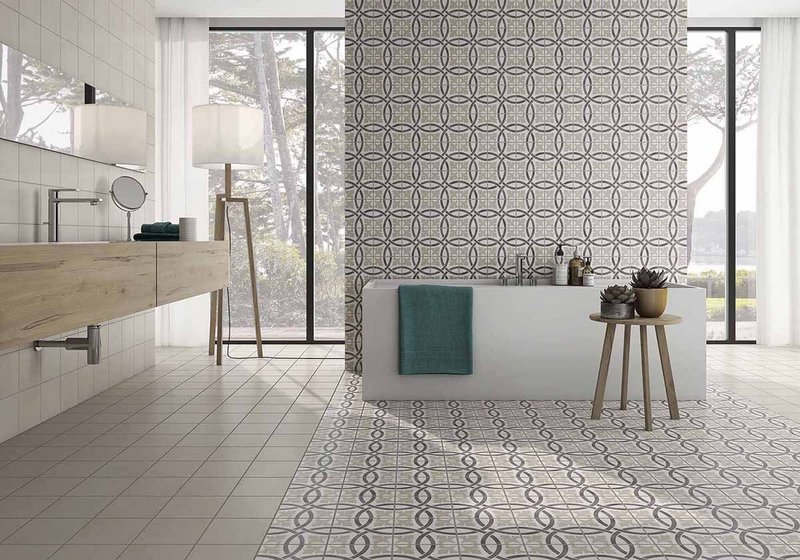 Sitges by Saloni, Pobles series. Porcelain tiles for wall and floor in a choice of five designs, including Sitges (shown), can be combined with plain tiles in Beige, Blanco, Grafito, Gris and Iris to create a custom look. Format 18.5x18.5cm.
Modern encaustic
A survey of a cross section of stands at Cevisama reveals that the hydraulic cement effect is more popular than ever. We're seeing lots of modern takes on this, marking a shift away from the heritage feel traditionally associated with this style. Other variations on the encaustic look combine multiple patterns in an unexpected way, such as overlaying motifs on wood grain or adopting on-trend colours, such as dusky pink, grey, forest green and denim blue. Or, instead of a mix of colour, the use of a neutral palette, which immediately offers a more contemporary spin.
About Tile of Spain
Tile of Spain is the voice of the Spanish tile industry, encompassing more than 120 tile manufacturers. Renowned worldwide for an inspiring blend of aesthetic and technical innovation, Spanish tiles draw on a rich heritage of skill and creativity, while remaining at the cutting edge of design. Manufactured in Spain and widely available in the UK, these products embody the spirit of an industry that prides itself on proposing beautiful, meaningful and high-performance solutions to flooring, wall coverings, furnishing and external paving and cladding.
For more information and technical support visit: www.tileofspain.com
Contact:
020 7776 7785
---