Tile of Spain highlights the latest trends on show at this year's Cevisama Tile Fair in Valencia, including pastels, relief effects and terrazzo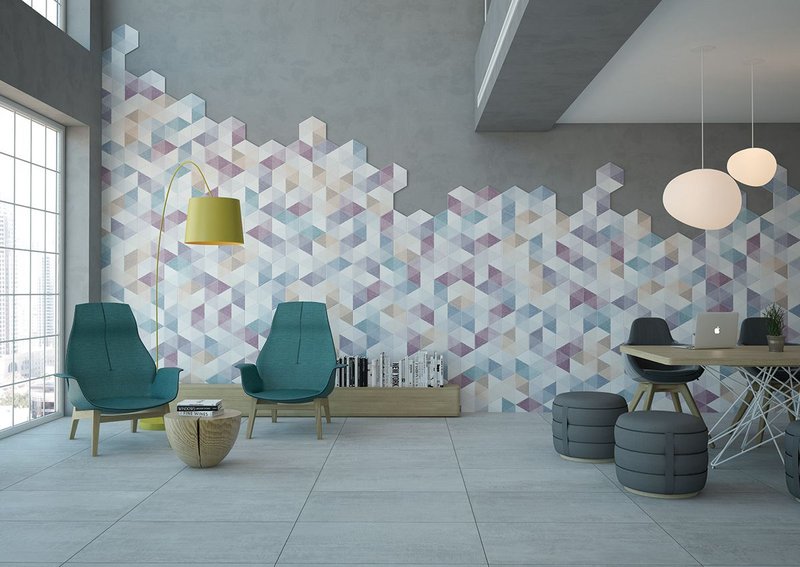 Caleidos by Undefasa - hexagonal wall and floor tiles in porcelain featuring triangles in five matt colours offered in a 23x27cm format. www.undefasa.com
The Cevisama Tile Fair in Valencia always offers an intriguing insight into the latest products, trends and innovation from the Spanish tile industry. Exciting new collections and cutting-edge technologies explain why the industry continues to grow impressively both at home and abroad. At this year's show a number of key themes and fresh ideas emerged:
Triangles galore
The language of geometry has a timeless beauty, and the simplicity of the triangle allows for striking effects whether used as a detail or to build a dramatic pattern. Tiles and triangles are a match made in design heaven and Spanish manufacturers are finding multiple ways to put this look into durable and versatile shape.
Playful pastels
The soft elegance of pastel shades has a perennial appeal, creating a calm yet uplifting ambience when applied to interior design. Advances in tile technology mean that any colour or texture is possible these days and several manufacturers from Spain have embraced a more playful tone for new collections.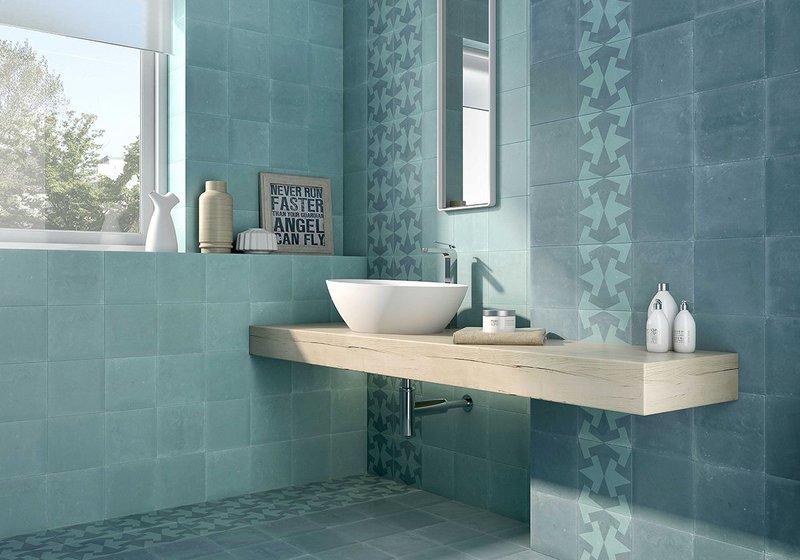 Concept by Cas Ceramica - satin-finish ceramic tiles in 11 plain colours and five decorative designs allow for dramatic features for both wall and floor. Available in a 20x20cm format. www.casceramica.com
Sketchbook beauty
A hand-drawn impression is a key theme in several new Spanish tile collections, with a sense of the artisan's own personality sketched into a durable design. Chalk, pencil and paintbrush each seem to have been creatively at work in a variety of tile choices for use either large scale or as a feature section.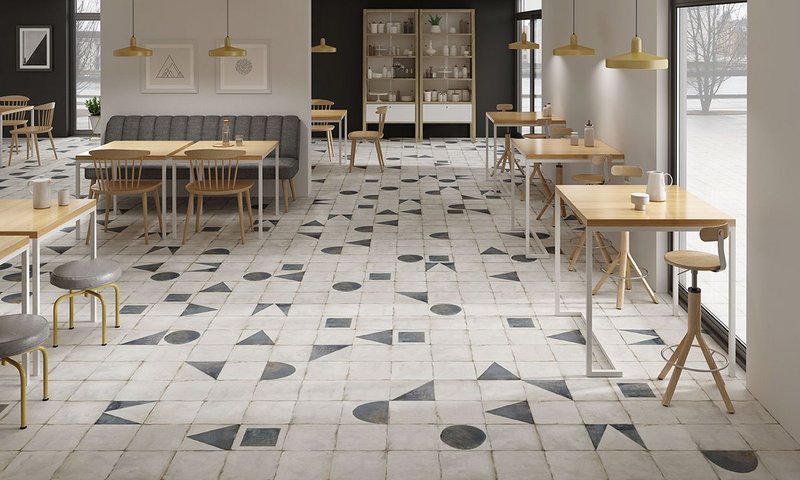 Maison Decor by Onset for the Harmony Signature Collection by Peronda – 22.3x22.3cm and 45.2x45.2cm porcelain wall and floor tiles available in six geometric designs. www.peronda.com
Line dancing
Whether as the subtlest suggestion or as more visibly linear ridges, a number of tile collections from Spain embrace a motif of fine lines. Running closely parallel or criss-crossing at angles, this textured effect can add a hint of fascination to otherwise neutral schemes, and work wonderfully well over a large expanse of wall.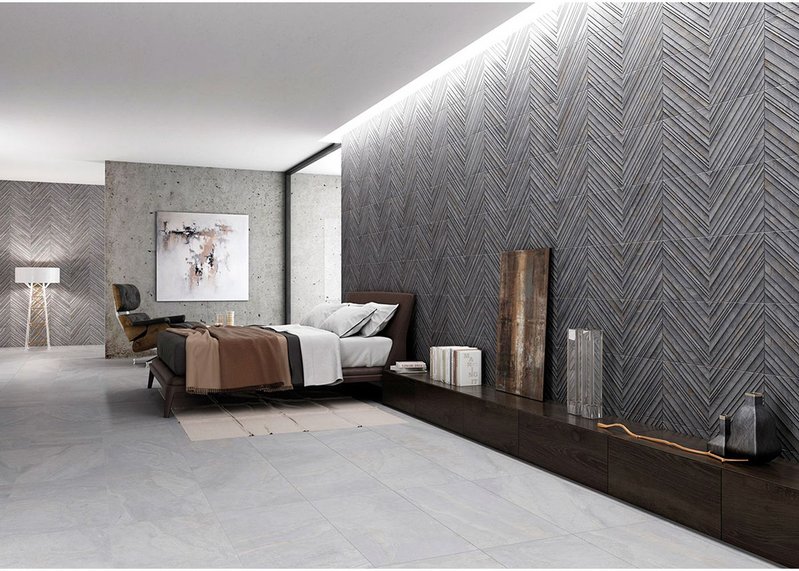 Osaka by Gayafores - porcelain wall tile in three neutral colours and three formats. These tiles with a rough hewn linear effect can be used to create striking textural patterns. www.gayafores.es
A touch of terrazzo
A classic look in Mediterranean flooring, the terrazzo effect conjures up a sense of relaxed style while also being an eminently practical and forgiving choice. Now, however, the new terrazzo comes with a twist…discreet shapes, metallic outlines and unusual colour choices have been added to the mix by brands reinventing a heritage look.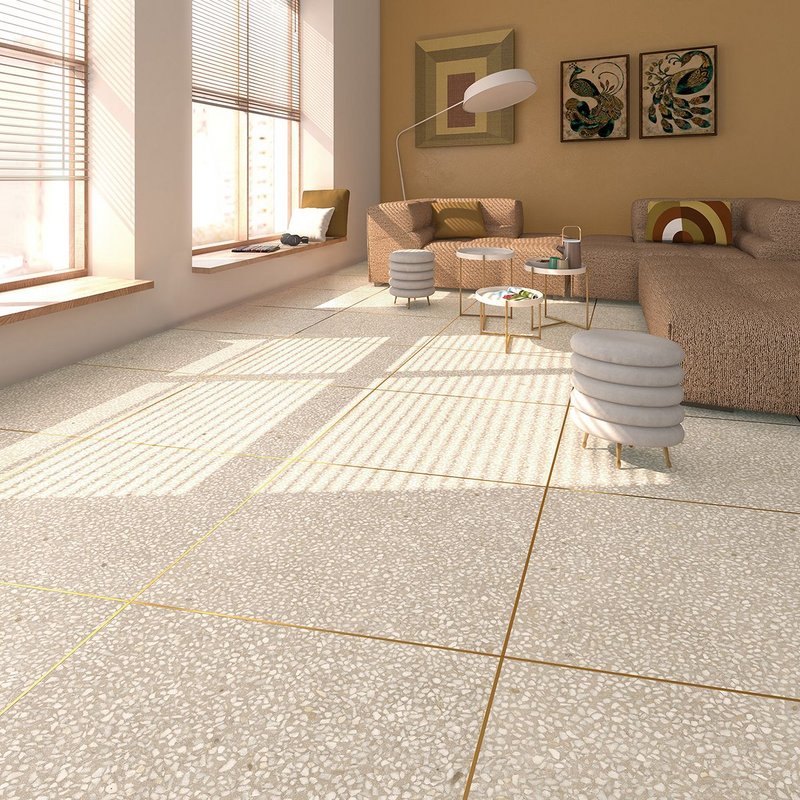 Portofino by Vives - porcelain wall and floor tiles in a terrazzo effect with metallic edges in four colours and four formats. Frost resistant, suitable for interior and exterior use. www.vives.com
Tunnel vision
Combining optical illusion with 3D textures, the visual motif of the tunnel shape is a recurring theme in some recent tile designs. Drawing in the eye with a touch of intrigue, this effect appears on a range of options for wall tiles from Spain, and allows for either subtle accents or pure visual drama.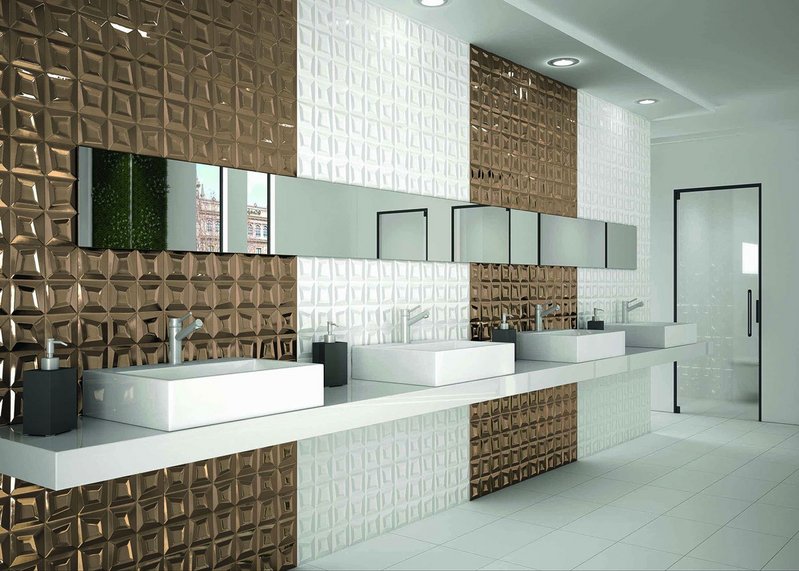 Frame by Realonda - relief-effect porcelain wall tile in two matt colours and two metallic colours. Available in 33x33cm format. www.realonda.com
About Tile of Spain
Tile of Spain is the voice of the Spanish tile industry, encompassing more than 100 tile manufacturers. Renowned worldwide for an inspiring blend of aesthetic and technical innovation, Spanish tiles draw on a rich heritage of skill and creativity, while remaining at the cutting edge of design. Manufactured in Spain and widely available in the UK, these products embody the spirit of an industry that prides itself on proposing beautiful, meaningful and high-performance solutions to flooring, wall coverings, furnishing and external paving and cladding.

For more information and technical support visit: www.tileofspain.com
Contact:
+ 34 964727200
---