Waugh Thistleton's Timber Typologies tackles misunderstanding that limits the material's use and threatens construction's carbon reduction targets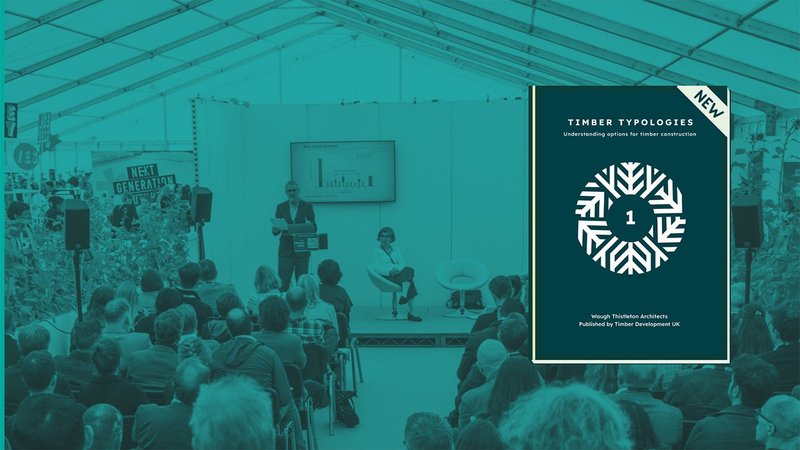 Credit: Waugh Thistleton
Carbon reduction targets will be put in jeopardy if designers don't address widespread misconceptions and misinformation around the use of timber, the architect behind a new 'beginners guide' on the material have warned
The free primer Timber Typologies was written by Waugh Thistleton Architects in collaboration with trade association Timber Development UK in a bid to improve the sector's understanding of solutions for building in timber and to prevent designers, clients, specifiers and engineers from talking at 'cross-purposes.'
Timber is one of several scalable low embodied carbon materials needed to help construction meet statutory targets on carbon reduction. However, according to Alastair Ogle, lead author of the book and associate at Waugh Thistleton Architects, misunderstandings about the structural properties of timber products and construction systems means that 'higher carbon and non-renewable materials like steel and concrete are used instead, which can significantly increase the embodied carbon of a project by up to 75%.'
Although the material qualities of timber are not always best suited to certain projects, such as large infrastructure, 'the majority of concrete and steel used within the UK construction industry could easily be replaced with a lower carbon and renewable timber alternative,' he added.
Timber Typologies takes issue with a lack of transparency on definitions of timber systems, which tend to get grouped together into the terms 'timber frame', 'mass timber' or 'stick build.'
Architects unfamiliar with working with timber could benefit from the guide's explanation of the ways that timber components can be combined to create different structural systems in response to factors such as building use, height and layout, plus other construction constraints.
Timber volumetric systems, classified as an MMC Category 1 solution under the government's official definition framework, use cross-laminated timber (CLT), or closed timber panels, for walls and slabs to 'minimise junctions and defects, increasing quality and in-use performance,' the guide states. Turnkey solutions incorporating finishes and services are possible, although 'the supply chain is less mature than for other systems'.
Timber is a lightweight material, but modules can become heavy and weigh up to 20 tonnes, the guide notes. When CLT is used to form modules, various configurations are possible 'as internal spaces can be liberated from load-bearing walls'.
Post and beam systems combining MMC Category 2 and 3 products like glulam timber and laminated veneer lumber should be specified to span no more than three storeys vertically, due to constraints on transportation and installation. The system enables larger spans, which 'increases the flexibility of the internal layout' making it 'ideal for open plan applications like office buildings'.
Hybrid mass timber systems that combine mass timber components with materials including steel and concrete maximise structural efficiency but can, according to the guide, be more challenging to procure and construct because prefabricated steel and concrete components need to be sourced from different suppliers.
Furthermore, steel and concrete components have a higher embodied carbon profile than timber. As floor slabs account for most structural material in a building, to reduce the carbon impact, hybrid systems should 'prioritise the use of timber in horizontal elements.'
According to Ogle, one of the most common and damaging mistakes made by architects is not to consider a timber system in the first place. 'Misunderstandings about the structural properties of timber products and construction systems leads to timber being overlooked as a suitable structural material for a project without being fairly discussed and assessed,' he says.
'We would like to encourage all architects to consider the suitability of structural timber for projects, and we hope that Timber Typologies can provide a starting point for this, informing people on which timber system might be the most appropriate for their project,' Ogle concludes.
According to figures from the International Energy Agency, the built environment generates 40% of annual global CO2 emissions and embodied carbon is responsible for 13% of that, the rest coming from building operations.