Seat made of mushroom and sawdust bricks promises more sustainable insulation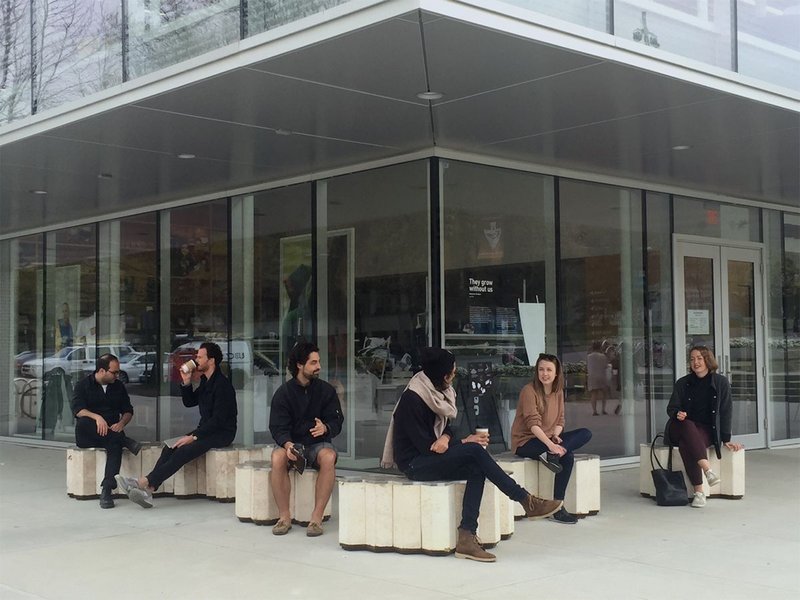 A mushroom and sawdust-based brick, used to create seating outside a bookshop in Vancouver, could one day replace unsustainable insulation foams in buildings, its inventors claim.
Researchers at the University of British Columbia built six benches for the UBC Bookstore using honeycomb-shaped bricks made from a mixture of locally-sourced oyster mushroom spores and alder sawdust, capped with an acrylic panel.
The bricks are a form of mycelium biocomposite, a lightweight and durable material that grows when mushroom roots (mycelium) come into contact with loose cellulosic material, such as sawdust.
The UBC's bricks have an unconfined compressive strength of around 1.75kg/cm2, a little stronger than most types of expanded polystyrene foam say researchers, and their light, aerated structure gives a comparable thermal resistance value. Their use in construction assemblies, such as structural insulated panels, is also being explored.
Joe Dahmen, assistant professor at UBC School of Architecture and Landscape, told RIBAJ: 'The most obvious and direct use for the material is as a replacement for expanded polystyrene foams.
'Construction is using more and more of these foams as insulation to reduce the operational energy of buildings, but this simultaneously drives up the embodied energy and the related environmental impacts proportionally.'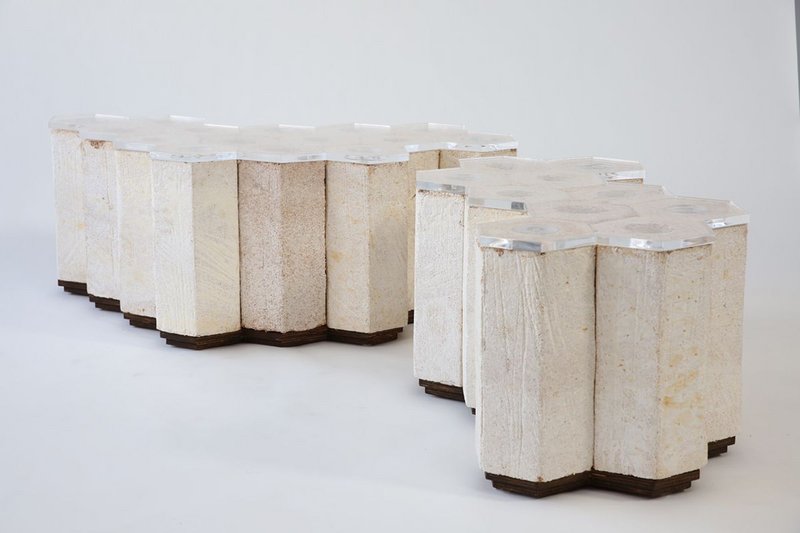 Dahmen says that compared to traditional materials, mycelium biocomposite requires much less energy to create, completely decomposes when composted, and helps break down other materials in the waste stream to make them available to other organisms.
'The average age of commercial buildings in North America is around 40 years, yet most buildings incorporate materials that last hundreds – if not thousands – of years. We need to think about a new sustainable paradigm for building that will add value to ecosystems when it decomposes,' he said.
The bricks comprise several discrete 8 inch-wide by 20 inch-high pieces, which were laid side by side in a controlled greenhouse environment, then bonded together as the mycelium grew. The tube-like honeycomb shape was informed by the fact that mycelium biocomposites risk contamination by mould and bacteria if they exceed 0.5m thickness.
'Mushroom spores are prone to competition from other bacteria and micro organisms, requiring rigorous sterilisation and an atmosphere devoid of warm air and moisture,' says Dahmen. 'Scaling the technology presented a challenge, hence the honeycombing.'
UBC is not the first to build with fungus. Engineering consultant Arup helped design a 40-foot-tall chimney of bricks made of mushrooms and corn stalks, erected in the courtyard of MoMA PS1, the Long Island branch of Manhattan's Museum of Modern Art.