UKGBC report examines the design and cost implications of minimising embodied carbon on a proposed 750-home scheme in Cambridgeshire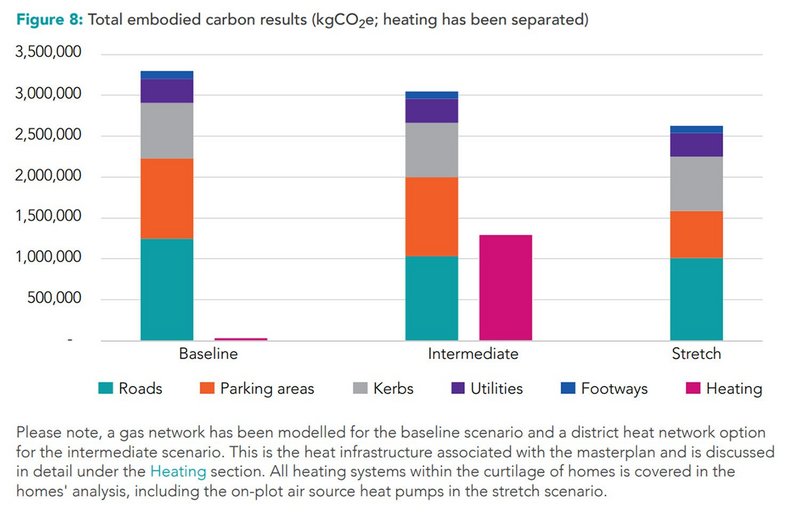 Embodied carbon bar chart

Credit: Green Building Council
Simple design interventions on low-rise residential masterplans can deliver a 20% cut in embodied carbon with 'negligible' associated cost, a study by the UK Green Building Council (UKGBC) has revealed.
The report, carried out in collaboration with a task group including Arcadis, Buro Happold, Barratt Developments and Grosvenor, examines the design and cost implications of minimising embodied carbon on a real, proposed 750-home scheme in Trumpington South, Southwest Cambridgeshire.
It found that a series of 'easy-win' design changes to roads, utilities, stormwater, energy systems and other related infrastructure could achieve a 20.3% reduction in embodied carbon for the masterplan, based on the difference between a baseline scenario and an ambitious 'stretch' low carbon scenario. The changes resulted in a minimal 0.6% impact on overall capital costs, said the report.
Architects in the role of masterplanners can learn several lessons from the research, said report author Karl Desai, who is also senior advisor for Advancing Net Zero at the UKGBC: 'Measuring embodied carbon from masterplan works can help identify easy and cost-effective design strategies to reduce impacts on climate change from new developments.
'These design strategies can potentially lead to co-benefits such as higher sales premiums through improved resident amenity and access to nature.'
He added: 'Measuring and mitigating embodied carbon early on in a project can also speed up progress towards organisational net zero goals by reducing the need for costly offsetting measures at completion.'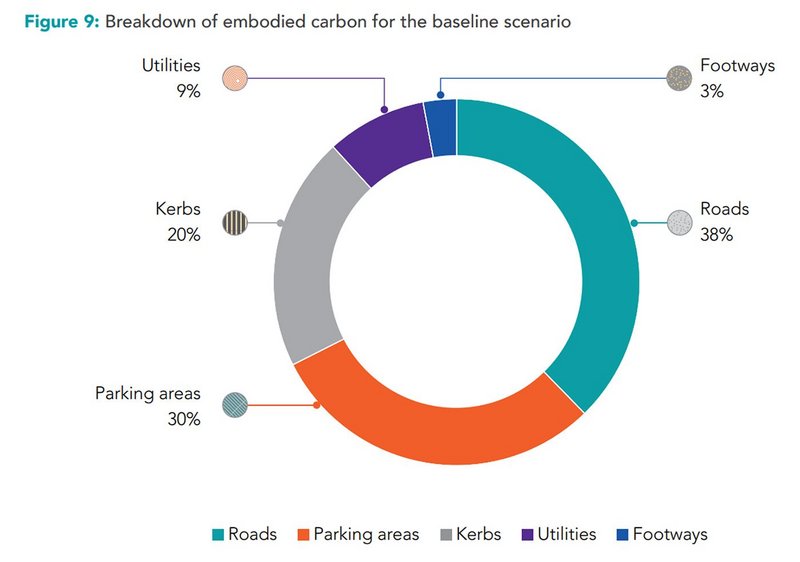 Embodied carbon pie chart

Credit: UK Green Building Council
Embodied carbon calculations for the study were based on the international PAS 2080 standard and cover all infrastructure works over a 60-year lifespan. Calculations of three different design scenarios (baseline, intermediate and stretch) were based on different modelling inputs and carried out in One Click LCA building life cycle assessment software.
The baseline masterplan works for the scheme had a total embodied carbon of 3,300,000 kgCO2e, roughly equivalent to the total embodied carbon of 80 terraced homes on the scheme. This figure was reduced by 670,000 kgCO2e, equivalent to 17 homes, in the stretch scenario, primarily by reducing the amount of 'grey infrastructure', including parking areas and by switching from asphalt to permeable paving on tertiary roads.
Heating for the development was modelled and costed separately as, according to the UKGBC, it is highly dependent on the design solution used for homes.
The parking ratio was cut from an average of 1.3 spaces per home in the baseline to 0.55 spaces per home in the stretch scenario. According to the report, this reflects expected future behavioural changes and the move to 'mobility as a service' rather than reliance on private car ownership.
The reduction to parking enabled side benefits such as more space for soft landscaping, almost double the number of trees compared to the baseline and the densification of homes to create blocks of terraced houses with lower energy requirements.
The stretch design incorporates low carbon, low temperature asphalt in place of regular asphalt, resulting in a 2% cut in embodied carbon for the roads. Greater carbon savings may be possible through the use of recycled materials in roads, or in plastic footpaths/cycleways, said the UKGBC.
Permeable paving in the parking courts was replaced with a proprietary system made from recycled plastic, which in combination with the reduced parking area enabled a 390,000 kgCO2e, or 60%, cut in embodied carbon for the parking areas.
Extending the swale network to include primary and secondary streets reduced embodied carbon from the stormwater network.
Embodied carbon emissions are currently unregulated in the UK and while some residential developers are beginning to assess embodied carbon from new homes, masterplan works, which consume large amounts of materials and have long lifespans, are typically omitted.
Clients and policy makers have a role to play in addressing embodied carbon on projects, said Desai: 'Clients and project teams must make the decision to dedicate adequate time and expertise to interrogate the existing design and challenge the brief to reduce embodied carbon, not ignore it …There need to be additional drivers to make embodied carbon measurement and mitigation a priority for new residential developments.'
The impact of embodied carbon is set to increase over the coming years. It will form over half of built environment emissions by 2035, according the UKGBC's Whole Life Carbon Roadmap.
A follow-up report examining the design and cost implications for delivering new net zero carbon homes at the scheme is due to be released by the UKGBC this year.