Reynaers' aluminium extended Concept Wall 50 system offers design freedom, as well as maximum transparency and superb thermal efficiency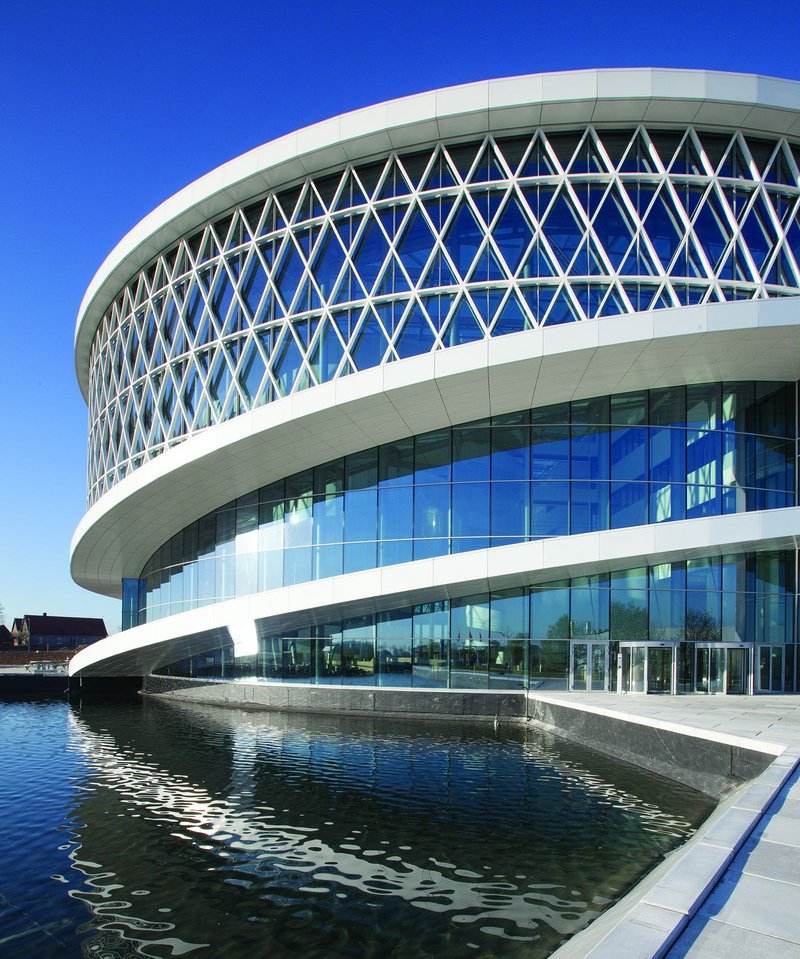 Barco One Campus in Belgium
Reynaers has extended its popular Concept Wall 50 system to offer innovative solutions for heavier glass weights, easier and quicker assembly and installation, plus improved energy efficiency and more sophisticated profile connections.
With key benefits of huge weight tolerances, outstanding thermal efficiency and custom made design, the range ensures architects are no longer bound to traditional grid patterns, giving maximum flexibility in curtain wall design. Reynaers' latest projects showcase the breadth of possibility.
Custom designs
The Concept Wall system features an extensive range of profiles so that a wealth of constructions can be created. Offering extensive design freedom, the system can be custom designed with extraordinary variation, as seen in the staggered system used for Knowledge Centre Arhus, an impressive office complex and city library in Belgium. Profiles can be connected in an infinite number of staggered levels, and a unique overlap method provides perfect performance in terms of water and air tightness (up to 1200 Pa). This gives architects new creativity in facade design: the division and coupling of glass surfaces is unlimited, and the integration of diagonal lines is much easier to achieve.
Outstanding thermal efficiency
The newly updated system has also been designed with improved thermal performance to meet Passivhaus standards. This new variant of CW 50 benefits from improved insulation profiles, which can achieve an impressive insulation value (Uf) down to 0.56W/m2K with a glass thickness of 60mm. The new additions to this proven curtain wall system also result in much larger panes of glass being able to be installed, such as those seen the the recent Circle building headquarters for Belgian tech firm Barco. It is perfectly suited for much larger panes and for triple glazing, which provides environmentally efficient buildings with more light than ever before.
Huge weight tolerances
Maximum glass thickness can now measure up to 61mm and the new CW 50 system can carry a maximum weight of 700kg, thanks to a special glass support. With this addition, specific bespoke solutions are no longer required for such massive glass panels.
Various opening types can be seamlessly integrated within the CW 50. These include the top hung window, parallel opening windows, hidden vent turn and tilt windows and flush roof vents for integration in roof applications, as seen in the UK's recent Jersey Esplanade project. The CW 50's design variants offer curtain walls for both the exterior and the interior of the building and its glazing variants range from standard pressure plates, structurally glazed and structurally clamped facades.
Other recent projects to use custom made CW 50 facades include the Washington Leisure Centre, the Vennesla Library in Norway and the Historisches Museum in Bern.
For more information and technical support visit: reynaers.co.uk
Contact:
0121 4211999
---