Snøhetta has designed an underwater restaurant where diners will be able to watch marine life as they eat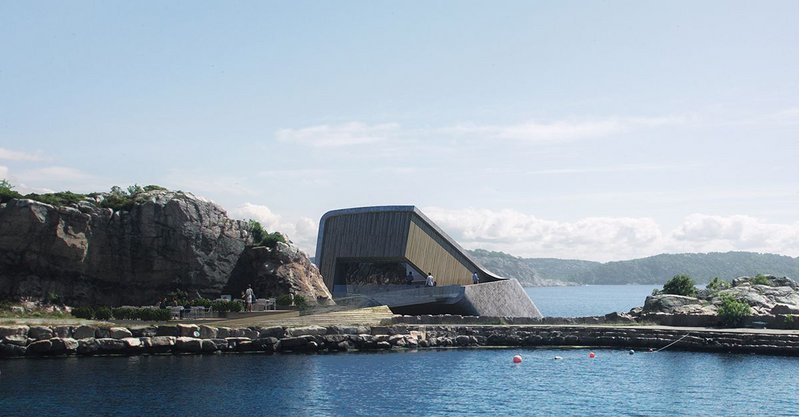 A thick concrete shell and tough acrylic glass will enable Europe's first underwater restaurant, in southern Norway, to withstand giant freak waves and high water pressure.
Under, designed by award-winning Oslo-based practice Snøhetta, is a box-shaped concrete monolith that will lie semi-submerged on the coastline next to the village of Båly, as if it has slipped down the craggy rocks into the sea.
The 600m2 scheme will function both as a restaurant for up to 100 people, with a massive 11m-wide panoramic window providing impressive views of the ocean floor, and a marine research centre.
Snøhetta took advice from marine engineers to design the structure, which had to be able to withstand the impact of a 100-year wave (the highest likely to occur in a century) and resist underwater pressure to a depth of 5m.
Rune Grasdal, senior architect and project manager at Snøhetta, told RIBAJ: 'We worked with marine engineer CoreMarine to create a simulation of the effect of a 100-year wave and we took advice from other specialists that normally design offshore structures like oil platforms and tunnels in the North Sea.'
The reinforced concrete shell is 500mm thick at the base and gets thinner as it rises out of the water and pressure recedes. The corners of the box and the roof are curved to improve structural strength and diffuse the impact of waves.
Although the concrete shell is thick enough to prevent leaks, as a backup a plastic membrane laid inside a void of the interior wall structure is able to channel water down the walls into a drainage system.
Acrylic technology used for large windows in aquariums is the basis for the panoramic window. The glass will be delivered in three sections that are glued together with an invisible join.
Because of the harsh environment, the building will first be constructed at a nearby location and then lowered into position from a floating pontoon.
Grasdal comments: 'A mobile crane will be required to stabilise the building as it is lowered, and an anchoring system on the seabed will fix the structure into position.'
Molluscs, seaweed and other marine life will be allowed to grow on the exterior concrete to help merge the building with the environment.
Inside, a wood-lined restaurant space will create an atmosphere of warmth and safety for diners. Under is due to start on site next February and complete in spring 2019.
---