The second edition of a report on life cycle assessments shows the impact of improved specification on four dwelling types in an effort to meet or exceed Climate Challenge 2030 targets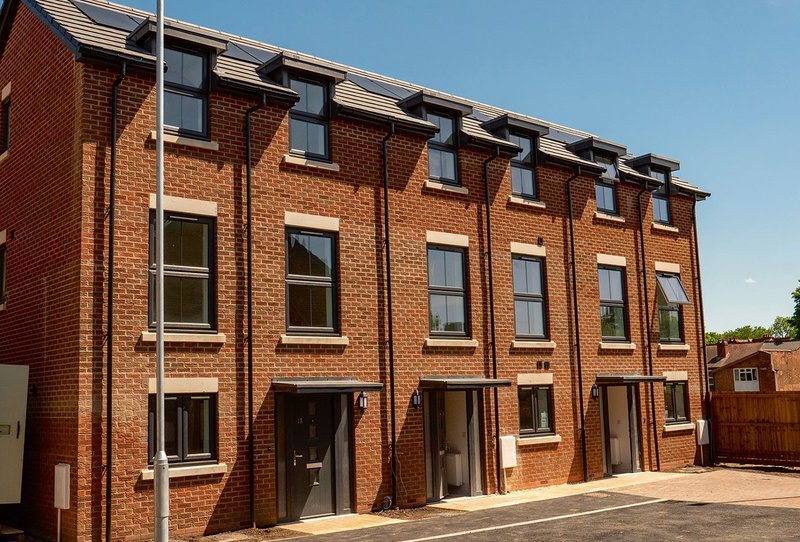 Project 80, a collaboration between Birmingham City University Centre for Future Homes and Midland Heart, is an as-built project that has also been analysed.

Credit: Midland Heart
Life cycle assessments (LCAs) are an emerging discipline. The parameters to which the assessments are calculated are quite fluid and these background changes have a measurable influence on the results.
However, as industry comes together to agree the parameters and set conventions for calculation and reporting (including the publication of EPDs - environmental product declarations for building materials) clarity and recognised norms will allow greater engagement and simplified methods of calculation.
Enabling clarity on carbon
To help gain a better understanding of embodied carbon and to encourage engagement when accounting for it in construction projects, Unilin Insulation commissioned an independent report by XCO2 as a tool to assist and provide some clarity on how to meet the RIBA Climate Challenge 2030.
This is the second edition of a report published in early 2022. The revision has been prompted by several changes in the standards, guidance and conventions for LCA calculations.
As part of this evolution, another update is likely to be required once the consultation on the RICS methodology paper has concluded later in the year. Embodied carbon accountability is a work in progress.
This edition includes indicative targets - set by the Future Homes Hub in its project 'Embodied and Whole Life Carbon', which aims to develop an industry-led proposal for reducing embodied and whole-life carbon in new homes.
XCO2 was commissioned by Unilin Insulation to carry out LCAs for four different dwelling types using typical material specifications to meet embodied carbon targets set by various organisations.
An LCA into the embodied carbon content of each dwelling was undertaken to assess where improvements were needed to meet embodied carbon targets.
Detailed investigation
On all house types, embodied carbon was calculated initially for a baseline specification consisting of materials that are commonly specified but tend to be carbon-intensive due to their use of generic or average manufacturer LCA data.
The most contributing materials were then identified and an improved specification was proposed using materials with improved verified EPDs, including Unilin Insulation products, which help reduce the embodied carbon of the dwelling types.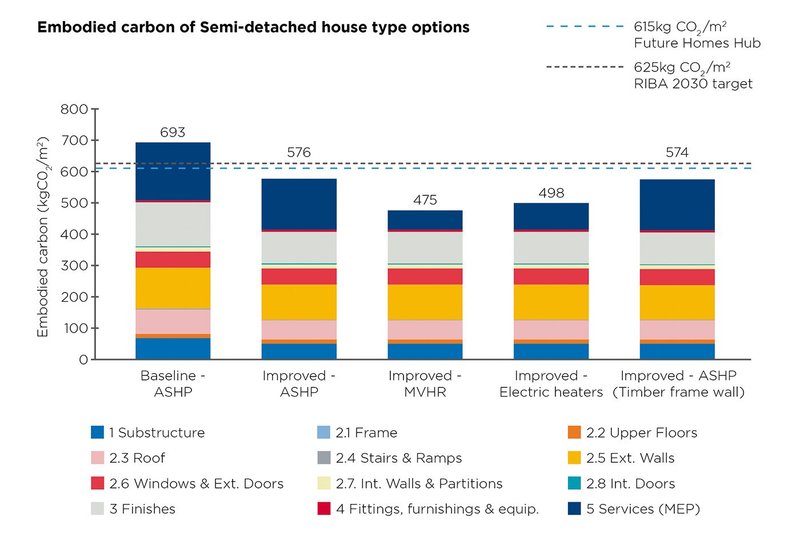 Additionally, a building services options appraisal was carried out to further reduce carbon emissions associated with the MEP building elements. The graph above shows outcomes for a semi-detached house type.
An as-built project has also been analysed. Project 80, a collaboration between Birmingham City University Centre for Future Homes and Midland Heart, built 12 homes that met the Future Homes Standard three years ahead of schedule and produced 80 per cent fewer carbon emissions than the 2013 standard.
A further LCA was undertaken to determine progress towards the FHH & RIBA Climate Challenge standards.
Unilin Insulation has published an accompanying CPD and is planning an online learning module to encourage understanding and engagement with the subject.
Download the full report at unilininsulation.co.uk/embodiedcarbon
For more information and technical support, visit unilininsulation.co.uk

Contact:
0371 222 1055
info.ui@unilin.com
---