Scientific research and education disciplines have traditionally guarded their individual territories closely. But that's changing as carbon, collaboration and investment interests merge
Opening minds to new knowledge and ideas is the business of universities, but it is often done in an environment of closed spaces. Subject departments have lived in separate buildings while research teams define lab territories with 'keep out' stickers on fridges.
That's not the way today's co-working and collaborative office operates, and academia has recognised it's not the way to get the best out of scientists, or the often costly space provided for science, technology, engineering and maths (STEM). Architects designing labs for the new generation of vaccine researchers, computer scientists and nurses are tackling this question head on to create very different workspaces.
Both research and teaching spaces need the right environment for science, but each raises different questions around territory. Keith Papa, head of science, research and technology at BDP, explains the challenges: 'Estates departments want to maintain ownership to use space in the most effective way, but changing research groups' perceived ownership of space is quite a hard task. Without that change, you risk designing something really quite bespoke to match researchers' next five-year programme.'
In teaching, the barriers are often between departments, with physics and chemistry labs, for example, having incompatible needs. That is exacerbated, says Papa, by a shortage of qualified technical support staff, which limits departments' capability to change experiments regularly, meaning labs tend to be set up in a static way.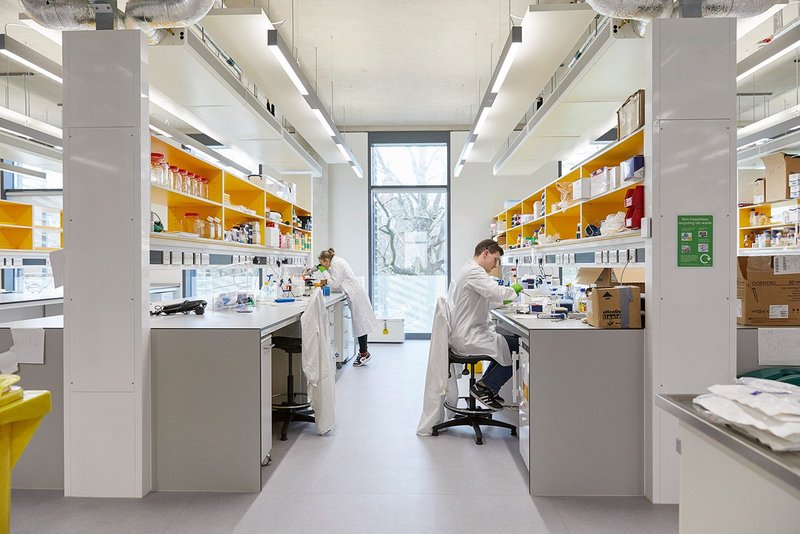 Hopkins Architects designed the Pears Building at London's Royal Free Hospital to be open and un-siloed so scientists can engage more with the outside world – and each other.

Credit: Airey Spaces
De-territorialising research space
When professor Hans Stauss, director of the UCL Institute of Immunity and Transplantation (IIT) set out his ambition for the new Pears Building at London's Royal Free Hospital in Hampstead, he asked that the space be de-territorialised, promote interaction and make scientists more visible. 'Hans said that in labs it is often difficult to know if another scientist is in the building. The social model was a big generator of the design,' recalls Ernest Fasanya, director at Hopkins Architects.
The building, which is owned by the Royal Free Charity, constructed on land belonging to Royal Free London NHS Foundation Trust and occupied mainly by IIT, was needed to allow the latter's centre to grow and translate research to treatments more rapidly. That research is now carried out in three floors of wet and dry labs, including CL2 (Containment Level 2) and CL3 facilities, set on a 3.3m grid, with two benches separated by an aisle and often a full height window. Windowless space between the laboratories is reserved for instrument rooms. 'The lives of technical buildings can get baked in, making them difficult to reconfigure when the science changes,' explains Fasanya. 'This modular, loose fit approach sets dimensional parameters that work for science, but could also work later as an office, for example.'
Alongside the lab space is an atrium with central staircase, lined by pod seating for impromptu conversations and surrounded by glazed write-up space and smaller-scale offices largely for senior staff. The focus throughout is on transparency and interaction, with allowances for privacy where needed. Other spaces in the building include a seminar room, public café and patient hotel for those undergoing clinical trials.
The building has an in-situ concrete frame – with at least 50% GGBS cement replacement – to minimise vibration. The exposed concrete surfaces provide thermal mass, contributing towards a BREEAM Excellent rating, and are central to its robust aesthetic and feeling of space. For the patient hotel on the top two storeys, the structure is steel frame.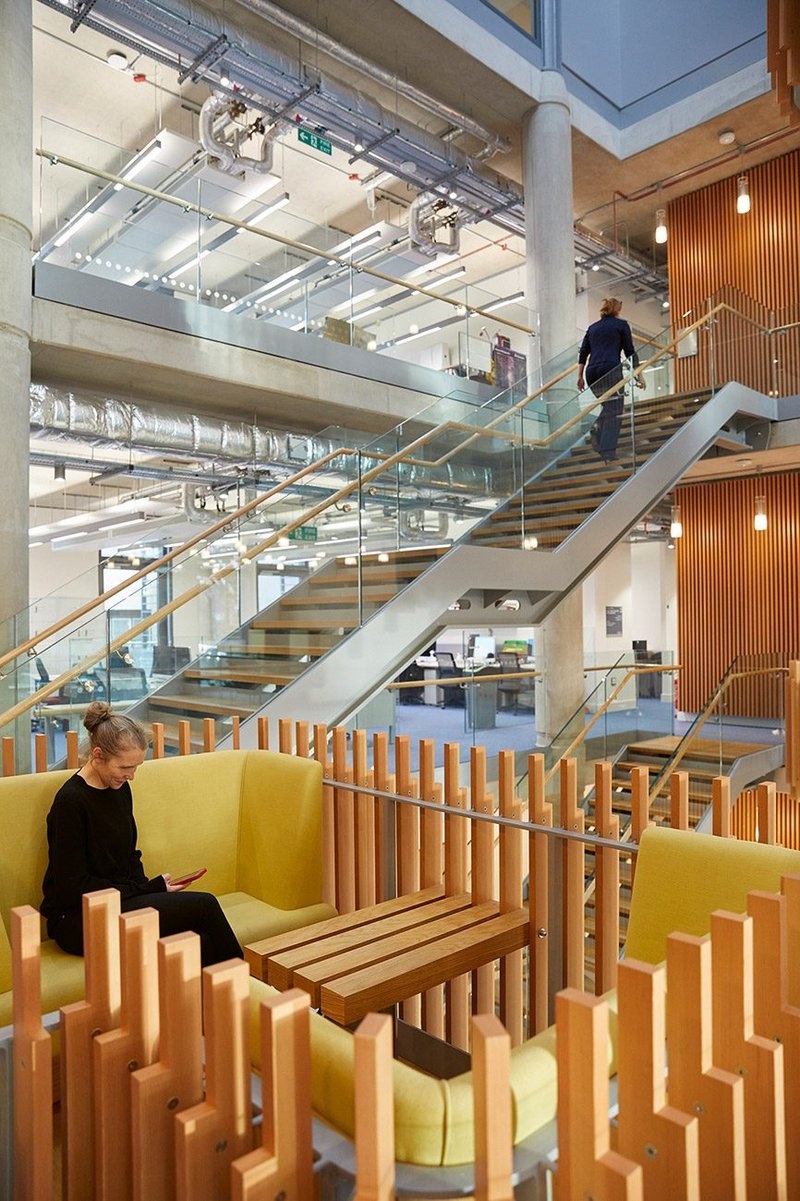 The building's central atrium is an open forum for impromptu interaction.

Credit: Airey Spaces
More efficient, less carbon
'For decades engineers have said heavy materials need to be used to dampen vibration issues and for that reason these buildings can be carbon monsters,' says John Roycroft, principal and chair of civil and structural engineering at BDP. But conventions are being challenged to reduce carbon, resources and build cost. One way of doing that is through a zoned approach to technical requirements, which BDP first applied at the briefing stage on the University of Cambridge's Cavendish Laboratory project, after scientists had defined almost all their labs as unique. 'We stepped back and said some of this must be the same,' says Papa. Analysis found 90% of its processes would fit into six lab typologies, with the remaining 10% being bespoke.
'From a building perspective it ensures you're not over-specifying technical requirements,' Papa explains. Space can be optimised, reused or constructed more efficiently, with creative engineering helping to reduce floorplates or drive the hybrid construction that Roycroft believes will be increasingly adopted. 'Where sensitive equipment or particular performance criteria are needed in defined areas, concrete may be used, but write-up space and less critical vibration performance areas will have more lightweight timber. We're pushing several projects in that direction,' he says.
Reuse of existing buildings calls for forensic engineering to identify potential. 'Clients increasingly ask how we can re-use parts of the estate, with some newbuild interconnecting; I think that's one of the big opportunities for innovative design,' says Roycroft, naming Manchester Metropolitan University as a client promoting the approach.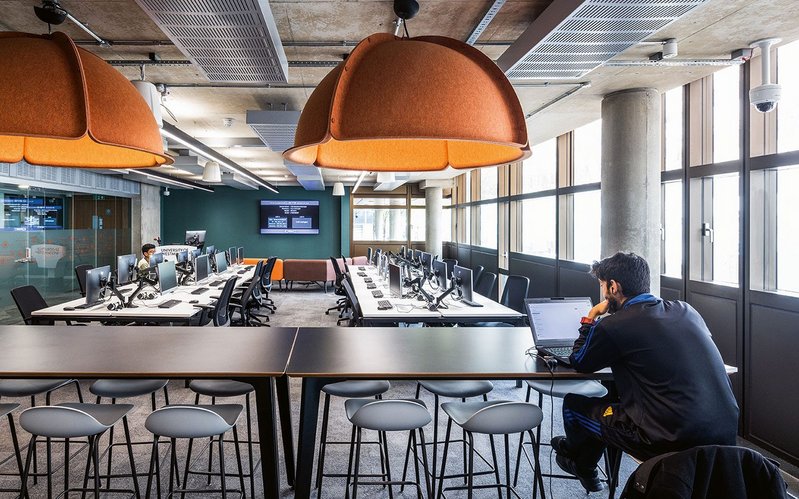 Reimagined tech spaces at Stride Treglown's University of Westminster refurbishment allow more flexible and diverse working.

Credit: Stride Treglown/Tom Bright
A sharing culture
Reconciling scientists' expectations of their space with the broader business aims of a university and its estates team inevitably requires compromise. 'We are mediators bringing different stakeholders together and setting out options to try to find the best fit,' says Cora Kwiatkowski, head of universities at Stride Treglown.
At the University of Reading, the architect and interior design team created a future-resilient building where the Departments of Ecology and Environmental Biology, Biomedical Science and Bioinformatics have come together in a single school with a shared asset culture. In order to design for this interdisciplinarity – which is increasingly being adopted by academia – the team began by speaking to the schools to determine what they needed and, importantly, were prepared to share. 'They had amazing equipment and all had their own separate freezers, which had maintenance and sustainability implications,' she says.
Students and researchers work across four floors of wet labs, two floors of CL2 labs and a flexible, 280-person super-lab, which can be subdivided into smaller 80 or 60-seat spaces – with shared centralised freezer rooms. 'From an estates perspective it offered efficiencies, but it was important also to focus on providing other facilities so that you are not taking away from users, but are giving something back in different spaces,' Kwiatkowski explains. A second wing includes write-up space and informal space for collaboration.
The latter is also a feature of the firm's refurbishment of part of a 1960s block at the University of Westminster. On the ground floor flexible space has been created for its School of Computer Science and Engineering, while below, its existing workspace has been refreshed to enable more diverse ways of working. 'For computer science and engineering it's important to have spaces that have great tech, but are also creative and inspiring,' says Peter Bonfield, vice-chancellor of the university. There's a need to cater for both technical and creative problem-solving learning, says Kwiatkowski: 'Design is not only about the area per person in a lab'.
Reuse of existing buildings calls for forensic engineering to identify potential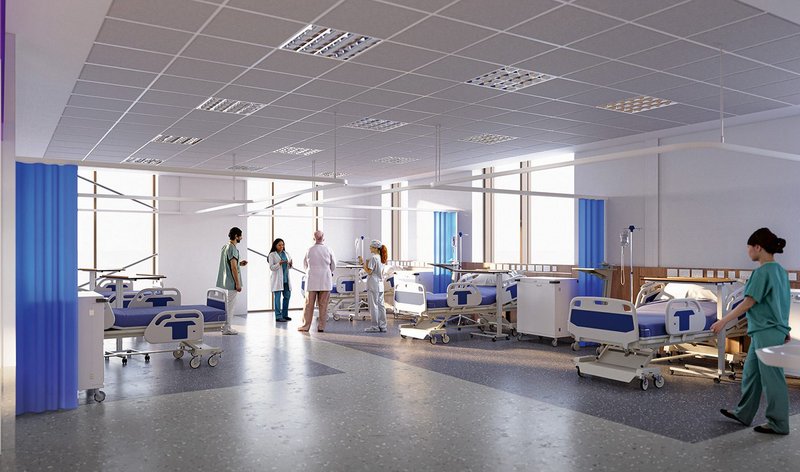 AHR's University of Huddersfield Health Sciences Building has 'simulated' spaces such as an acute ward that offers trainees almost real-life medical experiences.

Credit: AHR
Innovation in teaching
While research labs are going through an evolution, the move to immersive environments in teaching can be seen as revolutionary. AHR's design for the first building in the University of Huddersfield's National Health and Innovation Campus relies not on classrooms but on simulated environments that give trainee paramedics, nurses and other healthcare professionals near real-life experience.
The Human Health Sciences building is part of a planned 75,000m² campus, and sets out the university's stall to attract students and future investment. 'The university wanted the building to represent the patient journey, from start to end of their experience with the health service,' says Robert Hopkins, director and head of sustainability at AHR. There's space for simulated emergencies, including an outdoor area for traffic accidents, an apartment and a room with 360º AV which could be a nightclub, plus a 'Simbulance' simulated ambulance, operating theatres and wards, with haptic simulators to bring patient scenarios and procedures closer to reality.
The university is using the building as a testbed for future thinking on academic workspace, recognising that students' time on campus has reduced post-Covid, but ensuring their experience there is made more worthwhile by facilitating interaction. Traditional spaces like lecture theatres will be smaller and a student kitchen is being provided alongside the café, where they can prepare their own food. This is the first university building designed to the WELL Platinum standard, putting everything from food to furnishings under scrutiny. Climate change and Covid have created an opportunity for universities to reflect, says Hopkins: 'Universities are looking at the purpose labs serve and how they fit with their future vision. They are asking serious questions about the purpose of people on campus and realise they have a raft of facilities where they could be doubling up.' He cites a current project where mathematics is being amalgamated into a natural science faculty to create a material innovation zone, using space more efficiently and increasing attractiveness to industry partners. 'It's a different type of learning, but it's more relevant,' continues Hopkins. 'For universities, it's now a matter of thinking about the value of the facility, rather than the subject area.'