CMPG architects specifies 575 square metres of Rodeca translucent panelling for new railway training academy in Northampton for pleasing modern aesthetic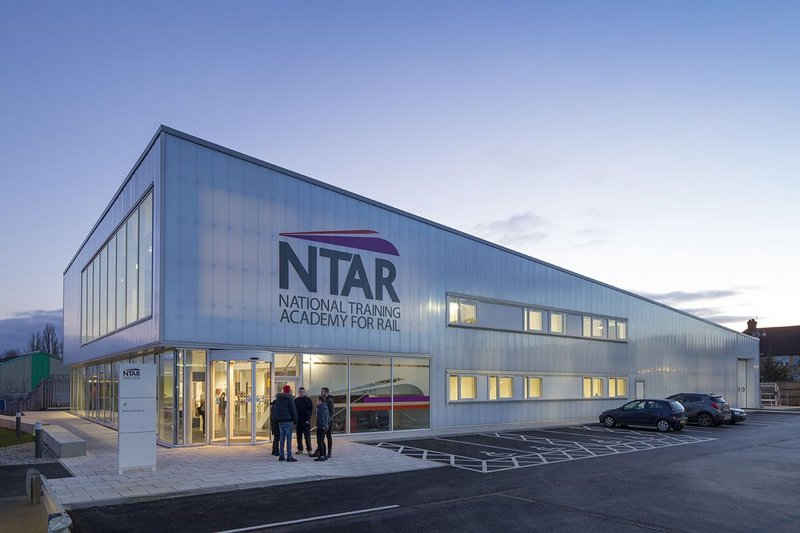 Translucent polycarbonate cladding panels from Rodeca have been specified by CMPG architects for the National Training Academy for Rail (NTAR) in Northampton. The panels were selected by the architect to maximise natural daylight for an optimum learning environment and to show the processes within the building.
A total of 575m2 of Rodeca's PC 2540-7 lightweight wall panels feature on the £3.5m NTAR, which was developed in conjunction with Siemens' Rail Division. The 40mm-thick, 500mm-wide Rodeca panels have been used partly as rainscreen and partly as a double-wall construction.
The fast-track tongue and groove panels were specified to meet the brief for an exemplar building to promote NTAR and Siemens and be used as a conference facility. The scope of the project to develop the academy encompassed the design, build and fitting out of the new training centre (the Academy Hub), including an operational training hall and associated site works, as well as the refurbishment of associated training rooms at other Siemens Rail locations (the Academy Spokes).
CMPG senior architect Ajay Chauhan explained: 'The building is clad in polycarbonate and uses single and double-layered sections in which certain large sections will glow at night and allow natural diffused light into the classrooms, main entrance foyer and main training hall during the day.'
The Rodeca Deco-Color panels (where the exterior panel layer is coloured differently from the interior layers for extra effect) were installed by specialist subcontractor Select Facades for main contractor Clegg Construction. Two hundred times tougher than glass and capable of delivering U-values of 1.00 to 1.10W/m2K, they were used at NTAR with one outer wall in Kristall colour and six rear walls in Opal, allowing light transmittance of up to 41%.
Currently around 13,500 people work in specialist traction and rolling stock roles across the UK. The new academy will focus on addressing the future skills shortage in this part of the UK rail sector – forecast to be around 4,500 people over the next five years. The building has been shortlisted for the East Midlands 2016 RICS Awards (infrastructure, essential facilities).
For more information and technical support visit: www.rodeca.co.uk
Contact:
01268 531466
---