VATRAA addresses modern humanity's legacy with winning monument for National Geographic's 'Planet or Plastic' competition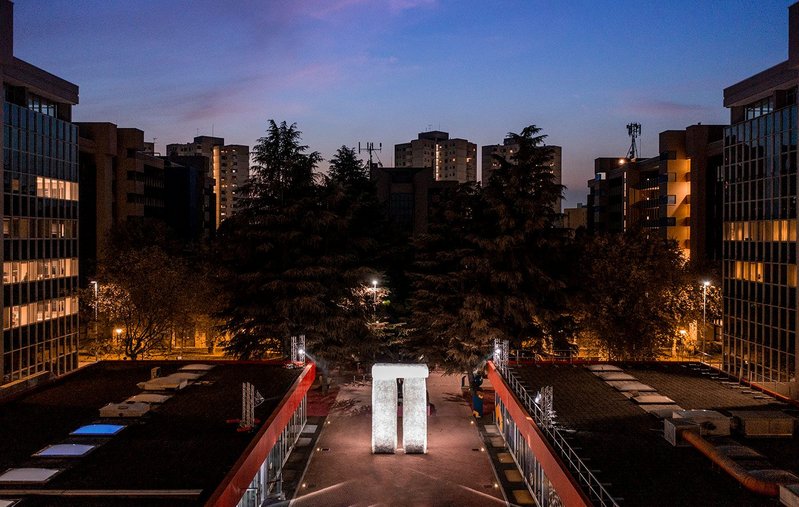 The Plastic Monument is installed in Milan but designed to be moved to other locations in future to raise awareness of plastic pollution.

Credit: Alessandra Terranova
If neolithic people still walked the Earth it would be interesting to see what they made of this Stonehenge-inspired architectural installation in Milan, made almost entirely of recycled plastic bottles.
The roughly seven foot-high replica of ancient trilithon was created by London-based practice VATRAA to draw attention to the toxic legacy of plastic waste being left for future generations. Unveiled last month, the design was selected from over 1,600 entries to the 2019 Young Architects Competitions' Plastic Monument competition by a grand jury including Kengo Kuma and Carlo Ratti.
The initiative was part of National Geographic's 'Planet or Plastic' campaign to raise awareness of plastic pollution and the fact that landfilled plastics remain for up to 1,000 years and some will never biodegrade.
According to Bogdan Rusu, founding partner at VATRAA, the decision to recreate one of the world's most iconic structures in plastic was informed by ideas of legacy and permanence. 'When we think of what our ancestors left to us, we think of real assets made of brick or stone, like the pyramids, the Colosseum or Stonehenge,' he said, 'But part of our legacy to the next generation might also be plastic waste …Hundreds of years down the line our great great great grandchildren might find disposable plastic items that we just got rid of today because it was so convenient to us.'
A trilithon was considered the perfect architecture to 'embody the idea of heritage, legacy and longevity', while the simple structure of two pillars supporting a lintel represented construction 'in its purest form, making it very powerful.'
Designing the installation was a very different challenge to that faced by neolithic people who hauled massive sarsen stones across the British landscape. A lightweight plastic structure could be damaged by high winds, but the artwork also had to be dismantlable to move to other locations in future, ruling out the use of a fixed foundation.
The result is a lightweight hollow core structure for each of the pillars and the lintel comprising a 20cm-wide double skin of metal mesh filled with recycled plastic bottles. The pillars are attached to solid steel bases that increase weight towards the bottom, enabling the structure to flex in the wind without bending or toppling over. In a nod to ancient construction methods, the three 'sarsens' were made separately then lifted into position. The underside of the horizontal lintel features round tenons that fit into mortice holes in the tops of the pillars to form a simple but strong joint, just as happens at Stonehenge.
'The installation is not necessarily designed to be beautiful, it is designed to shock due to the contrast between disposable plastic and the eternity of the trilithon,' says Rusu. 'The ultimate aim is to make us think about the long term consequences of our actions and the fact that what we're doing today might last on earth forever,' he concludes.