This year the annual event took place online and, with a broader, global reach and the participation of a range of industries, it is helping fast track learning and innovation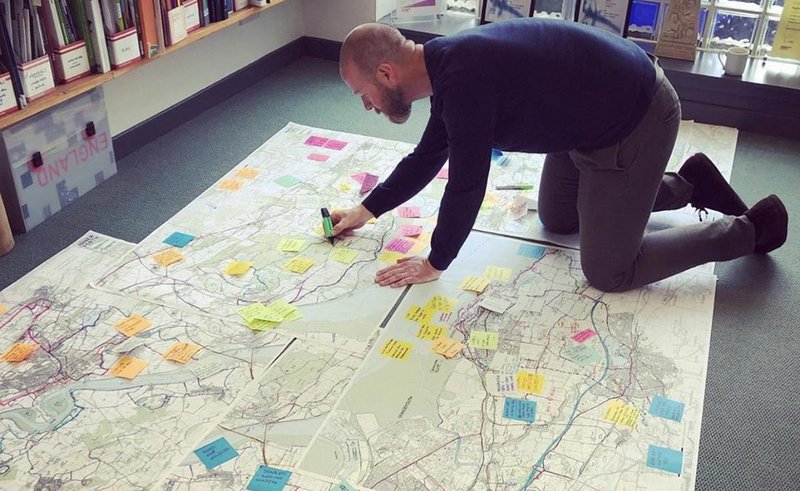 At Raeburn Farquhar Bowen the site analysis isn't a snapshot in time, but something that is constantly evolving.

Credit: RaeburnFarquharBowen
Perhaps more than most, architects are guilty of operating in silos – we certainly have a tendency to be introspective and self-referential. The past six months have seen huge changes across all walks of life, with fundamental changes to the way people work and share information. Do these unusual times offer an opportunity to break out of our silos?
Last year's Vectorworks Design Day on 1 October 2019 saw the coming together of similar, likeminded professionals. Almost all were architects, mostly from small and medium sized practices, many of whom knew each other, and very enjoyable it was too. It was about sharing knowledge, learning new features to improve productivity and catching up on what people were up to. We may be introspective, but we love a gossip. There is a camaraderie amongst these enthusiastic delegates who are on a constant mission to fine-tune their approach to design and documentation.
Fast forward 12 months and the Covid-19 challenge faced by this year's conference organisers created a very different opportunity. With geography irrelevant, the online event on 6 October 2020 became global and shifted away from its previous focus. It broke out of its silo. The conference was a hybrid of live webcasts repeated across three time zones and 'on demand' case studies from different design practices from around the world. Not only did geography not matter, but case studies were diverse and consequently more interesting. This opened up insights from other design professionals from different locations with different constraints and opportunities. The result was invigorating and provided insights that suggested new approaches and innovations.
The usual commercial call to arms and technical round up of new features and refinements were covered in the live webcasts. There were useful new features, some graphic, like the ability to fully customise call outs and section markers, which builds on Vectorworks' strength of being graphically customisable and pleasing to look at. Some were labour saving, such as a new 'quick search' function to help navigate around the ever increasing number of functions and commands, and a 'smart options' display that allows regularly used commands to be activated from the mouse buttons, again fully customisable. There were also useful enhancements to collaboration with improvements of the Revit export function and the ability to write and read Excel files.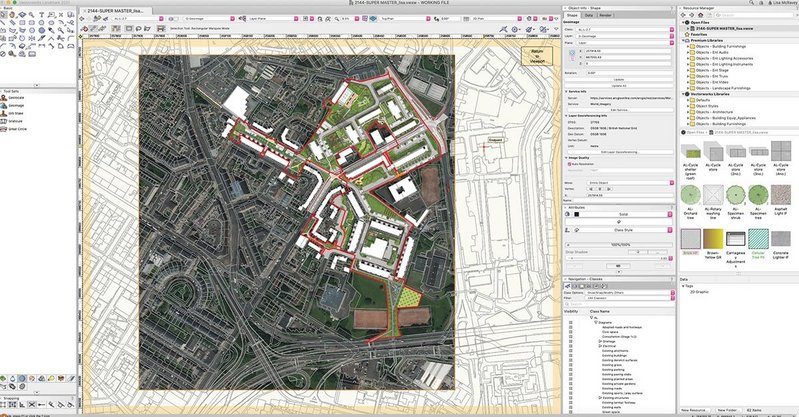 Raeburn Farquhar Bowen is overlaying GIS information, geo imaging and CAD in Vectorworks.

Credit: RaeburnFarquharBowen
However, it was the case studies that really caught the imagination, possibly because of the time and space for reflection afforded to us by lockdown. Arguably, the pandemic has altered our mindset from one of incremental refinement to a wholesale reimagining of our purpose. It is possible that this might only last for a year or so, but why waste a good crisis?
The case study from Ben Inskip, project manager at Siyan, a company that designs lighting for rock concerts, highlighted this. Ben explained how he had used the downtime created by the pandemic to re-evaluate workflows and bring Vectorworks right to the heart of everything the company does.
From an architectural position, it took you from wondering how on earth you use Vectorworks to design lighting, to thinking about how to use some of those features to design better buildings. This knowledge transfer between industries has the potential to lead to innovation.
Linette Brown of exhibition designers Origin Studios demonstrated a workflow that fully exploited the graphic capabilities of Vectorworks. She took us from the reality capture of existing buildings through a 3D design process and then showcased accurate and realistic visualisations to manage client expectations and encourage early-stage buy, with the added collateral benefit of providing the client with valuable marketing material.
The two presentations that particularly resonated with this UK delegate were those of Nick Lawrence of A&Q Partnership and Lisa McRavey and Iain Lyon of Raeburn Farquhar Bowen.
Nick took us through A&Q's 'Pathway into BIM' and described the company's methods of improving efficiency and the quality of production information. Their approach is clear and logical and moves towards the UK BIM framework (what used to be BIM Level 2) standards. They had resolved and documented tricky facade details in 3D, which was nice, but it was the logical approach to collaboration through IFC and classification using Uniclass 2015 that really stood out.
Lisa and Iain's presentation was very entertaining and included some techniques that really caught the imagination. They explained that, for them, site analysis isn't a snapshot in time, but something that is constantly evolving. Their approach is to use the geo referencing capability in Vectorworks to overlay GIS information and geo imaging with their design information. A highlight was their method of cycling a proposed route, recording it with a GPS app, converting that to CAD in Vectorworks and then using the geo imaging features to create the output. Drawing by cycling - very clever and quite charming.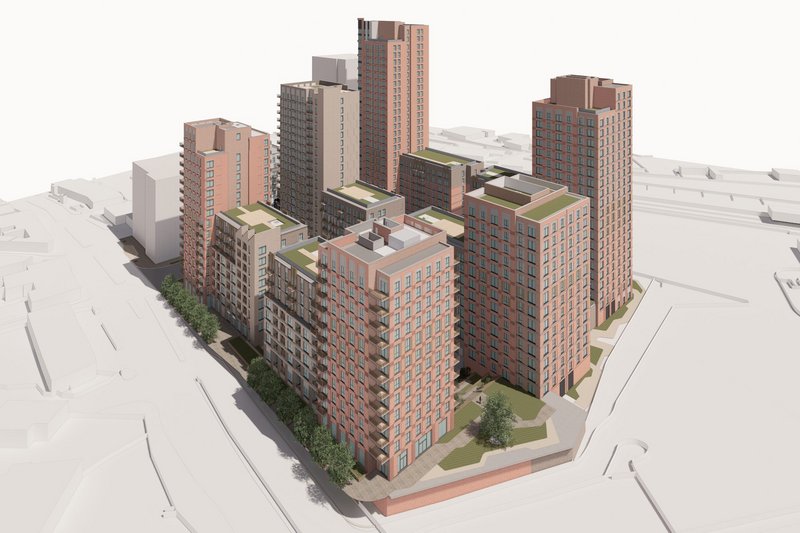 A&Q Partnership is collaborating through BIM using IFC files and Uniclass 2015 classification.

Credit: A&Q Partnership
It will be interesting to track the evolution of technology conferences in the light of this year's challenges. The conference season is well underway and, with virtual events being spread over a number of days to avoid Zoom fatigue, they are beginning to fill the diary and overlap with one and other.
As with the Vectorworks Design Day, much of the content is left up on the internet to be viewed on demand. This opens up the opportunities to explore ideas and innovations from other industries and locations and to potentially break out of our professional silos, even if we might not get out of the house very often.
David Miller is director and principal architect at David Miller Architects
See the case studies and learn about the new Vectorworks features at vectorworks.net/design-day
For more information and technical support, visit vectorworks.net/uk
Contact:
01635 580318
---