Environment, heritage, placemaking and client presentations were discussed at Vectorworks Design Day in a wide-ranging set of talks that showed efficiency isn't all software has to offer designers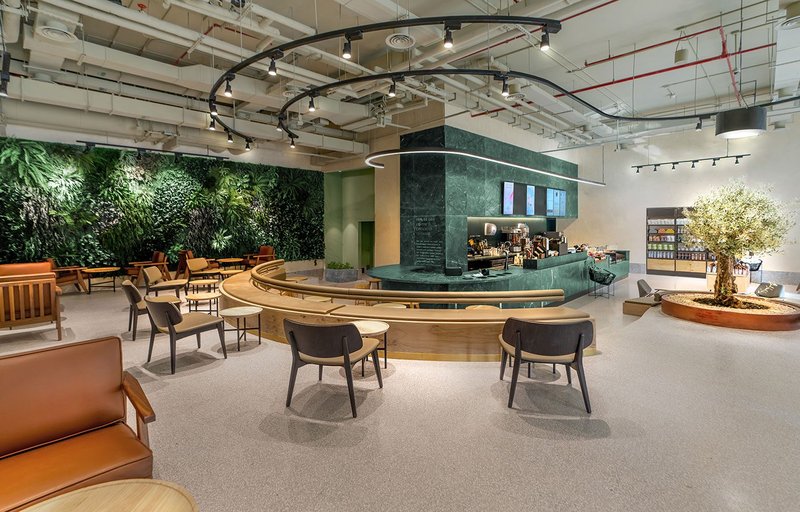 Starbucks store design, by in-house design team.
In a welcome return to regular form, the annual Vectorworks Design Day UK was held live and in person for the first time since 2019. After a period in which our appreciation and expectations of digital collaboration have accelerated rapidly, more than 150 attendees gathered at 30 Euston Square in London to learn more about how Vectorworks users are putting its features to use in diverse ways, and what the company has in store.
While the ostensible focus of the conference was on how Vectorworks might help to increase productivity and efficiency – the tagline was 'supercharge your workflow' – refreshingly, there were much broader architectural, landscape and sustainability themes woven into presentations by a diverse range of architects, designers and consultants. Many touched on the issues highlighted in the RIBA 2030 Climate Challenge such as operational energy, embodied carbon, potable water use, health and wellbeing. Together they suggested that software might have a much more creative and powerful role in helping us to tackle environmental challenges than is commonly understood.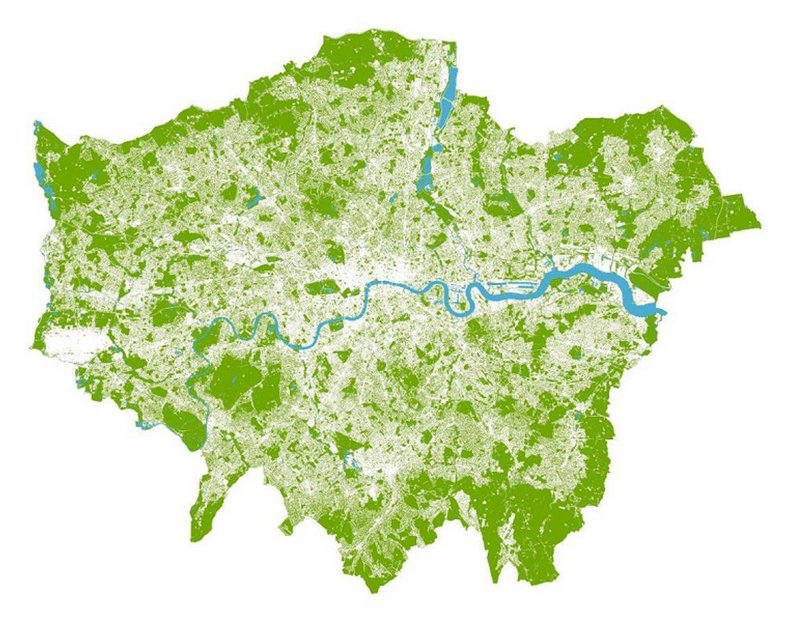 Urban greening in London, presented by ND Landscape Architecture.
The changing environmental world
Niall Williams – director of ND Landscape Architects and host of the Vectorworks-sponsored People, Place & Nature podcast – teamed up with Water Offsets CEO Tapiwa Gavaza to provide an insightful, if deeply concerning, overview of the increasing problems of water scarcity in some areas of the UK, in particular areas in the South East such as the Sussex North Water Resource Zone, where all new developments must now meet water neutrality standards. It is apparent that new polices on biodiversity, net gain and water and nutrient neutrality, and a focus on environmental deliverables, will be significant feature of architectural and landscape design, so having more tools and workflow commonality between Vectorworks Architect and Vectorworks Landmark in this year's 2023 release is a useful benefit to combined design teams.
Design with data
Iain Lyon and Lisa McRavey, senior landscape architects at RaeburnFarquharBowen, discussed the John Muir Way – the coast-to-coast walking and cycling route which runs 134 miles across central Scotland. They demonstrated how the use of Vectorworks Landmark and data-driven design, alongside Esri ArcGIS mapping software, enabled them to explore the potential for ecological wellbeing and placemaking improvements along the route and present the findings in an interactive story map. The impressive quality of the work generated through these software systems goes far beyond typical 2D drawing, and enables a far more accessible, dynamic and interactive experience for presentation, feedback and public consultation.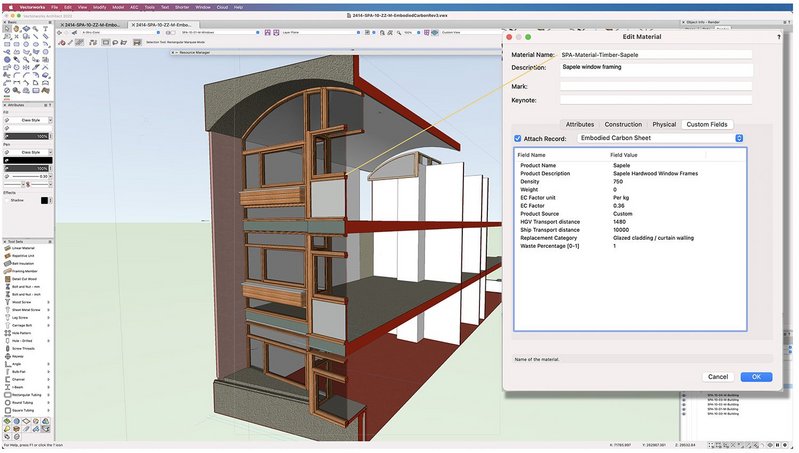 Model of Crescent House by Studio Partington.
Understanding your impacts
Studio Partington's proposals for the replacement facade to the grade-II* listed Crescent House on London's Golden Lane Estate made use of Vectorworks' Embodied Carbon Calculator tool, director Colin Davis explained. The technology was essential in striking the often-tricky balance between minimising loss of original historic fabric – in this case very inefficient single-glazed tropical hardwood windows – and reducing operational carbon through use of replacement hardwood triple-glazed systems. A pilot implementation phase is due to start this autumn. The project demonstrates how native carbon and energy calculation tools in Vectorworks empower designers to embed these increasingly mandatory processes in their normal design workflows without interruption or relying on third party software or consultants.
Crafting the perfect store
Vectorworks' flexibility to 'sketch, model and present' was highlighted in a presentation on workflow improvements made by Starbucks' interior design team, applied across the company's Europe, Middle East and African markets. Project designer Caitlin Saunders and senior concepts designer Alvaro Dominguez explained that as Starbucks wants to ensure that no two stores are the same, its in-house design team is always looking to find efficiencies in the context of a creative output of up to 400 store concepts per year. The team previously used a range of software in a design process taking up to 11 weeks. Working just with Vectorworks – using BIM principles and extensive use of standardised file templates, full 3D modelling with data sets and centralised common 3D resource libraries – this process has been streamlined to just four weeks.
What's new
Alongside these case studies, we saw a review of recent RIBA award-winning schemes that had been produced with Vectorworks software, and Vectorworks' leaders outlined the roadmap for the product and new features that users can expect.
One of the significant changes with the 2023 update is the end of perpetual licences and a move to a full subscription model – available annually or monthly. This is an increasingly common model for software and so not entirely unexpected, but will require users to adjust the way they plan costs and will speed up the adoption of updates. And this move is to be accompanied by a more frequent two-month schedule for service pack updates.
This increased frequency should dovetail with the company's public roadmap – an online forum for feature suggestions – and lead to a more user-led development process. This is already apparent in many of the 2023 improvements that focus on workflow efficiency. Particular highlights for me included direct modelling of windows and doors, enabling the creation of these objects by simply drawing rectangles on the 3D wall faces as well as direct 3D reshaping of them to suit the preferred design, a smart level benchmarking tool that auto-generates and interacts with storey levels to provide much improved control over project levels, and a new powerful graphic legend tool that removes the manual process of creating keys for materials, door and window elevation schedules and so on. They are accompanied by many other interoperability, quality of life and performance improvements.
A few sneak peeks into the future were also presented, such as an improved user interface, viewport styles, and the possibility of linking Apple iPhone LiDAR scanners directly to Vectorworks 3D objects. With the prospect of continued improvements in functionality, new tools that improve BIM workflows alongside frequent software updates, and assistance in the task of tackling climate change, Vectorworks' popularity among users should continue to grow.
Jonathan Size is a partner at Foster Wilson Size, where his recent projects include the refurbishment of Southampton's Mayflower Theatre and London's Trafalgar Theatre
For more information, visit
www.vectorworks.net/en-GB
01635 580318
uksales@vectorworks.net